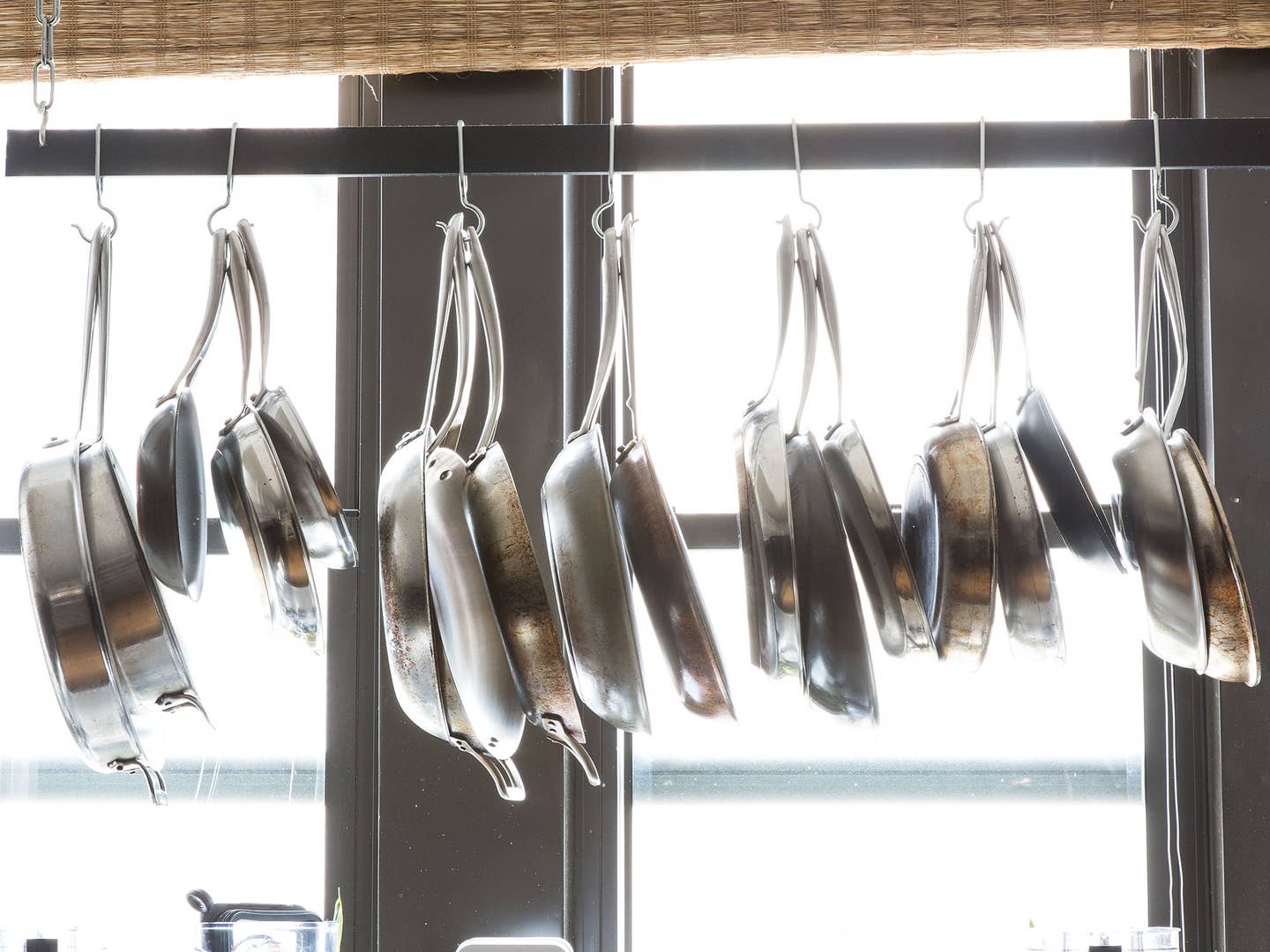 Culture
A Tour of the SAVEUR Test Kitchen
Our kitchen is the heart of our office. Take a look behind the scenes
It's nearly 12:30 p.m. on a Tuesday and the editors are starting to trickle into the test kitchen. We're baking cookies for a web story, and the smell has obviously made its way around the office. We've also been grilling chicken, sautéing onions and garlic, and preparing a barley, feta, and mixed vegetable salad. For those of us in the kitchen, these are our tests for the day, but to the rest of the office, everything is a potential meal or snack. Sometimes the recipes we're turning out are all for the same story; sometimes each is for something different. Either way, we're constantly turning out some pretty tasty and beautiful creations (if we do say so ourselves). Editors are constantly popping in throughout the day to check out what we're up to and if anything is up for grabs.
We start our day at various places around the city, gathering ingredients for the day's tests. By the time the rest of the staff arrive at 10, we have already been down to Chinatown, over to Whole Foods Market, and popped into HMart on our way to the office in Manhattan's Koreatown. We test an average of around 15-20 recipes each day, about 40-50 of which will be featured in print, and dozens more each week going up on the website for different stories. Every recipe that SAVEUR features has been through this kitchen, scrutinized by me, Ben, Adam, and the other editors.
We're quite lucky at SAVEUR: back in November, our entire kitchen was renovated by SubZero and Wolf. We got 2 huge, beautiful refrigerators, 2 induction stovetops, wine fridges, and 2 double ovens. One of the first things everyone says upon entering the kitchen is remarking on how cozy it all feels. It really is like a home kitchen; all the products we use are items our readers would have in their homes. And just like any home, the kitchen is the heart of the SAVEUR office. Before I was hired, I interned with the digital team, and it was probably the hardest 3 months of my life—not because of the workload, but because of the smells coming out of the kitchen that invaded my cubicle, making concentrating on work practically impossible. Now, my desk is nestled in the corner of the test kitchen, right in the midst of recipes getting tested, cocktails being shaken and poured, and guest chefs coming in to demo their latest recipe. I've got to say, I have the best seat in the house.
Check out my favorite things about our kitchen below: