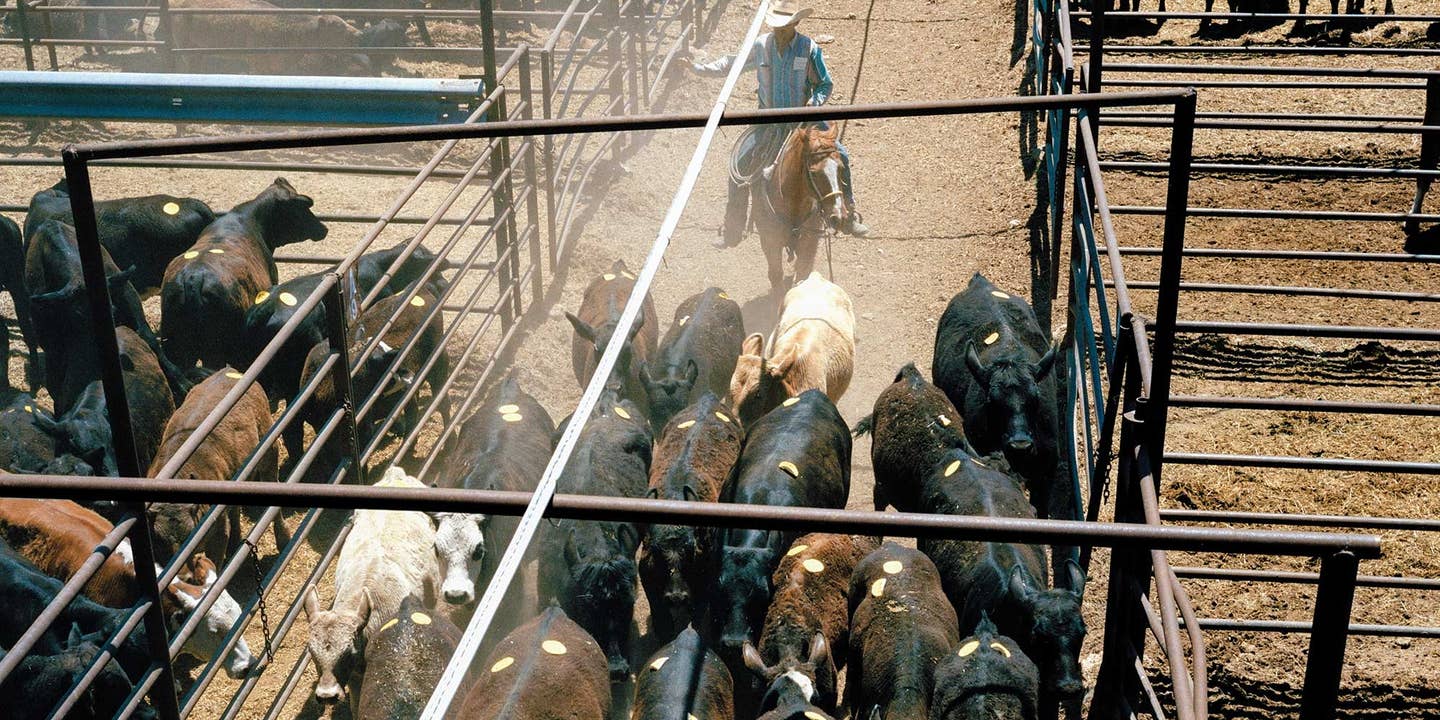 Travel
A Day With the Texas Law Man Who Catches Cattle Thieves
In Texas, cow-nabbing is alive and well. Special rangers like Wayne Goodman spend their days tracking down the bad guys
Tires crackle over a gravel lot and roll to a stop. A rusty latch clangs loose. And amid the manure and mud of a rural, open-air sale barn—a place where beef and dairy cattle are auctioned—in Stephenville, Texas, a 1,300-pound cow ambles out of a trailer, belly swaying side to side.
"See that right there?" Wayne Goodman asks, prodding me in the ribs with his elbow. "That's your steak in motion."
A slight, spry 60-year-old with fine white hair and robin's-egg blue eyes, Goodman is like a character straight out of a Western: He catches cattle thieves for a living.
Cow-nabbing is alive and well in Texas, and as one of 30 special rangers with the Texas and Southwestern Cattle Raisers Association (TSCRA), Goodman, a former police detective, spends his days tracking down the bad guys ("No gals, really," he says) who "rustle" cattle from their rightful owners.
"Can I call them rustlers? Do people still do that?" I ask. Goodman grins. "Of course, kid, what else would you call them?"
Stealing cattle in the country's largest beef-producing state can prove to be highly lucrative—a single cow can go for a grand on the black market, a bull for closer to $3,000—but the penalties are also fierce. In early 2016, a man was sentenced to 30 years in prison (with Goodman's help) for two counts of first-degree felony cattle theft, and this kind of weighty sentence isn't uncommon. Working in tandem with local police departments and district attorneys, the special rangers also solve a host of other agriculture-adjacent crimes affecting cattlemen, from stolen saddles to pilfered farming equipment, and recover a whopping $5 million a year on average through their sleuthing. When it comes to bovines (and beyond), they're the law.
Goodman, who has family in both the dairy- and hog-farming trades, worked for decades to achieve ranger status. The position is a highly coveted one, and for years before being called to duty, Goodman put in an application each time a slot opened up.
Now, he relishes every minute of it. In his eight-county district just south of Fort Worth, Goodman is constantly on call.
Driving past wildflower-dappled fields, he's working six cases at once, sipping coffee from a thermos and phoning market inspectors and fellow rangers in pursuit of lost steer and cattle-selling con men. Most phone calls end with a fraternal "Alright, Bubba."
"I got a call from a woman who thinks her six miniature donkeys were stolen," Goodman says, rolling his eyes. The TSCRA represents more than 50,000 people in ranching and beef production who manage 4 million head of cattle, but it helps out other types of farmers, too. "You can't give those things away, but she thinks someone took them, so I'm still looking into it. If anything, the coyotes probably got 'em."
Goodman's getup is about as Walker, Texas Ranger as it comes. While his ten-gallon hat, official badge, and boots are impressive, it's the carved leather, double-buckle belt that steals the spotlight. With a monogrammed holster for his 1911-style pistol (also monogrammed) and a handcuff pouch, it's the Swiss army knife of accessories.
"When a cow goes missing, I go to the sale barns and say, 'Watch for these types,' " he explains. When a cow is branded, it's much easier to track, though unlike many states, Texas doesn't require cows to have a brand. "The ranchers we work with mostly aren't big, monster producers, so when one or two head of cattle are taken, it really hurts them. If you need more insurance to cover your cattle in case of theft, that's passed down to the consumer and beef prices go up."
Goodman asks around after the whereabouts of a rogue bull at the sale barn, where an auction is set to take place at noon, and I watch as dozens of wobbly-kneed calves are led into pens, bumping into one another like schoolchildren on a playground.
"See now, this one doesn't want to come on out," a barn worker explains about the runt of the bunch, a black-and-white mottled baby hiding from the others. "Here's what you have to do to get 'em." He sticks his pinkie into the calf's mouth, and she immediately latches on as if it were a bottle—happy now, comfortably following the man toward the other calves.
There's a level of familiarity, almost intimacy, with the cows that comes naturally to everyone involved. Cow-print couches in offices, walls lined with livestock-judging photos, and display cases full of bovine trinkets are committed kitsch. Cow puns are de rigueur. For those in any part of ranching, working with cattle isn't just a trade, it's a way of life—one that will be protected for a long time to come, if Goodman has anything to say about it.
"We're all in this together to make sure our ranchers, and the cows, are protected," the special ranger says as he waves toward an incoming heifer-hauling Ford F-150. "What job could be better than this?"