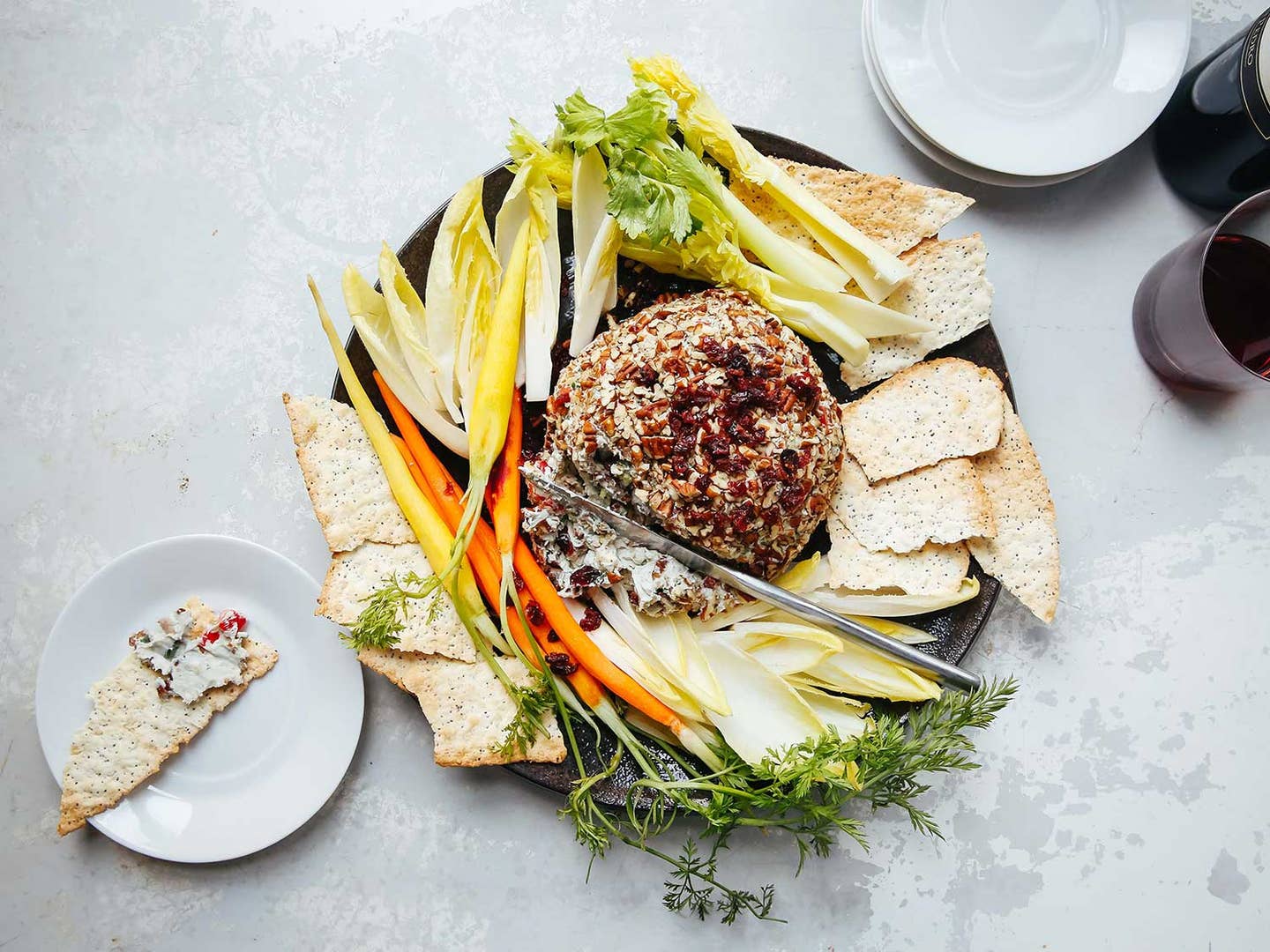 Culture
How I Learned to Love The Texas Holiday Cheese Ball
A Texas native remembers the pecan-studded cheese balls of his youth
One of my earliest memories of the cheese ball was from a Thanksgiving in the early '90s: My family would make what seemed like the 100-hour drive from Dallas, where my grandmother lived, out to my aunt and uncle's house out in east Texas. As the elders chatted, my cousins and I would ride four-wheelers across the plowed farmland and up and down the tiny cul-de-sac'd streets. When our legs would start to feel like jelly from the buzz of the engine, we would go inside to snack.
I love a holiday buffet: I love to graze, and Texans do a buffet right. Everyone on my Dad's side of the family would bring something. There would be giant platters of crudité, every kind of buttery rich cracker imaginable, my aunt Kay's famous crab dip, and smoked venison my aunt Sue would bring from a deer she shot earlier in the season. And, of course, queso—because it is Texas after all. But there was always another dish on the table, one that I often shied away from as a kid: a white orb of creamy cheese, rolled in pecans or walnuts that my aunt usually stored in the freezer, which gave them a strange chemical taste.
But one November day in my late 20's, I woke up feeling incredibly nostalgic for those childhood holidays back home. I realized it had been years since I'd been out that way and seen my Dad's family, and, equally important, it had been years since I had the pleasure of hovering over that snack table. My roommates and I were hosting a Friendsgiving, and I wanted to make something simple. So I thought cheese ball!. It seemed like a perfectly sophisticated thing an adult would make, and it wouldn't have felt like a holiday without one—even if I always skipped over my aunt's.
I had some other encouragement, too: chef and cookbook author Vivian Howard, my guide for all things Southern, will also be making one this year. She even gives out kits to friends and family, so they can make their own. "I'm forever a fan of salty sweet combinations in and around cheese balls," she says. "I recently made one inspired by a pizza we serve at Benny's [her new restaurant in Wilmington, NC]. Its cheese center is made from tallegio, goat cheese, butter, cream cheese, and bacon fat. Then I roll it in crispy pepperoni and squeeze hot honey over top."
Not only are they simple to make, but endlessly riffable too, based one whatever inspires you—or whatever you have tucked away in the fridge. When I moved to New York, and got a job as the staff photographer at SAVEUR, I brought my "Texas Cheese Ball, Y'all" to my first holiday party, a recipe inspired by the one my aunt used to serve. It was an instant hit, and I knew that the homely cheese ball had been redeemed—editors telling stories about rare teas from China and how to forage for sea urchins had just enthusiastically devoured my holiday cheese ball. And that's the brilliance of it: The cheese ball can be as complex or as rustic as you'd like, and still be the first thing to disappear from the holiday spread.