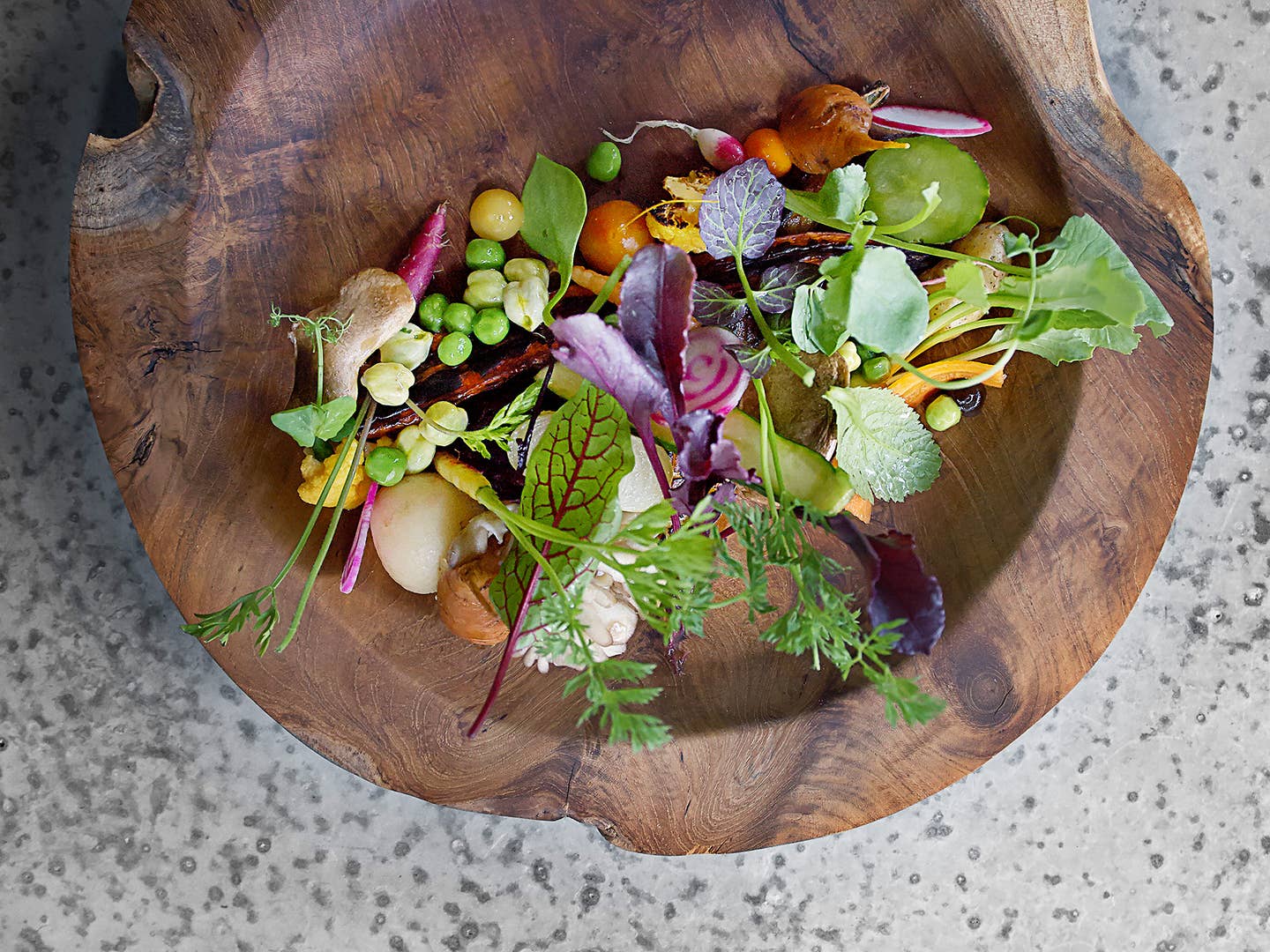 Culture
The Ultimate Farm to Table
Seven restaurants that are partnering with farms to grow produce and raise livestock to order
Chefs have long been going to the Greenmarket and building relationships with farmers to keep their menus as local and seasonal as possible. But lately, they're following the lead of Dan Barber, whose pioneering Blue Hill at Stone Barns created a new concept—a restaurant attached to a working farm. And Barber is no longer alone. Across the country, chefs and restaurateurs are buying (or partnering with) farms, not only growing produce to order, but also raising pigs, sheep, and cattle, all in an effort to move the fork that much closer to the farm.
David Kinch, chef of the two-Michelin star Manresa, began his relationship with Love Apple Farms' Cynthia Sandberg back in 2000 when she was running a tomato and fruit stand at the farmers' market. "At the time, I was looking for a way to create another degree of separation between Manresa and all of the other restaurants with chefs who also shopped at the farmers' market," he said.
By 2006, Kinch and Sandberg had created an exclusive partnership, working together to develop lists of ingredients she would grow at her farm explicitly for the restaurant. Four years later, she outgrew the farm and purchased Love Apple Farms, over 20 acres of biodynamic-certified land that supplies Manresa with fruits and vegetables as well as bees for honey, chickens for eggs, goat's milk, and more, just 15 minutes away in the Santa Cruz Mountains.
Across the country at New York's Blenheim, located in the West village, eggs (from chicken and guinea hens), dairy, produce, beef, Icelandic lamb, and three different breeds of pigs are raised at Blenheim Hill Farm, located in the Catskills and owned by farmer and restaurateur Morten Sohlberg and his wife Min-Ye. The couple bought the farm 13 years ago to source organic produce for their Smorgas sandwich shops, and as the farm became more productive, Sohlberg decided to open a more upscale restaurant to better utilize the farm's bounty. The result was Blenheim, a stylish, modern take on the farmhouse restaurant, where they "grow-to-order" most of their menu.
Another New York Chef leading the fork-to-farm movement is John Fraser. From his kitchen at Narcissa, he's in constant communication with the two lead farmers at Locusts-on-Hudson, owned by Narcissa's restaurateur Andre Balazs. Zach Wolf and Olivia Kirby, who formerly managed crops at Blue Hill at Stone Barns, work hand-in-hand with Fraser to connect the restaurant's menus with what is planted and when items are harvested. "I'll request lettuces be harvested young for the Narcissa Salad, or have the beets be over-wintered for another dish," says Fraser.
But bringing the farm closer to the fork does not come without its share of challenges. Crops need to be planned three to four months in advance, which means chefs have to start thinking about spring menus in the dead of winter. "It's like working at a fashion house; we're always planning a couple seasons ahead," says Kinch.
Sohlberg also explains that the joy of raising your own meat can be challenging. "When you are using meat from a beef cow that you have slaughtered yourself, you have to use every cut of beef," he says. "We don't have the luxury of just serving sirloin because that's just 1% of the cow."
And of course there's Mother Nature, whose whims can throw a wrench into even the best-laid plans. Sometimes a given crop seems to never leave the menu. "The tomato supply can be unending," says Fraser. "So you're doing salads, jams, thinking outside the box."
And then there's the flip side. "The drought conditions and lack of winter recently in California," says Kinch, "and pests that are inherent to our biodynamic garden can make it a challenge. That said, the benefits have always outweighed the downside."
Seven restaurants moving the fork closer to the farm: