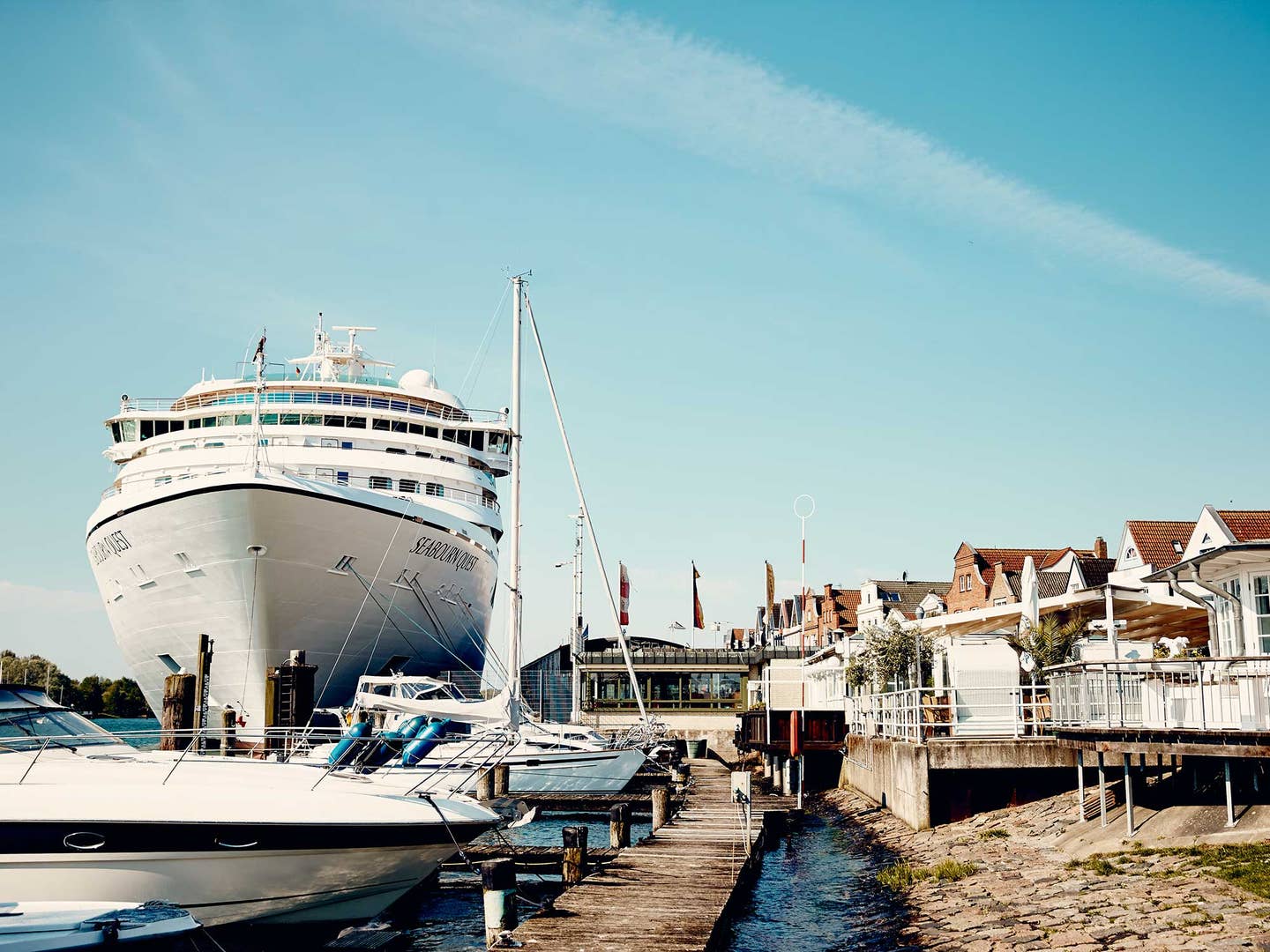 Culture
The High Seas Have Never Tasted This Good
French Laundry chef Thomas Keller and Seabourn have created the best restaurant on international waters
The best roast chicken in Tromsø, Norway, is a free-range, three-and-a-half-pounder flown in from California, brined in honey, lemon and thyme and air-dried for three days then blasted in a steam oven at 420° until its skin is the color of peanut brittle and its flesh as juicy as a ripe melon, whereupon it is presented whole and carved table-side.
Birds matching this description have been sighted from Flåm and Honningsvåg to Copenhagen and Barcelona, in the Orkney archipelago of Scotland, to as far south as the Drake Passage between Chile and Antarctica.
The roast chicken for two with thyme jus—like the stalwart lobster thermidor and Dover sole meuniere and the wood-paneled dining room in which they're served—goes wherever the 32,000-ton Seabourn Quest goes, which is to say pretty much everywhere.
The Grill by Thomas Keller opened on Deck 8 of the Quest in May of last year. As part of an extensive partnership, the French Laundry and Per Se chef-restaurateur is in the process of reimagining much of Seabourn's culinary program. The Grill is his most intimate space: a romantic throwback of an idealized American chophouse. In miniature, and at sea.
In northern Norway, there's no dark to the summer night. The only sure sign it's dinner time is that we're all dressed up and drinking martinis. Light sparkles off the blue sea. We've left Trømso, sailing north, but here in The Grill we're afloat in another time, a swank oasis of lacquered wood walls, captains in white dinner jackets, rolling gueridons, prawn cocktail on cracked ice, 45 soft leather seats and a roast chicken worth traveling to the Arctic Circle for.
"I was thinking about this bygone era of ocean liners," Keller tells me later, when I'm back home on dry land, where it's dark at night and nobody makes me caesar salad to order. "We thought about that quintessential dining room in a small ocean liner. What would they be serving and how would they be serving it? We wanted to do something that was a bit nostalgic, something with reference points."
For Adam Tihany, who designed the room, those references included both a nod to the romance of sea travel and the pleasures of the traditional steakhouse. "There is a feeling of authenticity and luxury that you expect with both," he says. "The Grill is about pairing two Old World luxuries. There is nothing quite like it at sea."
Deck, 8, midships. Lunchtime by the pool. The sun is still up, the sea still blue. I'm eating a Yountwurst (pork and beef hot dog, fresh sauerkraut, and onion relish on a brioche bun) and talking about butter.
"We cook the buns downstairs and then brush them with clarified butter," one of Keller's traveling chef-advisors tells me. "We tried steaming the buns but they wouldn't soak up enough butter."
Whatever the problem was, it seems now to be fixed as the brioche is more than satisfactorily buttery. Soaking up butter is central to Keller's culinary on-ship operations. Buerre monté, or melted emulsified butter, is the medium of choice: Lobster tails are brushed with it, meat is rested in it. The traveling chef-advisor estimates the Keller brigade will go through 25 pounds of it a day.
The butter, like everything else served in Keller's onboard restaurants, comes from a tightly edited collection of mostly American producers: Elysian Fields Farm lamb, Cowgirl Creamery cheeses, honey from Marshal Farms, of Napa and meat from Idaho's Snake River Farms.
"We didn't want to be asking where is the food coming from this week?" Keller says. "We're in Brazil so is the beef coming from Argentina? Are we going to be able to get consistently great lamb? I learned at Taillevent 30 years ago that the best restaurants are the most consistent restaurants, not the restaurants that have peaks and valleys."
"It's about confidence of quality," Keller says. "That's one of the reasons I've never opened anything internationally before. I was never really confident going anywhere even though there's great food in France or Australia or Asia. I don't have any relationships there. In America, for the past 30 or 40 years that's what I've been doing, building relationships with suppliers. And farmers in America deserve our support. They work really hard all their lives so if I can help elevate the quality of their lives by giving them a contract with a place like Seabourn why wouldn't I do that?"
The Grill on board Seabourn Quest is the first of a model that will soon be rolled out across the Seabourn fleet, including two new ships, Seabourn Encore and Ovation, arriving this year and next, respectively. Keller famously once had a live TV hook-up between his Yountville and Per Se kitchen. Now, working across continents and constantly moving kitchens and teams, he's looking to engineer consistency with careful sourcing and hands-on training.
Cooks and chefs who've been recommended by their bosses are sent to California for several weeks to learn in Keller-run kitchens.
One of the things they practice: making caesar salads without a whisk. At The Grill, the salad is made table-side, in an olive-wood bowl, mixed with a wooden paddle. You start by rubbing garlic into the side of an olive-wood bowl. Follow it with egg yolks, anchovy paste, lemon juice, red wine vinegar, and Worcestershire sauce and olive oil. "The hard part is not to break the emulsion," a chef onboard tells me. "It all has to happen in a specific order. We did a lot of training for this in Napa."
It's a lot of work for a salad. But it's a damned fine salad. Part of the pleasure is the ritual, the familiarity of the tastes and the unusual luxury of someone making it for you as the world outside floats by.
"As much as we all feel we want new food all the time," Keller says, "we keep going back to the perfect roasted chicken, a great veal chop, that beautiful caesar salad. They're timeless."