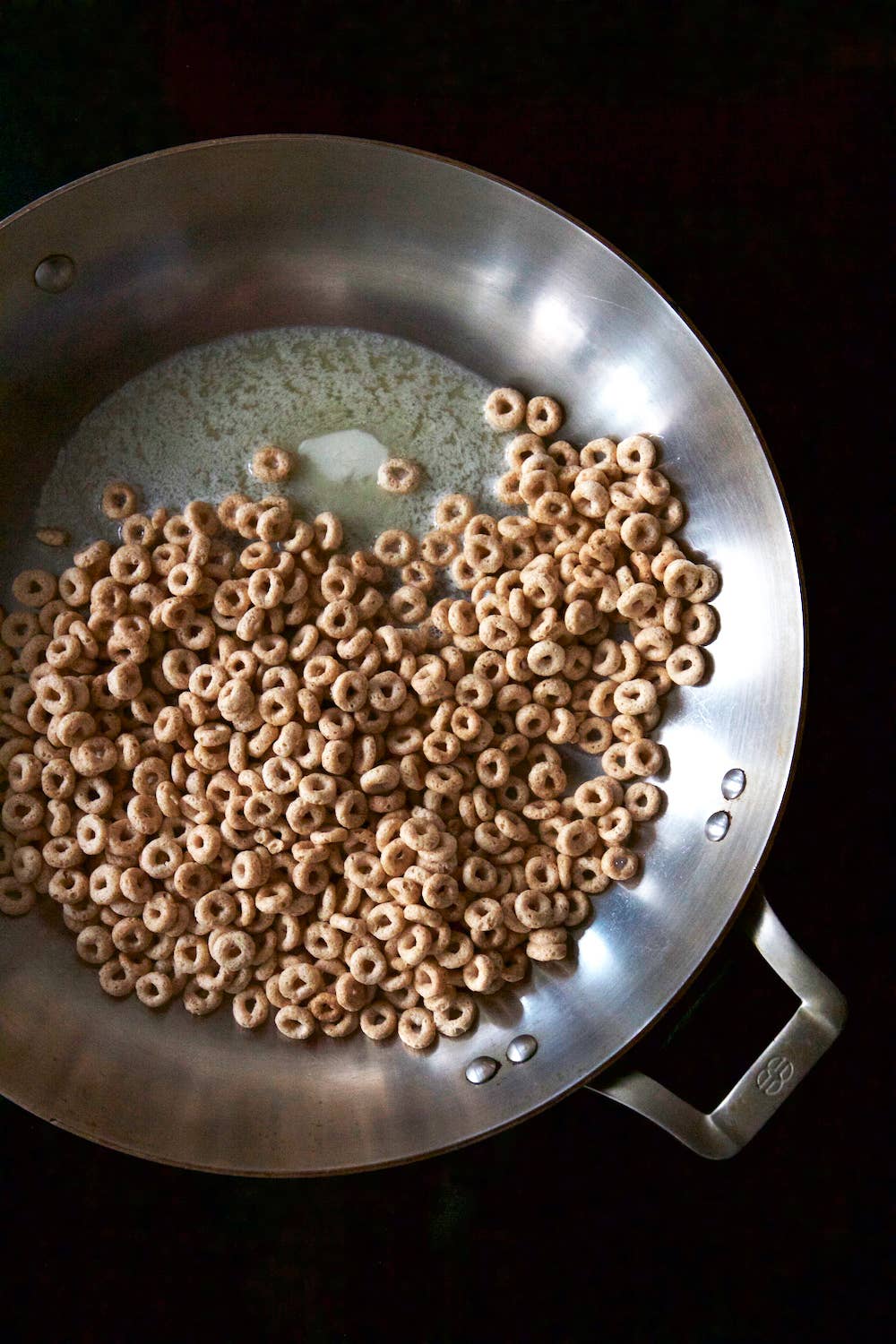 Techniques
How to Toast a Cheerio
Blogger and writer Amelia Morris—plus a buttery, toasty snack for anytime.
The movers left less than twenty-four hours ago, so it's not until I go to toast my Trader-Joe's-brand Cheerios, Joe's O's—perhaps a classy acknowledgment of the fact that they're blatantly ripping off Cheerios, right down to the bold yellow, oversize cereal box—that I remember I'd decided to put off cleaning out the refrigerator at our old apartment until tomorrow, and so the butter I need is sitting in our butter tray on the other side of town.
Not willing to give up so easily, I search through the previous day's takeout bag and find eight individually wrapped packets of Darigold butter. I tear back the foil and pop the contents of one unit into the frying pan, turn the burner to low, and watch the molded fleur-de-lis dissolve.
Toasted Cheerios in butter is one of the few snacks I remember my mom preparing for my brother and me when we were kids. I'd all but forgotten about them until a few weeks before, when I was surprised to hear her toasting the O's as we spoke on the phone; I'd assumed they were a treat she made only for us.
I'm making them now for the first time in my life, partly because I'm hungry for a snack, but mostly because my life is in boxes; because I've never handled transitions well; and I'd love a moment of food-induced nostalgic clarity—something like what Proust's narrator experiences after tasting the infamous lime-blossom-tea-soaked madeleine, during which "the other states of consciousness faded away."
I add a solid layer of Joe's O's to the melted butter and begin to stir. After a few minutes, I've avoided burning them, but they're not even toasting. I leave the heat on low and stir and wait. I stir and wait some more, and slowly but surely, a familiar nutty, buttery smell begins wafting up from the stove.
Within just a few more minutes, I find that my off-brand Cheerios have toasted up nicely. I slide them into a bowl and hold one between my thumb and forefinger. I pop it into my mouth, followed by another and another. I sort of remember the taste. But that's not how I would have eaten them as a child. I pour out an entire handful and throw back my head as I raise my hand to my mouth. And that's when the nostalgia hits me.
With a mouth full of buttered, toasted oats, I'm five years old, dressed in a loose-fitting unitard-esque pajama outfit. My mom is in a somewhat similar get-up—matching gray sweatpants and sweatshirt. Her short, dark blonde hair is pulled into the tiniest of ponytails with one of her colored cotton hair ties as she stands at the stove, stirring Cheerios in a hot pan. It's a strangely quiet, calming memory. My older brother, Billy, isn't anywhere around. My dad's not there either. It's just me and Mom, which is the exact opposite of another, much more dominant memory from that same year.
To recall that memory, I don't need any food.
In that one, I've swapped the unitard for a _leo_tard. It's navy blue and paired with opaque navy-blue tights. And if my white blonde hair hadn't been sticking out of my headgear in Beetlejuician tufts or I hadn't been wearing my older brother's hand-me-down wrestling shoes, which are a few sizes too big for me, you would think I might be on my way to ballet class, or maybe a Halloween party. But the video makes it quite clear: I'm at a wrestling tournament.
Yes, I guess it helps that I have this specific memory recorded on an ancient VHS tape labeled "Wrestling 1987 (Amy wrestling)," which I recently went to the trouble of transferring to DVD in order to watch it for the first time as an adult, curious to see firsthand what had become nothing more to me than an occasional dinner-party anecdote.
But watching myself wrestle twenty-five years after the fact isn't as fun as I thought it was going to be. Right before the match, I'm issued a red Velcro anklet, which the referee uses to direct points to the proper wrestler (e.g., two points, red). A green one goes on the ankle of my opponent, a little boy in a black singlet with red trim. Once the anklet is on, my five-year-old, round, pink face wears the expression of a little girl just now realizing what she's gotten herself into.
A woman whose face we can't see and whose gravelly voice and unrushed manner of speaking brings to mind so much of my rural Pennsylvanian hometown actually says to my dad: "Your daughter doesn't look too enthused."
My dad, perhaps suddenly realizing the same thing, calls out to me cheerfully, "Honey Bun!"
I turn and look at him/the camera with impatience, my young face telegraphing, "What do you want now, Dad?"
Dad. To describe him as "a wrestling fanatic with a day job as an obstetrician/gynecologist" doesn't quite cut it. His brand of fanaticism went so much further than the relatively passive act of attending matches and collecting memorabilia. No, Dad's love for wrestling required endeavors such as buying us a regulation mat for our basement, draining—via syringe—my brother's teammates' cauliflower ears in our kitchen, and journeying by train and rented van (Dad doesn't fly) to Seattle, Washington, from our home in western Pennsylvania in order to attend—as spectators—the wrestling portion of the Goodwill Games held there in 1990.
The tape cuts away so that in the next scene, I'm standing on the mat facing my competitor. The referee blows his whistle and within five seconds, the little boy has taken me down. In another few seconds, I'm on my back.