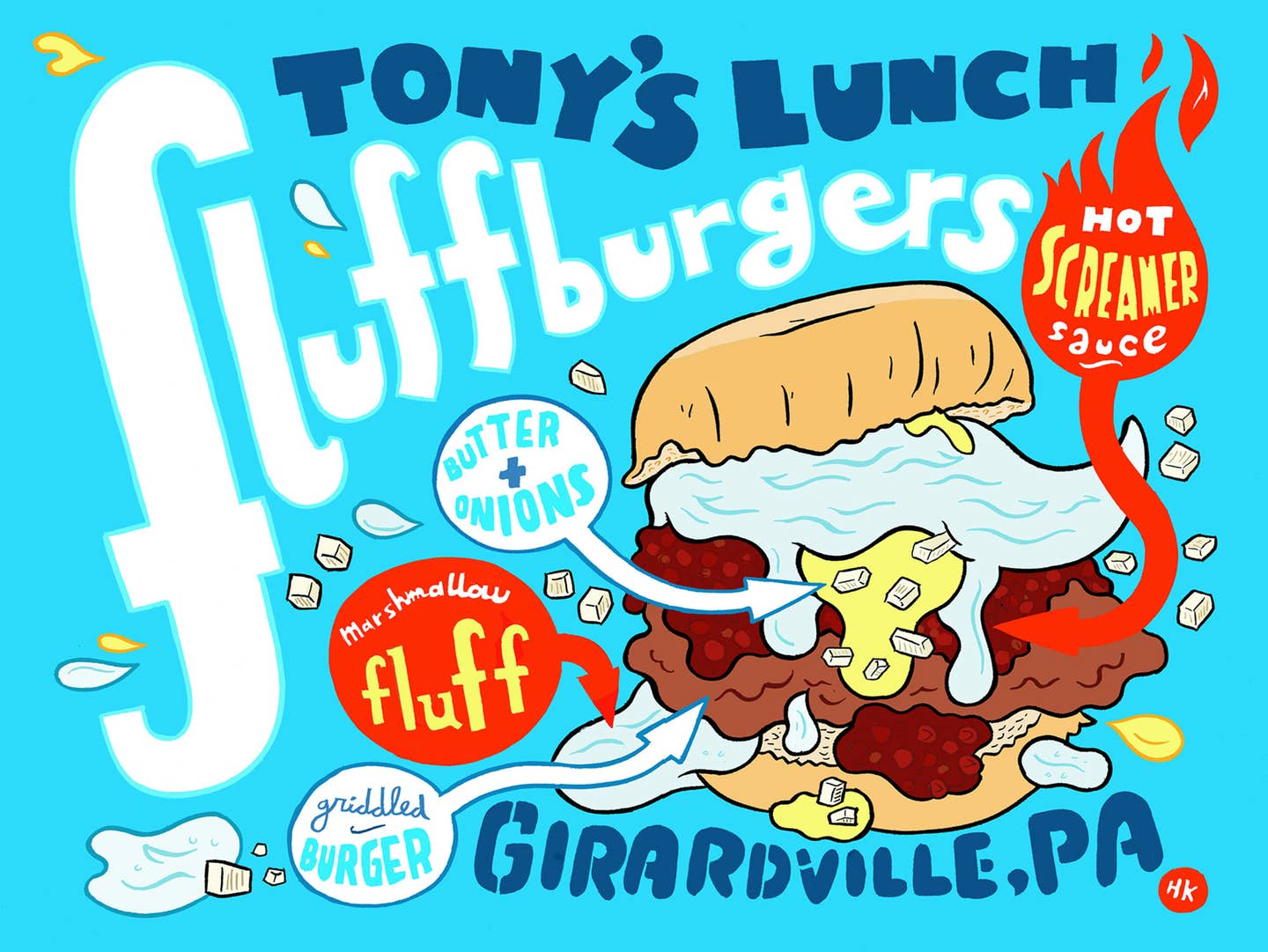 Travel
Eat This Magically Delicious Burger Topped With Marshmallow Fluff
Tony's Lunch in Pennsylvania makes one of the weirdest—and tastiest—burgers you'll ever eat
Welcome to Hawk's Illustrated America, a monthly series following illustrator Hawk Krall's journeys through the back roads of the U.S. in search of our country's most obscure and delicious regional specialties.
Deep in the heart of Pennsylvania coal country, a few miles from the smoldering, abandoned town of Centralia, lives one of the oddest regional foods In the country. At first it sounds like a gimmick, another frankenfood concoction like the ramen burger made for the sake of viral marketing. But the Fluff Burger is the real deal: a hyper-regional specialty that's been around since at least the '70s, largely unnoticed by the world outside the Schuylkill County area.
Yes, the Fluff Burger: a griddled hamburger topped with onions, a mound of soft butter, blisteringly hot chile paste, and Marshmallow Fluff. Taste one and you'll easily see why locals have been packing into Tony's Lunch (which is only open from around 8 p.m. to 1:30 a.m.) for decades.
Tony's has a familiar small-town lunch-counter feel, with a menu of standard burgers, hot dogs, and cheesesteaks. The signature dish is a Fluff-less burger called a Screamer, which is slathered with a secret homemade chile paste that has more in common with the eye-wateringly spicy condiments at a Vietnamese restaurant than anything you'd normally put on a burger. The current record for Screamers eaten in one sitting? 14 and a half.
The Screamer on its own is a fiery blow to the tastebuds. But when you add a dollop of Marshmallow Fluff, something remarkable happens. The burger develops a wild sweet-hot-salty balance, in the same vein as salted caramel candy or ripe mangoes topped with chile and lime. This is the Fluff Burger, and it has to be tasted to be believed.
Claire Salukas, the co-owner of Tony's Lunch, explains that origin of the bizarrely delicious burger. "The restaurant had Fluff for the hot chocolate. A 16-year-old girl used to come in ever day and ask for it on her burger, and they refused. Then one day, Tony's niece, a waitress, made it for her, and people started copying her order. Now everyone wants it. We go through a case and a half of Fluff a week."
Tony Fulginiti opened Tony's as a lunch counter in the 1940s after WWII. Salukas and company bought it in 1975, and in the coming years expanded the lunch counter to a full-sized restaurant. Tony's used to be open all day," Salukas tells me. "There used to be more factories and schools around, Then it slowed down. We would be busy at lunch and then it would be dead until dinner. So eventually we just started opening late." The peak hour doesn't begin until after midnight, as people trickle in from local bars until a line snakes out the door.
The late-night crowd has developed a secret menu: Lots of regulars order their Screamers with "quick cheese," cold, unmelted American cheese under the fluff layer. Or, if one dose of Screamer sauce isn't hot enough for you, ask for an "S&S," a burger with Screamer sauce on both sides of the patty.
Restaurants in neighboring towns have since made various copycats of both Screamer sauce and the Fluff Burger, but none of them top the original. And if the quantum blast of spicy and sweet on a burger isn't enough, you can also ask for it on cheesesteaks and french fries. Some servers won't allow you, perhaps rightly so. My "Fluffsteak" was one of the wildest things I've ever eaten in my life, but not something I'm scrambling to eat again any time soon. Those burgers though? If I lived within an hour drive of Tony's, I'd be there three times a week.
Tony's Lunch
23 East Main Street, Girardville, PA
(570) 276-1730
Hawk Krall is an artist, illustrator, and former line cook with a lifelong obsession for unique regional cuisine, whose work can be seen in magazines, newspapers, galleries, and restaurants all over the world. He focuses on editorial illustration, streetscapes, and pop-art style food paintings.