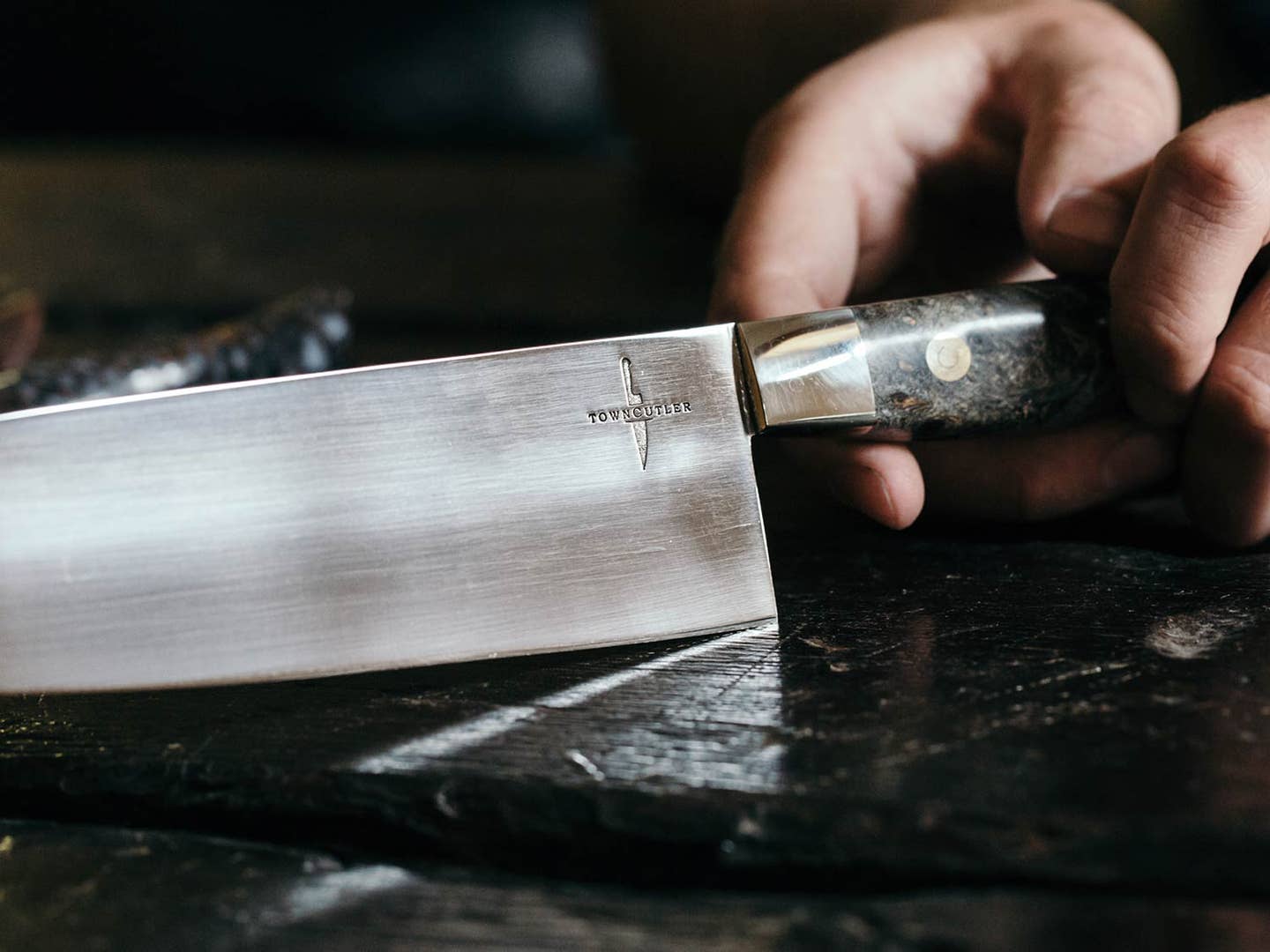 Culture
Step Inside One of the World's Most Beautiful Knife Shops
Town Cutler's Galen Garretson in San Francisco is making gorgeous, resilient blades that forge a new path for an ancient craft
Before Town Cutler, a knife haven for both professional chefs and home cooks, opened in San Francisco's Nob Hill neighborhood, there was no serious knife shop in the area where customers could actually walk in, ask questions, and feel the weight of a knife in their hands before buying one. Most high-end knife shops such as Korin were sequestered to the internet if you didn't live in New York City, and kitchenware shops only had more general selections. That's when chef Michael Tusk told Galen Garretson, "This city needs a good knife store." So Garretson opened one.
Prior, Garretson had spent about 10 years in kitchens. While working as a sous chef at Quince, he and his chef, Tusk, bonded over their mutual love for antique knives and the detail and attention that go into making them. At Town Cutler, Garretson is selling the best selection of blades in the Bay Area, but he's also working to offset cooking knives' mystique.
"For some reason," Garretson says," there's a mystery that surrounds knives—some people have this belief that [a knife] stops acting like a piece of a steel. Durability is important to me. At the time, I had used the same knife for 10 years in kitchens." That sentiment—and Garretson's desire to educate consumers about knife sharpening and maintenance—shines through the line of American-style knives Garretson is making in his 500-square-foot shop in San Francisco and warehouse in Oakland. The knives are custom-made with mostly local materials and assembled by hand with minimal machinery used in the process. Garretson also teaches classes, sharpens knives, and sells other specialty kitchen tools including his own line of knife rolls.
Prior to selling knives made in-house, Town Cutler showcased small time American knife makers that were unavailable for retail purchase elsewhere. But the goal was always, eventually, to include a house line. "We always wanted to have our own line of knives. It was hard to take on something that has generations of experience—and then on top of that, to create something from an American knife maker's perspective was a struggle."
That may be changing, though, as American knife makers have started to slowly catch up to Japanese and European knife makers in terms of retail and popularity—led in part by Garretson's work at Town Cutler. The shop has attracted chefs from some of the Bay Area's best restaurants, including Saison, Manresa, and the French Laundry. This year, Garretson is traveling with his knives and products around the country with stops in Chicago and New Orleans at restaurants (including Shaya), hosting pop-ups to educate cooks about what goes into making and maintaining a great knife.
Garretson is taking techniques from both Japanese and American knifemakers and refining them. In doing so, he's combined American steel with Japanese edge geometry, which translates to a unique kind of knife which stays sharper for a longer amount of time.
The process is a constant balance between creating a thin enough blade that's still durable. "Heat treating is 99% of the knife to me," he says There is a lot of precision that goes into it. If you do a proper heat treating, you can create a grain structure known as martensite. It's a tight grain structure—which means that the knife can get sharper." That heat treating is one of the reasons his more American-style blades are especially strong. And because he's making them by hand, they fit together more cohesively than many mass-manufactured knives.
In the knife-making world, fit is a ubiquitous word with a heavy meaning. It describes how close and tight the different components of the knife can come together contributing to the overall strength and rigidity of the knife, a characteristic that is often weak or lacking in factory manufactured knives. Garretson's knives are handmade start to finish, which always involves some customization for each blade, meaning the fit and finish are flawless throughout the whole knife.
Currently, Town Cutler is the only knife shop in San Francisco custom-making knives from start to finish with raw materials. The handles are made from different kinds of burl wood, the part of a tree that's been injured, making each handle unique—and beautiful. The patterns consist of tight swirls showcasing where the tree attempts to heal itself after being scarred.
Garretson's process is both laborious and meticulous. He splits his time evenly between the 2,000-square-foot workshop in Oakland, where much of the grinding takes place, and the storefront in San Francisco, which also covers part of the knife-making process. That's where he hand-polishes each blade with sheet after sheet of sandpaper to "get that nice mirror polish finish...a two-hour process."
Ultimately, Garretson cares about his customers and that the knives last a lifetime which is why choice, including the 10 different blade shape options, plays a huge role in how the knives are made. "I want to see our knives being used 10 to 20 years later and have it still hold its shape after that period of time."