Travel Guide: Berlin
German's cultural capital is seeing a culinary rebirth, but remains one of Europe's most affordable food destinations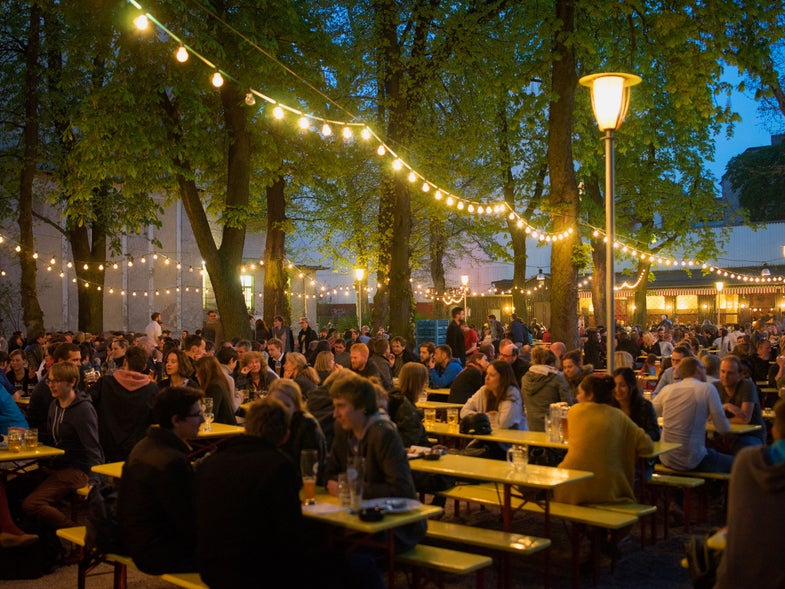 The roaring twenties, GDR socialism, the punk movement, progressive art, techno—Berlin has been a breeding ground of many a movement, but food culture was never one of them. Until now.
The Berlin Wall didn't just divide the city in two; for over 25 years it also cut off East Berlin from the influences of modern food trends and turned West Berlin into an isolated island—not exactly the best environment for food culture to flourish. Berlin has its fair share of fascinating food tales to be told, of families smuggling banned items like coffee, bananas, and veal liver to family members trapped in the East or Americans hoarding food supplies in West Berlin to prevent another Soviet blockade.
The fall of the Wall marked not only the end of isolation but also the chance for the city's food culture to finally flourish. Always heavily influenced by the food heritage of its immigrant communities, the city traditionally boasts a multifaceted Turkish, Italian, and Vietnamese restaurant culture. Over the last 20 years, the city has developed a truly global restaurant scene, thanks to the creative immigrants that have been flocking to the city from all over the world.
This booming food scene means that the cultural focus is switching from music, fashion, and art to food and restaurants. Exciting pop-up dinner clubs, a burgeoning street food scene, and quality farmers' markets are now everyday parts of Berlin's culinary world. The city's food scene is full of hidden food gems, unique dining experiences, and culinary entrepreneurs with fascinating stories, and remains one of Europe's most affordable food destinations.
Restaurants
Nobelhart & Schmutzig
No signs of olive oil or even black pepper will be found in this radically local restaurant, where eight simple yet sophisticated courses are paired with a courageous drinks menu. The stunning restaurant architecture allows guests to sit almost inside the kitchen. Billy Wagner, the sommelier, restaurant owner, and character is an infallible host who manages to dedicate time to every one of his guests. Get a table at the bar, which is best enjoyed in parties no larger than three.
Nobelhart & Schmutzig
Friedrichstraße 218,
10969 Berlin
+49 (0) 30 25940610
Zur Haxe
A fantastic German eatery hidden in Northern Prenzlauer Berg where you can eat Berlin's best Bavarian-style pork knuckle and satisfy your deepest pork crackling cravings. Add one of the loveliest service teams of the city, complete with Lederhosen and Dirndl outfits, and you are guaranteed to have an extraordinary dining experience.
Zur Haxe
Erich-Weinert-Str. 128
10409 Berlin
+49 30 – 42 16 312
Industry Standard
Owner Ramses Manneck and his crew have put the Neukölln neighborhood on the city's culinary map with this new restaurant. Signature dishes like the beef tartare with horseradish yogurt, fermented beets, and crispy chicken skin make Industry Standard one of the hottest new restaurants in Berlin right now. Order one of everything (including the dishes on their bar menu) and share!
Industry Standard
Sonnenallee 83
12045 Berlin
+49 (0) 30-62-72-7732
La Soupe Populaire
Berlin chef Tim Raue has taken on the task of refining the region's traditional cuisine, based out of a stunning former brewery in Prenzlauer Berg. His version of the Königsberger Klopse (German meatballs in white sauce), served with a silky-smooth potato mash, was good enough for Obama and will also make you reconsider any assumptions that German is heavy or boring.
La Soupe Populaire
Prenzlauer Allee 242
10405 Berlin
+49 (0) 30 44319680
District Mot
The city's coolest Vietnamese restaurant is the perfect place for a night full of cocktails and authentic Vietnamese street food with a modern twist. Take a seat on a plastic stool; order a table full of pho, bun cha, and bo la lot (beef wrapped in Betel leaf); and take the fast track to a busy street in Saigon. Don't forget to try their award-winning Bao burger.
District Mot
Rosenthalerstr 62
10119 Berlin
+49 (0) 30 20089284
Bandol Sur Mer
Modern and relaxed fine dining are on the menu at this tiny venue in the central Mitte neighborhood. The chefs here take French bistro food to the next level; their deconstructed foie gras dishes are outstanding. Dinner here is a great alternative to the city's pricier Michelin-starred restaurants—the value at Bandol Sur Mer is extraordinary.
Bandol Sur Mer
Torstraße 167
10115 Berlin
+49 (0) 30 67302051
**Doyum ** People come to Doyum for one thing: the famous Adana lamb kebab skewer, grilled to perfection over charcoal. Enjoy it in several variations—the best is served with grilled eggplant on bread—and wash it all down with plenty of ayran, a Turkish salty yogurt drink.
Doyum
Admiralstraße 36
10999 Berlin
+49 (0) 30 61656127
Alt Wien
If you fancy a truly great Schnitzel twice the size of your plate and enjoy well-cooked Austrian food, then Alt Wien is the place for you. This cozy restaurant brings a piece of Vienna to Berlin and is the perfect choice for a hearty meal. Don't forget to order the extraordinarily delicious kaiserschmarrn, an eggy pancake dessert.
Alt Wien
Hufelandstraße 22
10407 Berlin
+49 (0) 30 70129610
Lokal
An excellent neighborhood restaurant serving up farm-to-table German cuisine in generous, hearty portions. The casual but bustling atmosphere and its beer on tap bring the locals back. Ask your waiter for the off-menu dish of the day and end your meal with the best regional cheese plate in town.
Lokal
Linienstraße 160,
10115 Berlin
+49 (0) 30 28449500
Cordobar
This modern Austrian wine bar boasts a fantastic selection of natural wines, great service, and some of the city's most interesting food—mostly sharing plates, like the famous blood sausage pizza. Reserve a table and don't miss the bathroom where an audio recording of Germany's football defeat to Austria in 1978 is played on loop.
Cordobar
Große Hamburger Str. 32
10115 Berlin
+49 (0) 30 27581215
Bars
Würgeengel
Hidden away in a traditionally punk part of town, this classic cocktail bar has been serving up exquisite classics for the past 25 years. Their talented bar staff are happy to take off-menu orders. Ask Clemens, the kind door man, to seat you at the front of the bar so you can observe the antics of an oddly captivating public. It fills up on the weekends, so try to arrive before 10 p.m. to get a table, or visit on a weeknight to avoid the tourists and share a drink with a local.
Würgeengel
Dresdener Str. 122,
10999 Berlin
+49 (0) 30 6155560
Klunker Kranich
Located on the top deck of a parking lot inside a questionable shopping mall, this "alternative" rooftop-bar-slash-adult-playground is the perfect spot for a sunset drink set against the beats of electro swing. Most evenings offer a program of live music, which more often than not includes a full gypsy band; Monday night is cinema night. If you fancy a quiet drink between friends, head over before 4 p.m., when they start charging a small cover fee.
Klunker Kranich
Karl-Marx-Straße 66
12043 Berlin
Kaschk
This very centrally located bar is operated by a bearded crew of Norwegians and has quickly turned into one of the city's prime craft beer spots. Choose from a wide selection of German and imported craft beers on tap, then sneak down to the cellar to challenge a local in a game of shuffleboard. It's also a great place for a coffee during the day.
Kaschk
Linienstraße 40
10178 Berlin
+49 (0) 1578 1979970
Prater Garten
A Berlin institution that's been around for over 100 years, this is the city's most beautiful Biergarten. Prater is the perfect place to hang out on a sunny afternoon for a Prater beer or a Berliner Weisse (a sour wheat beer) beneath the ancient chestnut trees. The connected restaurant is also great for a proper German meal; they serve a mean schnitzel.
Prater Garten
Kastanienallee 7-9
10435 Berlin
+49 (0) 30 4485688
Maxim
Berlin's—and Germany's—foremost natural wine bar is a must-visit for fans of the natural wine culture that's gaining traction throughout Europe. Enjoy some of the tasty little snacks served at the bar, like the cheese and charcuterie platter, and have the friendly staff pair your food with some excellent glasses of wine.
Maxim
Gormannstraße 25
10119 Berlin
+49 (0) 30 65833962
Food Destinations
Street Food Thursday
Dive right into Berlin's Food world. Here, 40 to 50 young food entrepreneurs showcase their very best in street food once a week, from takoyaki (Japanese Octopus balls) to Taiwanese pork belly baos, Peruvian ceviche to Indian naan wraps (filled with Berlin-made paneer). Come early to avoid lines, and grab a table and a bottle of German Riesling from the Weinhandlung Suff Wine stand while gathering a feast with friends.
Street Food Thursday
Thursdays from 5pm-10pm
Eisenbahnstraße 42-43,
10997 Berlin
+49 (0) 30 61073473
Prinzessinnengarten
A fantastic urban gardening project where vegetables, herbs, and mushrooms are grown in mobile containers right in the middle of the trendy Kreuzberg neighborhood. Take a break from the busy city life, have a chat with the inspiring people behind the project, and enjoy a lovely meal in the garden restaurant.
Prinzenstrasse
Prinzenstrasse 35 – 38
10969 Berlin
+49 (0) 176 24332297
Ka De We
A piece of history and a landmark on the shopping avenue Kurfürstendamm, the top floor of the iconic department store features one of the city's finest food departments. Swing by to pick up some German delicacies and stick around for a splendid lunch at one of their food bars. Highly recommended is the sausage bar, where you can feast on speciality wurst from every region in Germany.
Ka De We
Tauentzienstraße 21-24
10789 Berlin
**Pop-Ups ** As a result of the city's thriving food culture, many young chefs are using the pop-up format to arrange exclusive restaurant nights for lucky guests. Prime examples include Canadian chef Dylan Watson and his project Ernst, a Japanese-French take on modern fine dining; the Korean-American-German couple Mr. Susan, with their heartwarming American-Korean Seoul food; or the two Dutch chefs Lode & Stijn, with their modern bistro concept. Check their websites for availability and book in advance to be part of these unique dining experiences.
Markthalle Neun **Farmers Market ** Home to Germany's new food movement, this 120-year-old deserted market hall was revived three years ago by new owners who invited food producers and artisans from around the region to set up home, offering the locals a weekly farmers market on Fridays and Saturdays. Make sure you stop by Glut & Späne for smoked fish and wash it down with a pale ale brewed by Heidenpeters in the cellar. Finish off your trip with a Schwarzwalder Kirsch torte from Frau Zeller's award-winning cake stand and a Milch kaffee from the house coffee shop, Cafe 9.
Markthalle Neun
Eisenbahnstraße 42-43,
10997 Berlin
+49 (0) 30 61073473
**Currywurst ** It would be a sin to leave Berlin without having a Currywurst, arguably the city's number one contribution to culinary history. You can queue with the masses at Curry 36 in Kreuzberg, have a classic version at the iconic Krasselts in Steglitz, or go organic at Witty's in Schöneberg. And remember: The real Currywurst is always ordered without sausage skin, and with onions.
Curry 36
Mehringdamm 36,
10961 Berlin +49 30 2517368
Krasselt's
Steglitzer Damm 22,
12169 Berlin
+49 30 7969147
Witty's
Wittenbergplatz 5,
10789 Berlin
+49 30 2119496
Third Wave Coffee Tour Coffee culture is blooming in Berlin and there are plenty of options for serious bean aficionados. Bonanza Coffee Heroes in Prenzlauer Berg and Five Elephant in Kreuzberg are two of the city's largest third-wave roasters and both iconic coffee shops that shouldn't be missed. Companion Coffee in Kreuzberg is another, headed up by Shawn Barber and Chris Onton; they run the friendliest coffee shop in town located in one of the coolest fashion stores in Kreuzberg.
Bonanza Coffee Roasters
Oderberger Str. 35,
10435 Berlin
+49 171 5630795
Five Elephant
Reichenberger Str. 101
10999 Berlin
Companion Coffee
Oranienstraße 24
10997 Berlin
+49 163 1640275
Turkish Market
There are plenty of lovely farmers' markets around the city, and one of the most iconic ones is the Turkish market on the Neukölln Maybachufer that happens every Tuesday and Friday. It's an El Dorado for vegetables, Turkish produce, fabrics, and everything else imaginable, and there is an abundance of lovely things to snack on while you shop.
Maybachufer
10999 Berlin
Blutwurst Manufaktur
In 2004 the French Confrerie des Chevaliers du Goûte Boudin (The Black Pudding Fraternity of Lovers of Good Food) ordained Marcus Benzer a knight for blood sausage; Benzer is one of the only butchers outside of France to have this auspicious title. The butcher shop is located in the historic area of Rixdorf and has been producing sausages for the last 100 years. Luckily for tourists, he vacuum packs them to make the perfect Berlin food gift.
Blutwurst Manufaktur
Karl-Marx-Platz 7
12043 Berlin
+49 (0) 306872004
Preussische Spirituosen Manufaktur
Unchanged since 1874, this stunning distillery is the last of its kind. Once visited daily by the Prussian King Wilhelm, this space has served as a laboratory, factory, and a school for distilling. These days it's more of a museum and factory combined into one. It's worth registering in advance for one of the guided tours; don't forget to visit the shop to stock up on Prussian spirits before you leave.
Preussische Spirituosen Manufaktur
Seestraße 13,
13353 Berlin
+49 (0) 30 45028537
Hotels
25hours Hotel Bikini Berlin
This colorful design hotel overlooks the famous Berlin zoo situated in the lush city park, Tiergarten. Book a jungle room to ensure a room with a zoo view or simply enjoy your morning coffee and a nightcap in the Monkey bar to take in some of the best views of the city. It's built in a creative shopping complex perfect for finding the ultimate Berlin design souvenirs. Make sure you add breakfast onto your stay—the in-house Israeli restaurant Neni puts on a great mediterranean breakfast buffet, and they have sourced what's arguably the best cheesecake in the city from Five Elephant bakery, found in their lobby cafe.
25hours Hotel Bikini Berlin
Budapester Straße 40
10787 Berlin
+49 (0) 30120221255
Michelberger Hotel
A playful boutique hotel that captures the personality of the youthful Berliner, this is definitely where the cool kids come to stay. Situated on the border of Kreuzberg and Friedrichshain, this loud neighbourhood is alive 24/7. You'll find plenty of cafés, bars, flea markets, and clubs in a two-mile radius of the hotel. The loft room is their standard room with a king-sized adult bunk bed. Be sure to spend an evening in the lobby bar with the local city hipsters sipping on the hotel's own house-made coconut water.
Michelberger Hotel
Warschauer Str. 39/40,
10243 Berlin
+49 (0) 30 29778590
Das Stue
Hidden away on the outskirts of Tiergarten, this luxury boutique hotel is nestled between the Spanish embassy and one of Berlin's best-loved beer gardens. Built in what was the former Royal Danish embassy, this grand building houses plenty of comfortable corners, such as multi-story libraries and an in-house spa that will help you escape the concrete of the city. Their Michelin-starred restaurant, Cinco, offers one of the most courageous tasting menus in the city and makes for the perfect date night meal.
Das Stue
Drakestraße 1,
10787 Berlin
+49 (0) 30 3117220
Kavita Meelu is a pioneering curator and organizer of some of Berlin's most exciting food projects, including Street Food Thursday, Burgers & Hip Hop, and Schlachtfest. Per Meurling is a Swede living in Berlin who devotes his time to searching for the city's best restaurants on his blog BerlinFoodStories.com