Where Do You Get Barbecue When You Smoke Meat for a Living?
Eight Southern chefs and pitmasters talk up the barbecue spots they hit in their off hours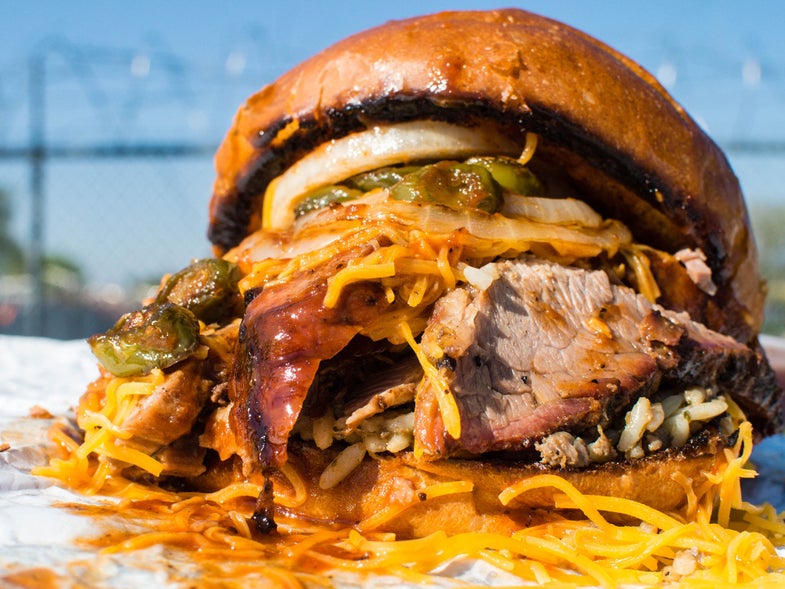 Some of the most exciting barbecue joints in America don't make any of the national lists: they're the tried and true local spots that don't need to advertise or prove themselves to anyone. So: Where do you find them?
You have to ask the people that live there. Which is why we hit up a cadre of barbecue-loving pitmasters and chefs from Texas and the South on where they go in their off hours. They'll all be talking 'cue and cooking this Sunday in Houston, Texas at Southern Smoke, a smoky feast organized by Underbelly chef Chris Shepherd and the HOUBBQ collective to benefit the National Multiple Sclerosis Society.
Aaron Franklin, Franklin Barbecue: Valentina's Tex Mex, Austin, Texas
"I'm a huge fan of Valentina's Tex Mex BBQ in south Austin. Fresh tortillas, great salsas, and delectable mesquite-smoked meats. One side of the menu is Tex and the other is Mex. They meet in the middle to make the most rad tacos in town."
Sean Brock, Husk: Helen's Bar-B-Q, Brownsville, Tennessee
"No one works harder than Mrs. Helen Turner. Her humble place, Helen's Bar-B-Q in Brownsville, Tennessee is a true American treasure. The smells and flavors of that place haunt me daily. Someday I hope to be a part of something that special."
Ryan Pera, Coltivare: Allen and Son Bar-B-Que, Chapel Hill, North Carolina
"I am a North Carolinian by birth, so my heart lies with the wonders of the smoked pig. My favorite barbecue joint in North Carolina is Allen and Son Bar-B-Que outside of Chapel Hill. I discovered it my freshman year at Carolina (20 years ago now) when my roommate and I were driving back to Charlotte on weekends. Soon we were making trips just for the barbecue. Whenever I am in the area I make sure to stop by, and it's still just as good."
Terrence Gallivan, The Pass and Provisions: Gatlins BBQ, Houston, Texas
"Gatlin's is one of my favorites. Greg's pork ribs are pretty hard to beat, and it's a real family affair."
Chris Shepherd, Underbelly: Southern Goods, Houston, Texas
"Patrick Feges has a few delicious smoked meat dishes on the menu at Southern Goods, a restaurant that recently opened in Houston. It's not a barbecue restaurant, but the dishes they do smoke are done exceptionally well. Patrick has a background in barbecue, and it shows. I'm really proud of what these guys are doing right now."
Terrence Gallivan, The Pass and Provisions: Allman's Bar B Q, Fredericksburg, VA
"There's a sentimental favorite of mine where I grew up called Allman's Bar B Q. They have been there since the 50's. It's this tiny little place—mostly pulled pork—but really simple and tasty."
Justin Yu, Oxheart Houston: Rudy's Bar-B-Q, Texas
"I'm a huge fan of Rudy's Bar-B-Q. There's a lot of locations, but it's solid and—more importantly—a lot of fun. From the large picnic tables, to the excellent smoked prime rib, to the top-notch cream corn, and even what I can only imagine is banana pudding mix from Sysco: It's always a good option."
Rodney Scott, Scott's Bar-B-Que: You Have to Live There
"There is a local guy here (in Hemingway, South Carolina) who mostly cooks for his family. We call him "Coop." His ribs and chickens are amazing! He had a joint back in the nineties. This guy does some great food and is well known in my area. His sauce is a little sweet but not too sweet! Just right!"