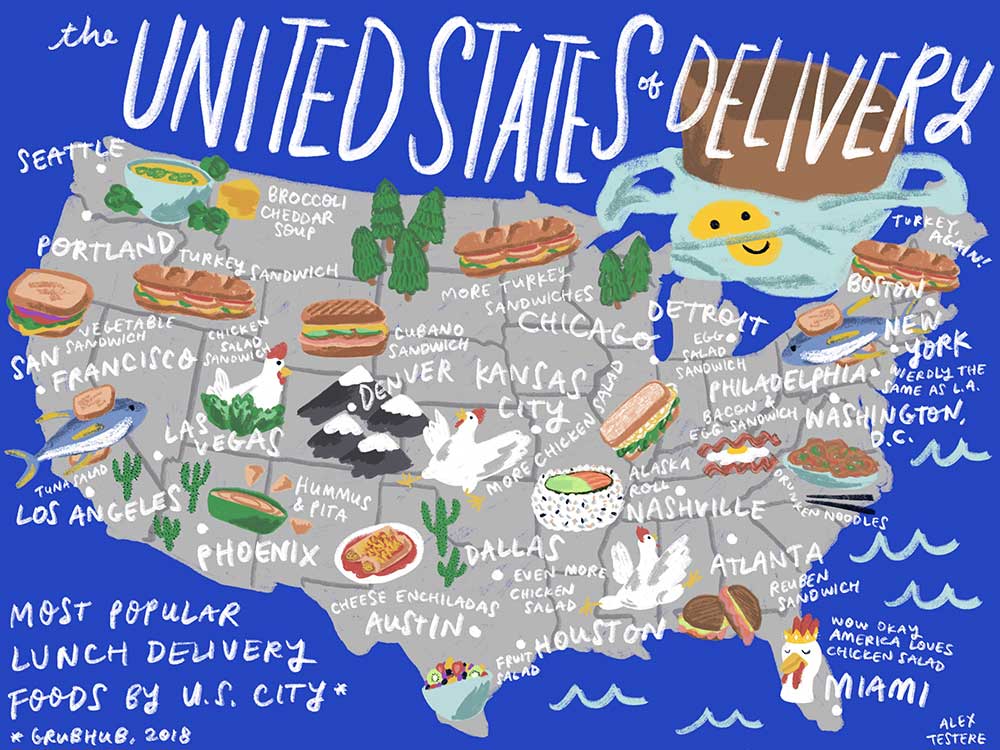 Culture
The United States of Lunch Delivery
An illustrated guide to America's favorite transportable lunch foods
Americans love to work through lunch. It's a simple fact of our obnoxiously capitalist lives, and it often means enlisting some help to ensure we don't tweak out after skipping breakfast and drinking too much coffee. According to Grubhub, the most popular delivery service in the U.S., an average 392,500 delivery orders are placed through their site every day. That's over 140 million orders every year. And that doesn't even include those from your local old-school pizza joint that you actually have to call on the phone.
So we asked Grubhub what their most popular lunch delivery orders were on any given day in a handful of America's biggest cities. The answers were … surprising.
Here in New York, lunch delivery means having the entire city's collective population of small restaurant owners at your fingertips. Largely the domain of immigrants (and descendants of immigrants) from around the world, it's as if every global cuisine is represented within any Manhattan delivery radius. Thai, Szechuan, Greek, Jamaican, Goan, Korean—you name it and it's here. And then there's the myriad chopped salad spots and cold-pressed juiceries also willing to put your food in a smiley-face bag and send it on its way.
So as I slurped a bowl of pho, delivered from a Vietnamese restaurant a mile-and-a-half uptown, I wondered: What fascinating results will this study reveal? What microcosms of the immigrant experience will surface in this examination of America's great cities?
View More Sandwich Recipes
Turns out, it wasn't quite as I'd imagined. Despite the number of small restaurants and franchises offering a variety of global dishes, when it comes to lunch delivery, Americans mostly just want sandwiches. Sometimes egg salad, sometimes tuna salad (perhaps the sole area of common ground between New Yorkers and Angelenos?), and jeez, guys, so much chicken salad. All hail chicken salad, Queen of Lunchtime In America. Some findings were peculiar: Seattle's very into their Quizno's broccoli and cheddar soup. Houston is all about fruit salad. Nashville, a land-locked city 500 miles from the nearest ocean, orders salmon and avocado sushi 286% more than any other dish city-wide.
Here you'll see them all illustrated, with specific details on each dish in each city, so you can figure out exactly where those Austin locals get their delivery enchiladas.