Venezuela's Food Shortage Has Gotten so Severe That Airlines Are Canceling Flights
Staple crops like rice, beans, and sugarcane are all but exhausted, driving long, contested lines for government distribution of food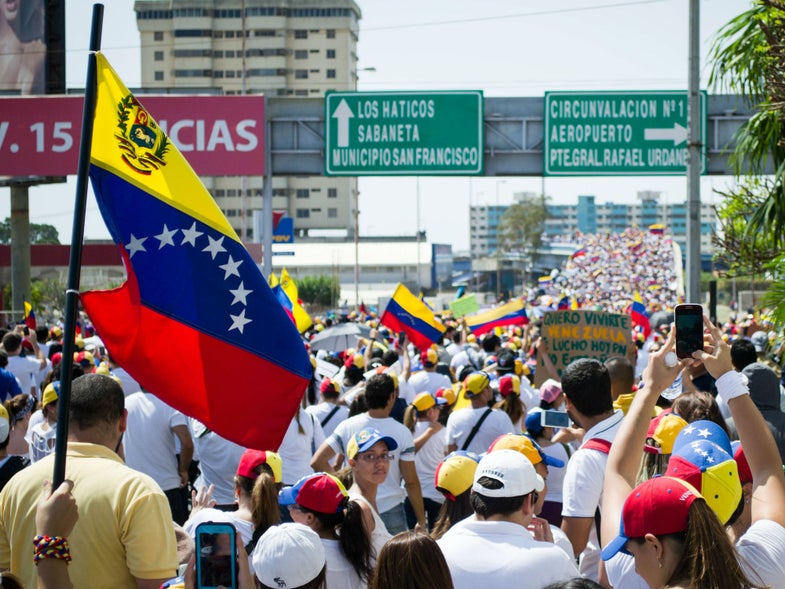 On May 24th, Reuters reported that Coca-Cola's production in Venezuela would stop because of a lack of sugar. "Sugar suppliers in Venezuela have informed us that they will temporarily cease operations due to a lack of raw materials," said spokeswoman Kerry Tressler. But the sugar cane shortage underscores a much bigger problem for the Latin American nation: Venezuela's population is going hungry, to the point that local and international airlines are suspending or canceling service to the country.
This Coke moment put a spotlight on an economic issue that has been exacerbated by political tensions in the country. Fox writes, "Venezuela's economy is spiraling into extreme recession. It is ironic given that the country sits on the world's largest proven oil reserves … However Venezuela hasn't cut back from expensive government spending even as oil prices have lost half its value in the past two years." And the current President Nicolas Maduro is facing protests by the public, as well as pressure from the opposition-led Congress. But as the country's political and economic situation continues to slide downhill, middle-class Venezuelans wait in line for hours to get food from empty grocery stores, and resort to measures such as digging through garbage to survive.
President Maduro's government has supposedly purchased tons of staple food items, such as rice and beans, to distribute to Venezuela's population. The BBC reports that "The government has said the new system will distribute food 'house by house' to thousands of families who will be expected to register for the system. They will receive bags containing various basic products including maize flour, pasta, rice and oil." But the President's opposition has accused him of leveraging this distribution system as a way of monopolizing food distribution. The secretary general of the opposition coalition Jesus Torrealba accused the President of "blackmailing the people through their stomach."
The President isn't the only one accused of blackmail. The Guardian interviewed several Venezuelans who are frustrated by the situation. One, 24-year-old social media manager Andrea Ramírez, said, "Unless you stay overnight, praying the bachaqueros [black market traders] don't cut the line with violent threats, you can't find deodorant, shampoo, soap, flour, rice, pasta, margarine, milk, formulas for babies, diapers, oil, beans, sanitary pads, toilet paper, you name it. Conversation always circles around food; what people didn't find and what they need. The only way to buy them is on the black market."
To cope, Venezuelans have turned to a few different measures. There are those who dig through food discarded by restaurants. Others resort to a burgeoning food smuggling market. An in-depth report from Reuters describes a smuggling scene; one smuggler is quoted as saying, "There's nothing left in Venezuela, what's left is hunger. Colombia is what's saving us." And as mango season picks up, hungry Venezuelans are resorting to the fruit for sustenance. The Christian Science Monitor released a story indicating that mangos are filling, but in many cases all anybody has. They quote a student, who says, "…by the looks of it, I'll be eating mangos for several more days because that's what we have."
But with the continued standoffs between the current government and its opposition, as well as ongoing protests on the street by those who aren't waiting in line, the crisis appears to be picking international attention. On June 3rd, police tear gassed protestors chanting "we want food" as the government continued to insist things would improve soon. But with flights to the country reduced and cancelled, any improvement will be under a growing specter of isolation.