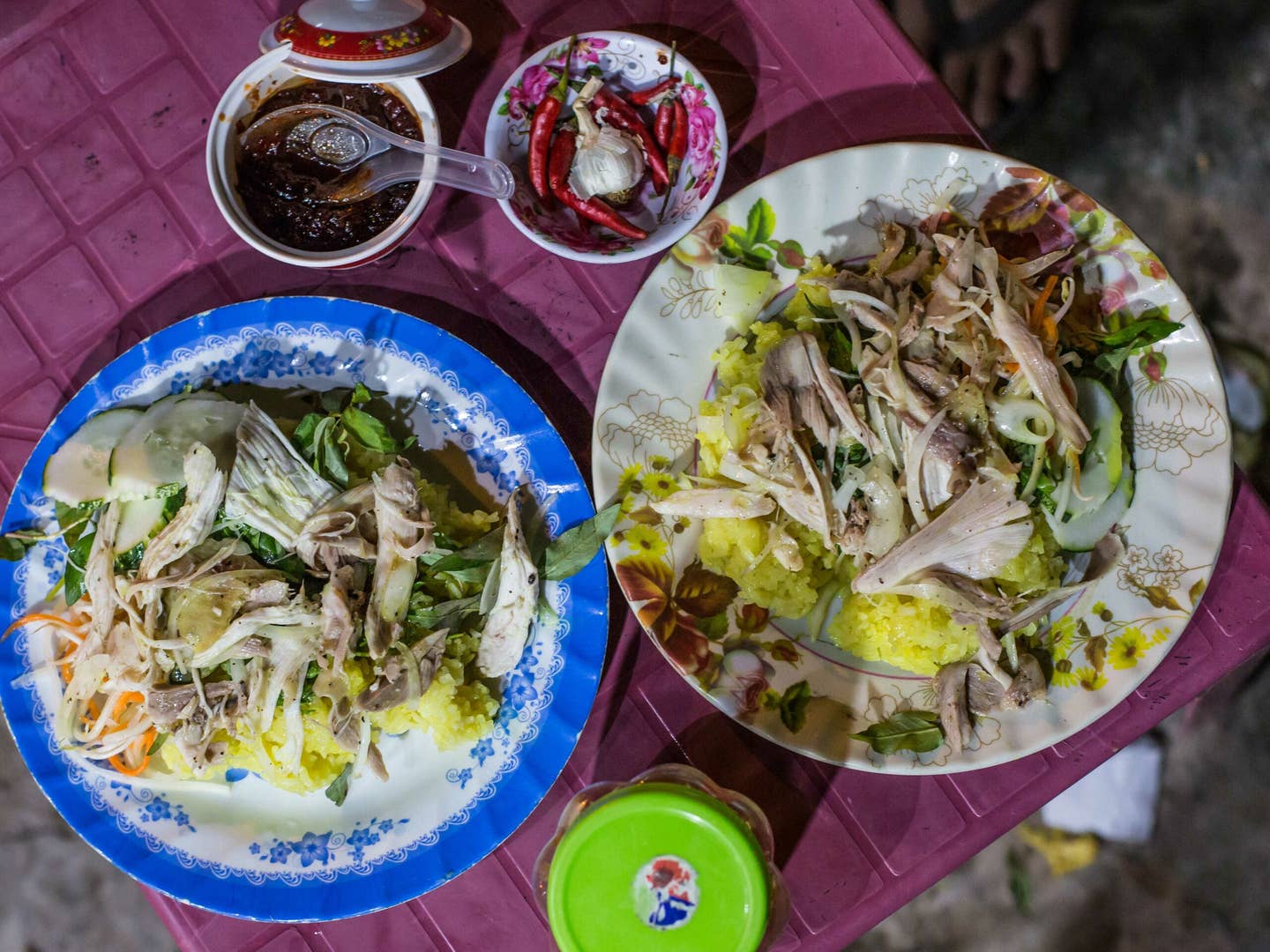 Travel
Is This the World's Best Chicken and Rice?
Go eat com ga Tam Ky, the overlooked but essential rice platter of central Vietnam
Chicken and rice is an unfussy, elemental combination—a culinary commonality celebrated across the world, from arroz con pollo to Hainan chicken. But the way I see it, one of the world's best plates of chicken rice is also the most overlooked: a dish from the the town of Tam Ky that, like its most famous recipe, gets passed over all too often.
The beachside Vietnamese city serves as the provincial capital of the central Quang Nam province, which is also seat of the well-preserved ancient port city of Hoi An, a UNESCO world heritage site, and formerly home to the nearby metropolis of Da Nang, which became an independent municipality in 1997. Although it's the region's primary government hub, it's become a sort of flyover town next to its tourist-beloved neighbors.
It makes sense then that com ga Tam Ky, with variations ranging from chicken with rice porridge to chicken with sticky rice, doesn't get nearly the airtime of Hoi An's cao lau noodle soup or Danang's banh trang thit heo in the Vietnamese culinary canon. (Hoi An sometimes even gets full credit for the dish after shops in the city started hawking com ga Hoi An in the '90s).
But this is one chicken and rice well worth getting to know. You can eat it at the well-known Com Ga Ba Luan restaurant, which now even has a location in Saigon, but I sometimes prefer to grab seat at one of the fluorescent-lit, plastic-table joints lining the streets throughout town. In Tam Ky, it gets so quiet so early at night that the chop chop of vendors preparing chicken is likely the loudest sound you'll hear after 9 p.m., interrupted only by the occasional passing motorbike and the clinking of beer glasses. And when all the town's restaurants and bars have closed, you can enjoy the three-dollar plate of com ga with your 50-cent bia (sound it out) and feel perfectly happy.
The mix-and-eat com ga platter is built in layers, starting with a mound of soft, yellow-tinted rice, sometimes cooked in chicken broth and fat to double down on the flavor. Next comes slivers of white chicken meat—typically the whole bird's been boiled with green onions, ginger, turmeric, and salt and shredded by hand—splashed in a light dressing of fish sauce, sugar, and lime juice. For crunch, the plate's crowned with the usual bundle of aromatic herbs including rau ram, or Vietnamese coriander, as well as raw onions quick-pickled in vinegar and sugar. When jumbled up together, it makes for a combination at once soft and crunchy, spicy and cooling, filling but refreshing.
The origins of com ga are, like those of most foods of Vietnam, destined to remain murky forever; an already sparse written history, much of which is told through the perspective of invaders and foreigners, was disrupted by hundreds of years of war. The skin-on boiled bird with chiles and herbs bears a resemblance to a Chinese dish popular in the rest of Southeast Asia, Hainan chicken, a connection some attribute to the contact of cultures in Hoi An, which was then one of Southeast Asia's most grand, cosmopolitan ports catering to Portuguese, Chinese, Japanese, and Singaporean merchants. And given the Chinese origin of the name "Tam Ky," it's possible that city was inhabited by foreigners who created a new version of their famed chicken and rice—much like European immigrants to America who applied their meat-smoking prowess to pastrami in New York and brisket in Texas.
So is it worth leaving the grandiose shopping malls of Da Nang and the Instagram-friendly backdrops of Hoi An for a plate of chicken and rice in a small town with virtually no tourist attractions? I'd say that rawness is one of the most alluring parts: The city, like the dish, is virtually untouched by outside influences. Tam Thanh beach, with no jetskis or water rockets, is one of the country's most beautiful, free of resorts and overdevelopment. You may be hard-pressed to find an English speaker outside of hotels, but at least no one will try to sell you tourist trinkets.
If anything, eating a plate of com ga in Tam Ky is a reminder that sometimes the most quotidian foods can make for the most unforgettable experiences.