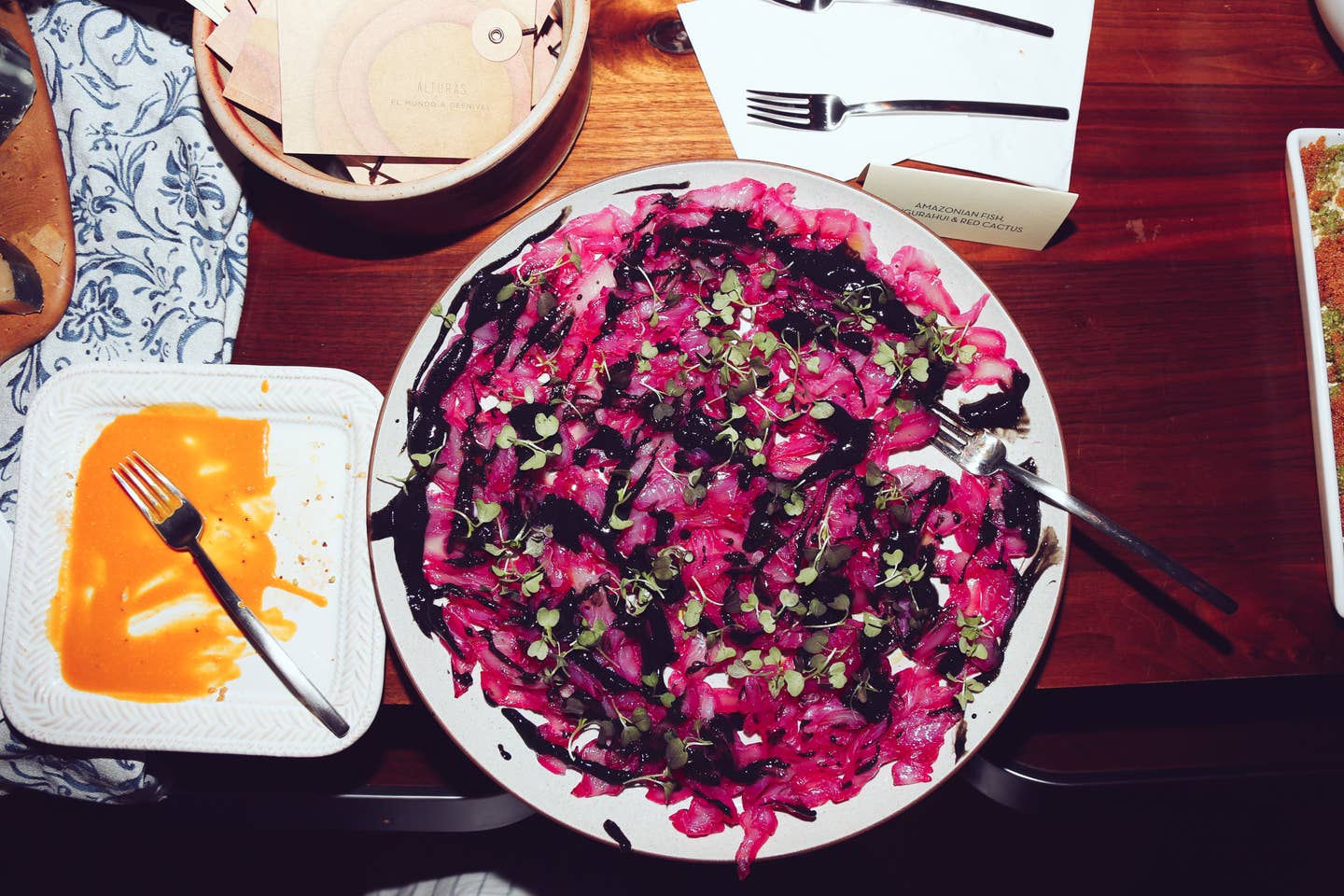 Culture
Virgilio Martínez Brings Lima to Brooklyn
The chef of Peru's revered Central celebrates a new cookbook and cooks a #saveursupper for us
Chef Virgilio Martínez is hunched over a plastic container filled with potted flowers. With a pair of tweezers, he plucks off individual petals, placing them in a bowl filled with a red mix of fruits and maca root. These edible flowers serve as a garnish for dessert, and the effect is so colorful and bright, it's hard to imagine a hungry crowd digging into something that looks more like a work of art. He has also brought sheets of edible clay, which he breaks into small pieces and will eventually put in the dessert. Martínez also has coca leaves, multi-colored potatoes, and huge corn kernels that are speckled and striated.
Martínez is aware that his ingredients are not necessarily conventional. As he tells Editor-in-Chief Adam Sachs at Tuesday night's Saveur Supper, "I brought some ingredients from Peru, from the Andes and from Amazonia as well, so I'm bringing ingredients that probably you haven't seen before, which is quite exciting." At Central, Martínez's Lima-based restaurant, these uniquely Peruvian ingredients are organized by altitude, highlighting the country's immense biological diversity. Martínez began cooking after two injuries put his skateboarding career on hold. Now a Michelin-starred chef and owner of Lima in London, Martínez has made it his goal to share Peruvian cuisine around the world. The evening featured cocktails designed by Llama Inn and pisco provided by Macchu Pisco, as well as wine from Roca Rey and David Bowler Wine.
The dinner isn't a sit-down formal affair, but Martínez meticulously plates his food for those who line up. He scoops some avocado with red kiwicha and tiger's milk on a plate next to a bright orange sauce-covered pile of high-altitude tubers. Then, with an artist's precision, he pulls a giant amaranth leaf out of a bowl of cold water and sets it on the plate.
And now, those who can't get to Martínez's restaurant will still have the chance to learn about his food; his book Central (Phaidon, October 2016), which he co-authored with Nicholas Gill, showcases beautiful photos and in-depth information about where he finds his ingredients.
See below for our photos of the night's festivities.