What to Consider When Building an Outdoor Kitchen
How to fight off mosquitoes, keep cool, and pick the best appliances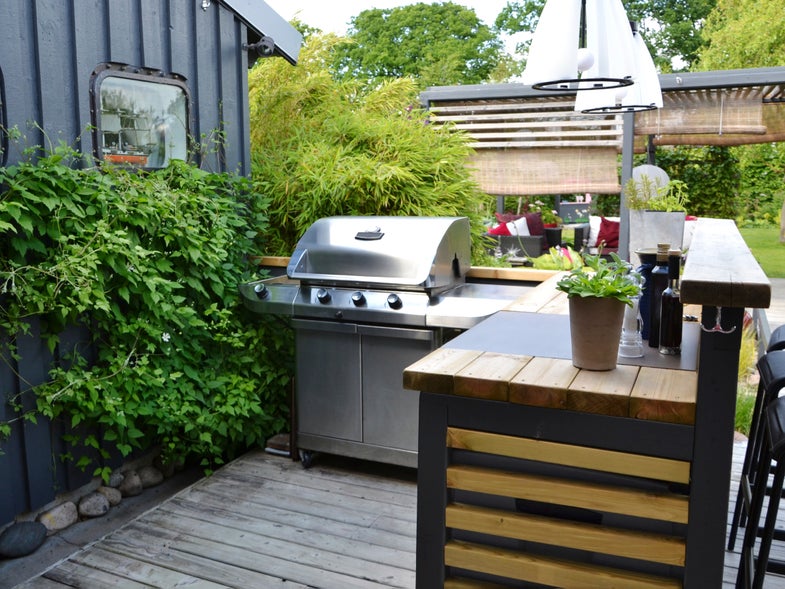 When cultivating your own outdoor cooking space, looking beyond the charcoal and tongs can open you up to a new kind of al fresco experience—and that means enjoying the act of barbecuing without the frenzy of running between the kitchen fridge and grill. To take your picnic and outdoor dinner game one step further, consider these options:
Find a sturdy table.
You likely already have patio furniture (or at least a mishmash of chairs), but a sturdy table, big enough to fit a whole hungry crew, elevates a summer grill session to a bonafide meal. Metal furniture is durable, but when it bakes in the sun, its radiating heat can become unbearable. Consider a dark-stained wooden set, like the six-seated, drop-leafed Äpplarö set from IKEA in a dark stain.
Get an outdoor compact refrigerator.
You'll likely be keeping less in your outdoor kitchen than you do in your primary kitchen, but an outdoor refrigerator—something small enough to fit into a cabinet—is a convenient place to store marinade ingredients, condiments, and vegetables. A stainless steel Alfresco outdoor refrigerator functions well underneath a bar, and can also be converted into a keggerator, if that whets your whistle.
Get to know your specialized grills.
Slater's clients are seeking more freedom in the type of cooking one can do outside on standard outdoor gas grills. He's seen an uptick in requests for built-in cabinetry to conceal ceramic charcoal grills to cook pork shoulder and other barbecue items. Ceramic Big Green Eggs are available through dealers internationally. Woodburning ovens like Fontana Gusto can offer an additional custom touch an outdoor kitchen/entertaining space even further, allowing pizza-making capabilities to a domain typically limited to standard cooking.
Buy power burners.
Boiling water outside is harder than it seems, and you'll need power burners to do it. Most regular burners aren't strong enough to boil water outside, because of fickle environmental variables. For a truly functional outdoor kitchen, you want to be able to fry a turkey or boil shrimp outside, rather than running in and out the backdoor with a pot of sloshing, boiling water. Consider a special-made outdoor natural gas or propane burner like one from Blaze Outdoor Products.
Protect yourself from the heat.
Eating, cooking, and lounging outdoors is no fun if you're suffering from the heat. Solar protecting fabrics like those made by Sunbrella can be used to create a custom awning over your outdoor kitchen space; their UV-protecting and fade-resistant fabrics let you focus on the grilling instead of the oppressive July heat.
Keep mosquitoes at bay.
For a mosquito repelling system that functions better than a citronella candle or dousing yourself in bug spray every fifteen minutes (and thus potentially contaminating your burgers), try a misting system. "The most advanced I've seen is a perimeter misting system on a timer," said Slater. He recommends MistAway Systems, an automatic misting system that sprays an insecticide through nozzles installed on your property.
Claire Carusillo is a writer in New York City. She pines for hot carbs and luxury.