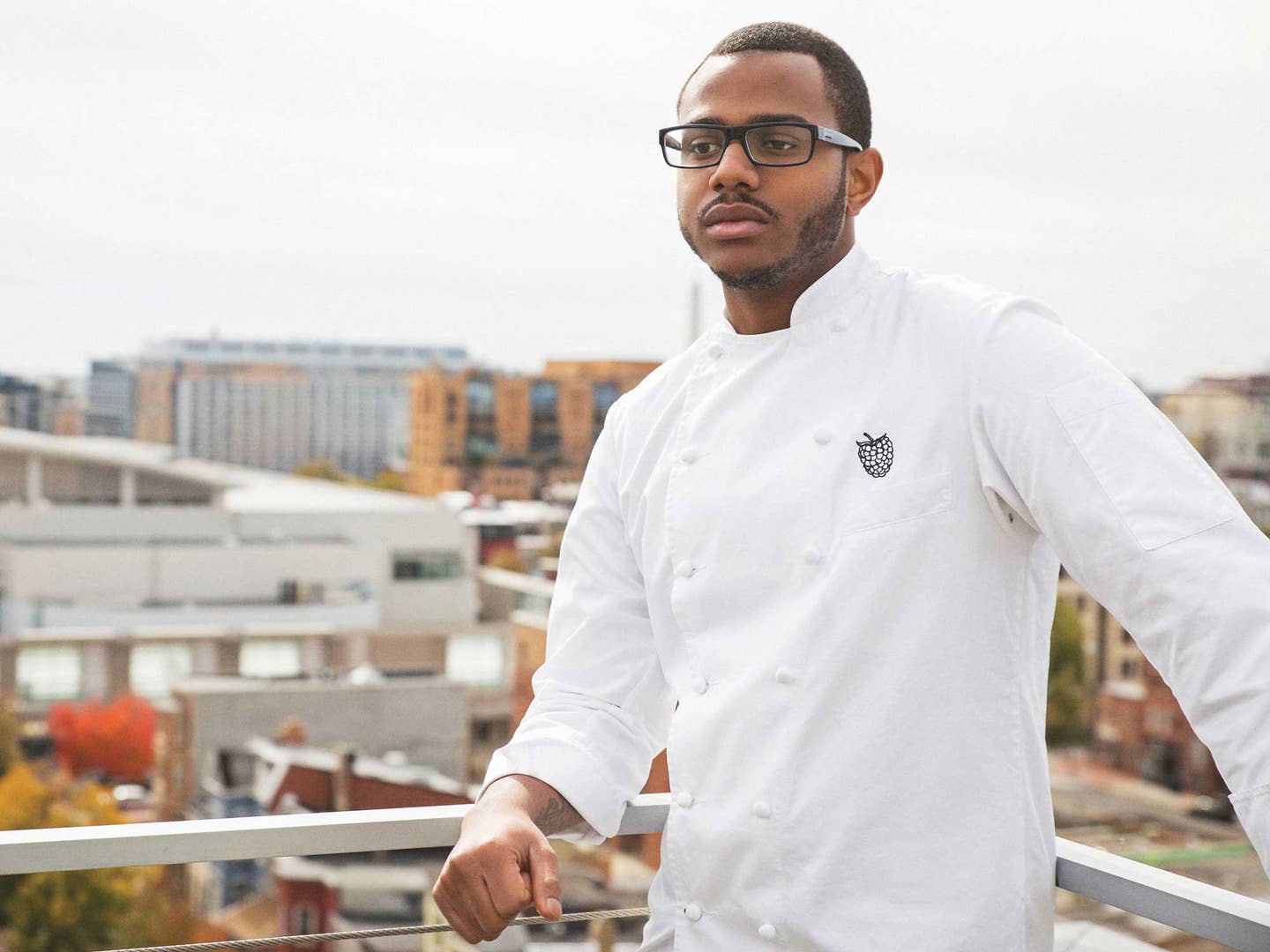 Travel
An Insider's Guide to Eating the Bronx
The jerk chicken, West African food, and fresh empanadas every New Yorker needs to know
Before Kwame Onwuachi learned to cook, his mother, a chef and caterer, made sure he knew how to eat. Ask the 25-year-old chef where his cooking career began and he won't say his stints at New York's Eleven Madison Park and Per Se, or the catering company he started when he was 20, or his Top Chef appearance, or his coursework at the Culinary Institute of America.
No—for Onwuachi, who's about to open The Shaw Bijou in Washington, D.C., "it started in the Bronx with [his] mom."
That meant a steady diet of West African fufu, Jamaican jerk, and Puerto Rican pernil, everything a Creole-Jamaican-Nigerian family needs for a taste of home, and everything a curious cook, who started peeling shrimp in his mother's kitchen at the age of eight, needs to kick off a lifelong obsession with global cooking.
In the Bronx, a borough that draws more foreign immigrants than entire metropolitan areas, about half of the area's households speak a language other than English at home. It is, bar none, one of the most linguistically and ethnically diverse places on Earth, where Puerto Ricans rub shoulders with Ghanaians, Bangladeshis, and Jamaicans. All of those communities cook—in many cases extremely well—and this is where you'll find New York's mightiest roast pork, its most delicate Salvadoran pupusas, and its only instances of, say, Garinagu cuisine or hyper-obscure Italian charcuterie.
Yet in a city that prides itself on eating globally with residents who will gladly travel and queue up for good food, most adventurous diners who live outside the Bronx have never actually set foot in a restaurant there. And that's a shame. A population that boasts fearlessness regarding, well, everything shouldn't need Anthony Bourdain to uncover the cooking happening a few subway stops away.
"I think people just write off the Bronx as not a destination," Onwuachi says, "but I think it's our job as chefs to educate people about different places that are meaningful."
If you look at the chicken with mojo sauce on Shaw Bijou's menu, you don't have to go far to see where it comes from. Onwuachi's untraditional mojo may be a fluid gel set over tempura-style fried chicken, but it begins with the Puerto Rican and Dominican diners around Baychester Avenue. His lamb sweetbreads with smoked white sesame and chiles? An homage to the halal cart lamb over rice you'll find all around the Bronx.
This is why whenever Onwuachi's back home, he takes his chef friends around the borough for an impromptu tour of his favorite foods, an eclectic and delicious mix of jerk chicken, blisteringly spicy West African stews, and fresh-from-the-fryer empanadas.
"Their minds are blown. One friend said, 'This is easily the best meal I've ever had in New York City, and I've spent thousands of dollars on all these high-end meals.'"
If you're looking to get a taste of the Bronx yourself, follow along with Onwuachi's favorite restaurants in the borough.
How Kwame Onwuachi Eats the Bronx
The Jamaican Jerk Chicken Man
The order: Jerk chicken (duh)
"This man has no storefront. Just his truck, his grill, and a line around the block. To find it, get off the 2/5 train and follow your nose."
The Jamaican Jerk Chicken Man
Bronx Boulevard between 233rd and 234th Streets
Accra
The order: Ghanaian egusi (ground melon seed) stew with goat, mashed fufu, and jollof rice
"Bring your eating pants to this place because this food sticks to your ribs. Egusi stew is one of my favorite things in the world—it's a thick sauce of toasted melon seeds, sautéed spinach, and dried fish stock. It's umami heaven. Add a plate of jollof rice on the side and you can't go wrong."
Accra
2041 Davidson Avenue
(718) 584-8300
Liberato
The order: Pollo guisado (chicken stew), pernil (roast pork), mofongo (a mashed and fried plantain dish), and mondongo (tripe soup)
"So hearty and so delicious, I could literally eat this food everyday. When you walk in you are smacked in the face with the smell of chicken charring on the grill, continuously basted with a tangy mojo sauce that hits the coals and sends these citrus fumes billowing through the air. Eat everything here, seriously."
Liberato
10 West Burnside Avenue
(718) 716-6200
Martinez Restaurant
The order: Chicken and beef empanadas, arroz con pollo
"When I wasn't eating a bacon, egg, and cheese sandwich before school, it was because this place had some freshly fried empanadas. It opens early to get you what you need for breakfast."
Martinez Restaurant
2307 Jerome Avenue
(718) 583-2979
University Pizza
The order: Sausage and pepperoni pizza
"There may not be any Italians behind the counter throwing dough in the air, but you wouldn't know it when you taste the pizza. Get two slices with sausage and pepperoni and call it a day. Crispy underneath and gooey on top, loaded with thin slices of fennel pork sausage and pepperoni."
University Pizza
574 East Forham Road
(718) 220-1959
Jackie's West Indian Bakery
The order: Coco bread, curry chicken patty, and hot "hard dough" bread
"This is one of my all-time favorite places. When I was nine years old, the coco bread was 35 cents! I used to sneak out of my dad's house to go and eat here. I'd run all the way to see Ms. Jackie and get coco bread, a chicken patty, and a vanilla nutriment, and would be back home in front of the TV before he knew anything."