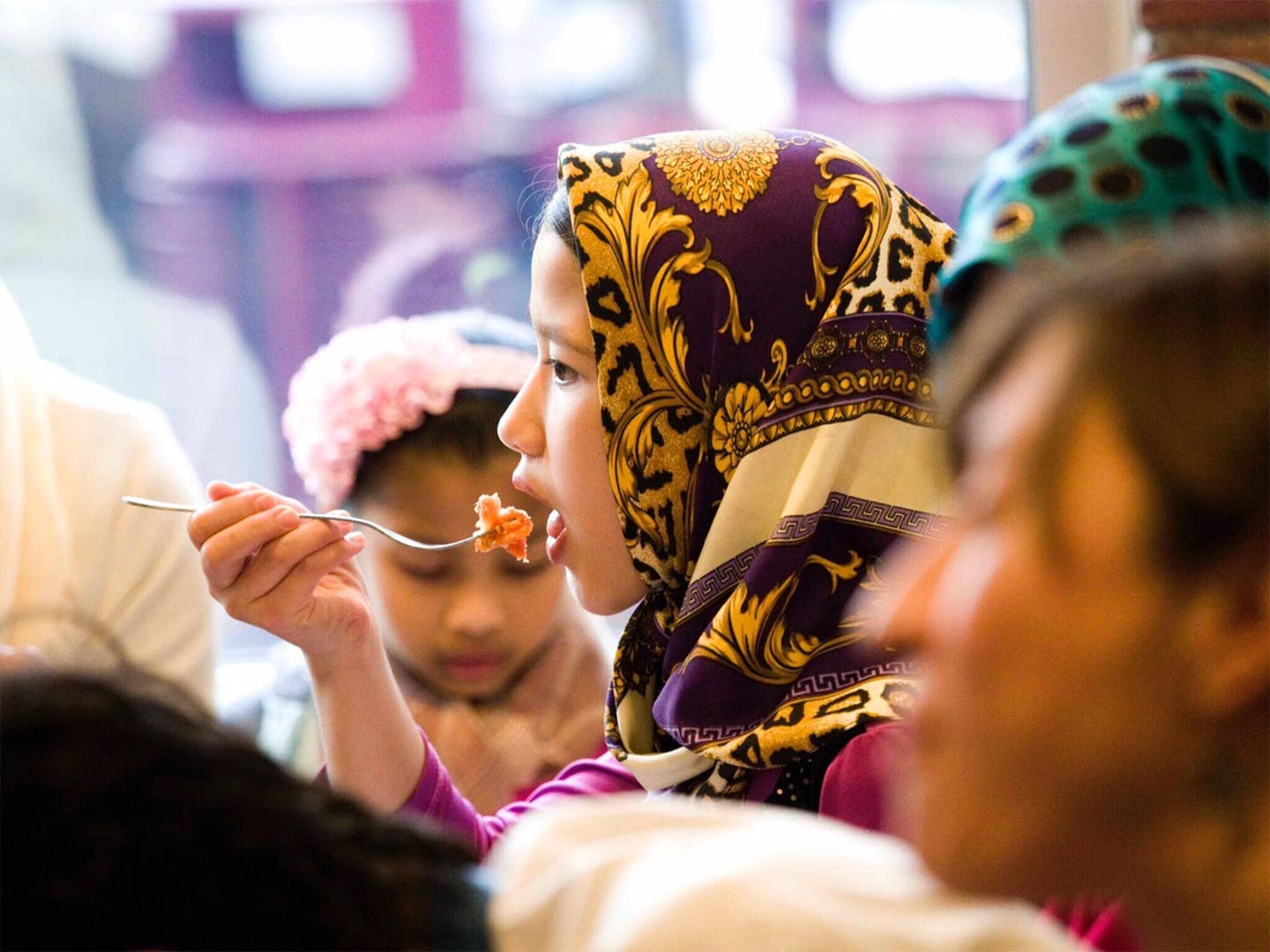 Travel
A New Restaurant Run by Refugees is Revolutionizing One of America's Poorest Cities
Since the 1970s, Syracuse, New York has been home to tens of thousands of immigrants seeking a better life in the U.S. With Love, a restaurant and training program that reinvents itself with a new host and cuisine every six months, is helping them—and the city's many low-income citizens—do just that
It was just a coincidence that With Love, a Syracuse, New York restaurant and business incubator, was scheduled to open the Friday after the presidential election. The city's tens of thousands of refugee residents—and their neighbors—were suddenly wondering: what would happen?
A lot of friends and acquaintances, still digesting the week's news, were planning quiet weekends at home. The temperature had just plummeted for the year's first real wintry night. But a friend and I bundled up and headed downtown. Down one desolate street cloaked in shades of gray, With Love glowed in full color.
The restaurant, a project sponsored by Onondaga Community College, aims to give entrepreneurs—largely refugees and other immigrants, but also aspiring American-born people—a workspace and start-up funding to launch their own food businesses. It functions as a series of pop-ups: entrepreneur residencies last six months, and when one residency ends, the restaurant reinvents itself. The inaugural incarnation is With Love, Pakistan.
The scene resembled a postcard image from a utopian urban America. Tattooed hipsters of every skin color mingled with women in hijabs. Elderly couples chatted with hippie families from the university neighborhood. Everyone good-naturedly made space for the gentleman on crutches and the woman in the wheelchair. The crowd wrapped out the door.
Inside, the restaurant gleamed with sky-blue-painted tin walls and gorgeous knotty wood tables. Enormous maps hung everywhere. "I collected those maps for years not knowing what I would do with them," said Adam Sudmann, who is heading up the restaurant with support from the college as well as Centerstate CEO, a group active in neighborhood revitalization and business incubation.
Sudmann was already known in the city for his one-night-only pop-up My Lucky Tummy meals, where he taps into the refugee community to find cooks. He had come up with the restaurant's name, an allusion to the sign-off on a postcard.
Sporting scarlet lipstick and a leopard-print sweater, With Love's inaugural restaurateur Sarah Robin smiled as she served guests. Four years prior, Robin and her husband left their native Pakistan and settled in Syracuse as refugees. So far, the couple has earned their living working checkout at a local supermarket chain. But tonight, Robin had the kitchen running in full force.
"My mom helped with the recipes, over the phone," she told me. Robin, as part of her training, taught the cooks how to make make her menu, including steamy pale-pink chai generously topped with pistachios, and tangy apple fritters served with a verdant herb chutney.
"What am I eating?" I overheard a woman saying, tilting her head to read one of the menu cards that had been scattered on tables here and there. There was some confusion—which was the dip and which was the lentil-and-chicken?—though the food was homey and comforting.
The handful of students working at With Love, I learned, would also turn over every six to nine months. In the meantime, they'd learn skills either on the kitchen line or as waitstaff in the dining room—even, in some cases, while simultaneously learning English. (A press release from Sudmann mentioned that diners might occasionally see interpreters trailing their waiters.) If these students faltered in their new jobs after completing the training program, With Love would take them back for additional training.
"These are people who have been dealt a lot of blows," said Sudmann. "Who might have been out of work for a while or might not have jobs that are as respected as what they had back in their native countries. To get out there in front of diners and learn how to make polite small talk in a new language—it's not easy. They're really putting themselves out there." Sudmann hopes that the safety net With Love creates will make it easier for them to take that leap.
Restaurant incubators and teaching businesses abound across the country, molding their forms to fit their cities' needs. Hot Bread Kitchen in New York City teaches baking and business management to immigrant women facing job insecurity, a natural fit in a city that seemingly has almost as many bakeries as it does yellow taxis. Many smaller cities, like Pittsburgh and Washington, D.C., have developed restaurant incubators that breathe new life into landmark buildings that have fallen out of use, showcasing up-and-coming chefs who already have small followings but lack capital to strike out on their own.
With Love's mission is particularly suited to Syracuse, one of the poorest cities in the nation that, since the 1970s, has been home to a sizable population of refugees from countries including Syria, Yemen, and Bhutan. Analysts estimate that over 30 languages are spoken in the neighborhood With Love resides in.
"Syracuse has long been a point of entry for new Americans," said Dominic Robinson, vice president of economic inclusion at Centerstate. "We hope to emulate the success of the Neighborhood Development Center in Minneapolis, where they have been placing minority and low-income entrepreneurs in stores and stalls with good loans and affordable lease deals for more than 20 years, basically taking someone unbankable and turning them into pillars of the community."
I've visited those Twin Cities neighborhoods he's talking about, where it would take, it seems, years to sample all the restaurants that have popped up, from all points on the globe; the idea of such diversity coming to Syracuse is almost too exciting for this avid diner to entertain. And I'm just an eater; for someone looking to restart their life after being uprooted halfway around the world, a training spot at With Love could mean everything. It could be a life-changer.
I returned to With Love in December, after it had a few weeks to iron out kinks in the kitchen and dining room. A beaming waiter took my table's order in heavily-accented English, then about 10 minutes later, reappeared to confirm that he had gotten it right. A little bump like that was to be expected, the women at my table quietly agreed; and anyhow, I thought, from my experience at the preview, this restaurant could succeed just on good will—that Syracuse diners were just happy it was here. Perhaps that would be enough.
Then the chickpea salad arrived, assertive with garlic and garam masala vinaigrette, punctuated with crisp squares of fried pita. Also the apple fritters from the preview, though this time clearly cooked to order, even more crisp and fragrant than I remembered. A butternut soup was silky and rich, with little nuggets of perfectly roasted squash adding a crunchy counterpoint. Suddenly I was wondering if With Love was serving not just social justice, but also some of the most exciting food in the city. A dish of dainty lamb chops arrived perfectly medium rare (sadly a rarity around these parts), smoky with a spice rub and underlined by lovely roasted Brussels sprouts studded with pomegranate and sage.
Sarah Robin will exit With Love this summer, and hopefully, with the help of Sudmann and his network, along with Centerstate, who will pair her with lawyers and investors, she will open her own place. With Love will install its next entrepreneur-in-residence and add a new country to its name, starting the training process all over again. A win-win for the city of Syracuse, which will, in effect, gain two new restaurants every time it turns.