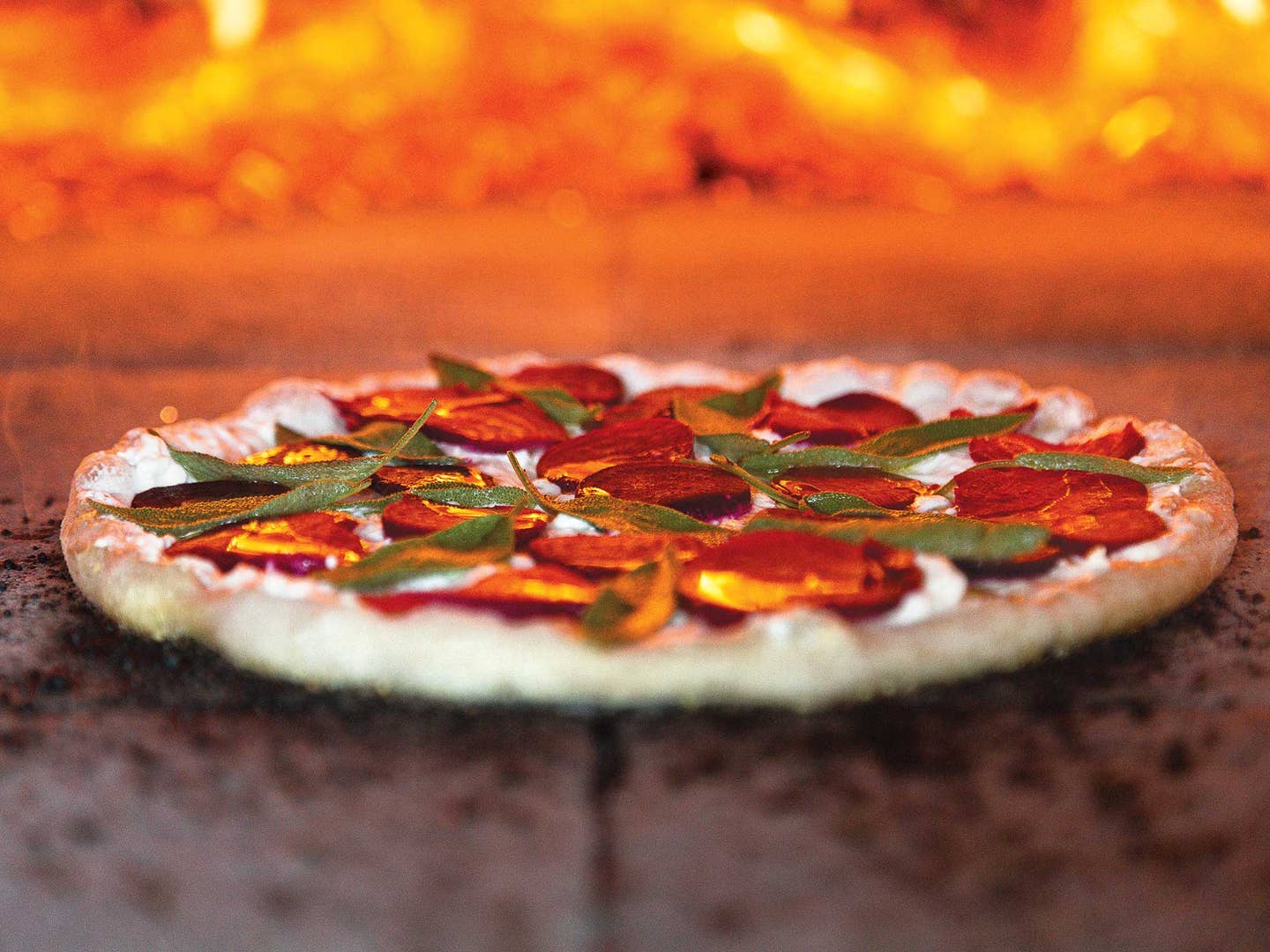 Culture
Yale's Pizza Prodigies Are Changing the Face of Dining Hall Cuisine
The university's student-run farm is turning fresh vegetables into something college kids want to eat
Recently, I found myself in lower Manhattan eating finger food and clinking glasses with Jonathan Holloway, the dean of Yale College at Yale University. We should have been talking about the reason for the swanky gathering: a fund-raiser for René Redzepi's Danish nonprofit culinary think tank, MAD, and its new partnership with Yale to launch a leadership institute for ambitious chefs intent on improving food systems around the globe. Redzepi himself was visible in the open kitchen, preparing dinner along with Roy Choi, Daniel Patterson, and Dan Barber. And I also meant to ask Holloway, a brilliant scholar of African-American history, about his own work. Instead, thinking of New Haven, Connecticut, my thoughts turned, naturally, to pizza.
"What's your favorite?" I asked.
Holloway responded with something shocking, the kind of secret-sounding inside tip you always hope to get, but rarely do.
"I think the best pizza in New Haven," he said, with professorial gravitas, "is actually at Yale Farm."
Coupling the word "best" with the word "pizza" marks a serious commitment in any city, but even more so in New Haven. Pizzerias there, like Frank Pepe, Modern, and Sally's, date to the 1920s and 1930s and are revered as pilgrimage sites. Known for their mostly coal-fired ovens and inimitable crusts (neither fully cracker-like nor bread-like, but a perfect hybrid of the two), these institutions are a mecca for mozzarella, or, as the locals say, "mootz." So the existence of another power pizza player in town—a relatively unknown contender, staffed by students on the campus of an Ivy League university—sounded far-fetched, but entirely appealing. On the one hand, Holloway may have been simply stumping for his school. On the other, he seemed to really mean it, recognizing that pizza offers its own category of scholarship and that superlatives must be backed by rigorous research. Dialectic aside, only one response felt appropriate: an immediate visit.
On approach, the Yale pizza-making operation looks like a detail from a Hudson River School painting about the romance of proofing dough and slicing toppings. It sits on a ridge beneath an open-air pavilion with a flat roof. The oven, built in 2005 by a family of artisans from Maine, is sizable—brick on the outside, Le Panyol clay on the inside—and flanked by a generous prep area where sage is bundled, lemons are zested, and beets are sliced into bright, thin rounds. Below, separated from the kitchen by a grassy, sloping berm, are the farm's long, lush rows of growing greens, grains, and herbs. In the background, towering trees flash their peak fall colors while sunshine filters through the boughs. Holy things happen here, is what the space seems to be saying. It's a good sign, since all pizza joints of significance say something like this.
The genesis of the one-acre Yale Farm dates to 2000, when students began rallying around the idea of making their university's campus dining program more organic. The Yale Sustainable Food Project, which runs the farm, was founded the next year. Their agenda soon became a full-blown movement and got a substantial boost when the concerned mother of a newly enrolled student helped to amplify their voices. The mother was Alice Waters, and with her as an advocate, students broke ground on the farm in 2003. Their hearth was completed not long after. Pizza making happens ritualistically on Fridays in the fall and spring, mainly to feed student employees and volunteers who help with farm chores like harvesting, planting, and chicken-rearing.
Clam Pizza at Yale Farm; New Haven, Connecticut
While the notion of communal pizza eating is as central to college life as late-night cramming and mishaps with beer and laundry, the Yale Farm version is conducted with significantly greater depth. Ordering a pie, scrounging for cash to pay for it, and then grabbing for greasy slices from a cardboard box this is not. Instead, over the past ten years, students at Yale have developed a pizza protocol worthy of their high-minded institution.
Standing at the oven's mouth is Ariana Shapiro (Ethnicity, Race, and Migration major, class of 2016), wearing a lavender bandana fashioned into a headband and a T-shirt that reads KALE the farm uniform, printed in the same font as university souvenirs that say YALE. With a grant from the Yale Sustainable Food Program, Shapiro attended the Kneading Conference in Skowhegan, Maine, a workshop focusing on baking and the appreciation of lost grains, last summer. She developed the current Yale Farm pizza dough recipe when she returned to campus. One of 35 students accepted to help operate the farm, Shapiro does it as part of her work-study program for $12.50 an hour. According to Jacqueline Munno, the farm's 33-year-old programs manager (otherwise known to students as the Professor of Pizza), farm jobs become more coveted every year as food awareness becomes a greater part of student life. "We're only able to accept six percent of applicants," says Munno. "It's as competitive as getting into Yale."
After throwing another log in the fire, Shapiro gets to work completing the dough. She began making it the night before at home, mixing white and wheat flours with water and a pinch of yeast to create a dough that could ferment overnight, thereby adding a deeper level of flavor to the finished crust. Combining small chunks of the preferment with a larger batch of the same ingredients, plus olive oil and salt, Shapiro begins to knead with the virtuosity of a seasoned pizza maker. "The gluten is developing nicely," she says.
For the next two hours, the dough rests (halfway through, it's folded a few times). Afterward it's divided into balls for an hour of proofing. When the dough is ready, the remainder of the farm staff, other students with their own KALE T-shirts, fleece jackets, and determined outlooks on pizza quality, gathers around a large prep table in front of the hearth. Shapiro measures its temperature with an infrared thermometer: 750 degrees on the deck.
As a way of linking old-world New Haven pizza making to the work at Yale for the first time, I invited pizzaiolo Gary Bimonte, the 55-year-old grandson of Frank Pepe and de facto standard-bearer of the classic style, to the farm to vet the situation. As soon as he arrives, his eyes go wide with appreciation. "This is just awesome," he says, checking out the oven, sampling the pre-roasted toppings, discussing craft with Shapiro, who holds her own at every turn. "This is just awesome," he repeats.
With the sun starting to dip, the pizzas are ready for the fire. The toppings have been applied with artful symmetry. There are ribbons of squash that rotate around one pie like spokes on a wheel. On another, beet slices and dark green sage leaves mingle atop a layer of ricotta, evoking playful painterly gestures against a white canvas.
Shapiro works the hearth and her peel with preternatural skill and concentration. Each of her pies takes between 30 and 120 seconds to cook, so her speed, turning each one in the oven to ensure its evenness, is critical, too. One after another, the hot, chewy pizzas hit the table. Bimonte admires the crust. "Thin," he says, "but with that breadiness, too." Again he pronounces it awesome.
Shapiro removes a clam-and-pesto number from the oven and readies a Margherita pie for the heat. Clutching her peel, she muses on where the Yale Farm program fits into the dogma of the New Haven pizza scene. A tradition of care and artisanship has developed here, too, she says, but by nature a university fosters a more progressive approach. "There's going to be less institutional memory here," she says, peering into the embers. "New people will run this oven every year, so our style will always evolve."