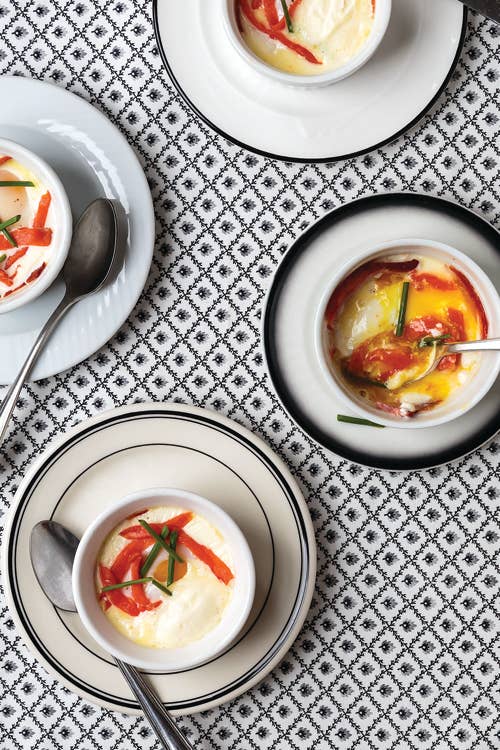 Culture
20 Years of SAVEUR: Egg Yoke
In honor of the 20th anniversary of SAVEUR, we asked some of the people who taught us the most to each peruse a year's worth of issues and to reflect on them. Here, Wolfgang Puck on a story from our December 2000 issue.
Perfect eggs. Now that is the mark of a great cook! As I was reading "Egg Yoke," a story about the history of eggs Benedict from the December 2000 issue of SAVEUR, I remembered learning this the hard way. I was a young man of 18, newly apprenticed at the Baumanière, a three-Michelin-star restaurant in the south of France. The chef asked me to make him some fried eggs sunny side up, and I thought, what could be easier? I cracked them into a very hot pan, the whole thing bubbling way too fast, and the chef shouted some vicious profanity at me. He tossed my eggs in the garbage and showed me how it's done, as gentle with the eggs as he was tough on me. He warmed a pan with butter, salt, and pepper, then slid in two eggs and cooked them nice and slow until the whites were just a little coagulated. Then he set the pan in the oven for a minute to heat the yolks without cooking them all the way through. Patience. Attention. Respect. I learned then that the simplest egg dish can reveal a cook's technical proficiency. And now, a secret: One of the most forgiving egg preparations in the world is the popular French dish known as oeuf en cocotte, an egg baked in a little ceramic dish. You can put anything in with the egg to flavor it, from ham, chives, and crème fraîche to a little smoked salmon. It sets slowly in a water bath, even more delicately than a soft-poached egg, so the whites are firm but the yolk stays creamy. Don't rush the cooking and use a great egg straight from a farmer, of course, and a soft, deep orange yolk will be your reward.
Wolfgang Puck is a Los Angeles based chef and owner of Spago and other restaurants.