Recipes
Eggs Baked with Smoked Salmon (Oeufs en Cocotte au Saumon Fumé )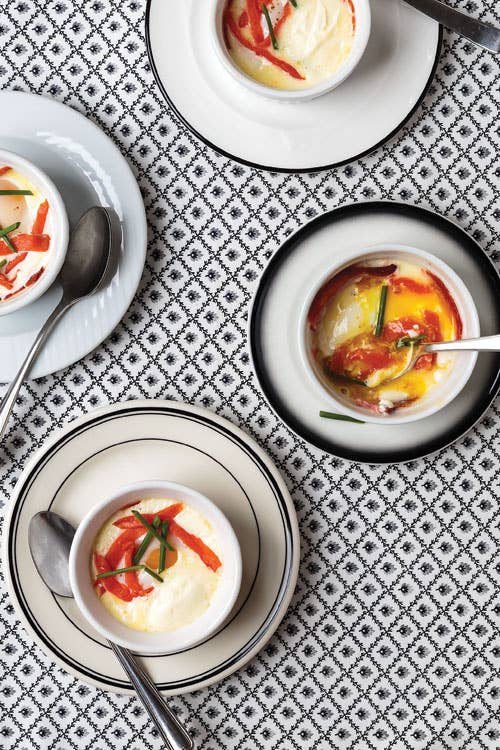 Eggs mixed with cream are poached over a bed of smoked salmon in this simple yet elegant breakfast dish from chef Wolfgang Puck.
Ingredients
1 1⁄2 tbsp. unsalted butter, melted
6 oz. thinly sliced smoked salmon
3⁄4 cup heavy cream
4 eggs
Kosher salt and freshly ground white pepper, to taste
2 tbsp. freshly grated horseradish or prepared horseradish, drained
2 chives, cut into 1″ pieces
Instructions
Step 1
Heat oven to 375°. Grease four 6-oz. ramekins with melted butter; place in a 9″ x 13″ baking dish lined with parchment paper. Arrange salmon along bottom and up sides of ramekins, reserving 1 slice for garnish. Pour 1 tbsp. cream and crack an egg into each ramekin; season with salt and pepper. Place baking dish in oven and pour boiling water to come halfway up sides of ramekins; bake until whites are set and yolks are still soft, 15–17 minutes. Whip remaining cream in a bowl until soft peaks form; fold in horseradish, salt, and pepper. Julienne remaining slice of salmon. Transfer ramekins to serving plates; garnish with julienned salmon, a dollop of horseradish cream, and chives.