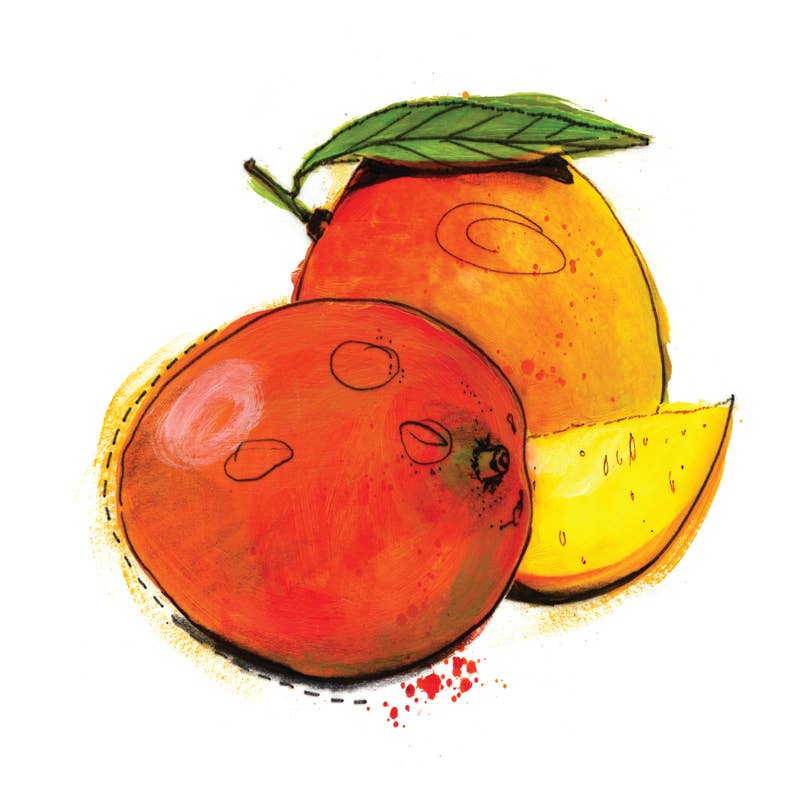 Culture
20 Years of SAVEUR: King of Fruit
In honor of the 20th anniversary of SAVEUR, we asked some of the people who taught us the most to each peruse a year's worth of issues and to reflect on them. Here, Betty Fussell on a story from our June/July 2005 issue.
On trips to India, I always savor with languor and joy small, sweet, green-skinned Langra mangoes, forever associated in my mind with Madhur Jaffrey's story "King of Fruit" in the June/July 2005 issue of Saveur and with her mango curry, fragrant with cumin, turmeric, fresh curry leaves, and ginger, heated by hot chiles and cooled by sweet jaggery and coconut. But mangoes, like me, went round the world a long time ago.
Fifty years back, on the streets of Mérida, a city at the tip of Mexico's thumb in the Yucatán, I walked by dozens of knife-wielding women who, in a hot second, stripped the mango's skin in a single spiral, their thumbs guiding the blades as they scored the flesh in four vertical and six diagonal slashes. They stuck each dripping fruit on a stick, sprinkled it with lime and pasilla chile, and handed it to slavering wayfarers. It was glorious, the color of Mexico's globular sun with the velvet texture of its air.
These days I still eat the freshest of fresh mangoes from the market every summer on my rented patio in Tepoztlán, just south of Mexico City. I begin each morning with those flavors of mango and lime: I cut orange-yellow cubes of the sugary, indigenous Ataúlfo mango, set them on a green plate, and mist them with lime juice from the citrus trees in my garden that weep fruit. As I savor my sweet, sharp breakfast, I watch the sun rise behind the acacia trees, all the time wondering, how did this wanderer get so lucky?