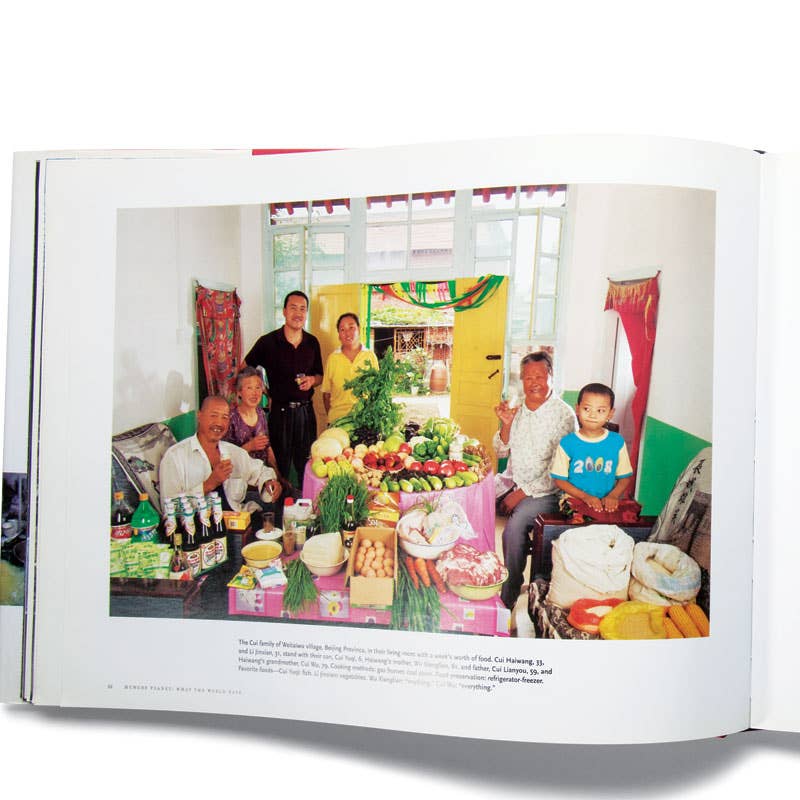 Culture
20 Years of SAVEUR: Hungry Planet
In honor of the 20th anniversary of SAVEUR, we asked some of the people who taught us the most to each peruse a year's worth of issues and to reflect on them. Here, Ruth Reichl on a story from our January/February 2006 issue.
Flipping through an old Saveur 100, I was catapulted back to 2006, when item 42, Hungry Planet: What the World Eats, first came to my attention. The book made a profound impression on me. I pulled it from the bookshelf. Authors Peter Menzel and Faith D'Aluisio asked 30 families from 24 countries to pose in front of a week's supply of food. The result is "a culinary atlas of the planet at a time of extraordinary change." I remember my shock at the Greenland family who hauled a seal across the ice, then headed inside for Ritz Crackers; that a Manila family of eight sharing 200 square feet sacrificed to buy Cheez Whiz. But it was the Chinese who provided the most eloquent snapshot of the moment. The urban Dongs proudly displayed Häagen-Dazs and French bread. Meanwhile, the rural Cuis stuck to tradition with rice, fish, and vegetables. What, I wonder, are the Cuis eating today? Looking at those pictures reminds me of why I cherish Saveur. If we want the future to be better than the past, we need to remember what's worth holding onto.
Ruth Reichl is a New York City-based writer and editor.