5 To Know: Diana Henry's Neighborhood Restaurants in London
Where to eat like a local across the city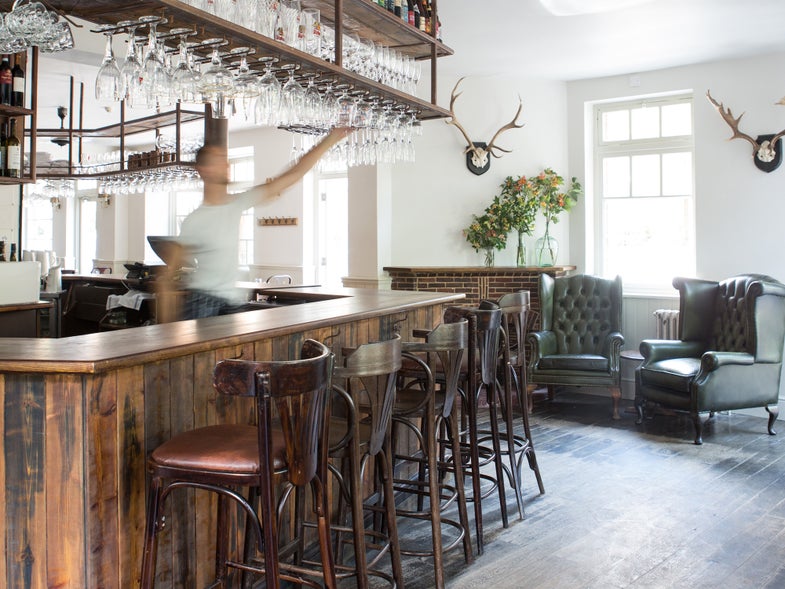 She may originally hail from Ireland, but Diana Henry, cookbook author and columnist at the Sunday Telegraph, has lived in London long enough to earn the status of a local. So we asked her to share her favorite neighborhood restaurants across the city, those places that may not be the flashiest but have a loyal local following, reliable food, and kind service. Because when you're traveling, sometimes that's all you want.
It can be difficult to get a handle on a city's food. Guidebooks and blogs often lead you to fine dining restaurants and the latest hip opening; you'll be encouraged to visit the temple of a big-name chef and a "must-go-now" joint that hasn't yet hit its stride (or is simply overhyped). You'll often queue for an hour before getting a drafty table by the door. What I want to find in a city are the restaurants where people who love good food—but don't want to spend a fortune—go, the places that tell me something about that city, that give me a broad view of what is going on.
In the 30 years that I've been living in London, I've found my own favorite neighborhood restaurants, the places where I want to bring my visiting friends not because they're the hot new thing, but because they are comfortable and the food is good. These restaurants are all about the food, not the décor—and if you go you'll eat with Londoners (for the most part) rather than visitors. You'll see that fermentation is big here; that we like old-fashioned British food, as long as it's done well; that pubs are a great place to eat out (if you know the good ones); and that we're still in love with rough and ready Mediterranean fare. You won't find a cheffy smear on your plate or an expense account diner in any of them. This is the best of laid-back dining in London, the places we locals go on a Friday night.
Brawn
You wouldn't notice this place—it's on a corner site in East London, the white-washed interior filled with bare chunky tables and chairs—though you can smell it (garlic and warm olive oil) halfway down the street. The menu is bald, almost terse, and divided into Pig (the charcuterie is excellent), Plancha, Raw, Slow-Cooked, Pudding (read: dessert), and Cheese. The food is a mixture of old-fashioned French, Italian, and Spanish. Come here if you're yearning for clams in fino, cassoulet, allioli, and romesco sauce. The word "gutsy" really does apply. The sourcing is excellent, the clientele are young (though don't let that put you off if you're not), and there's always a contented buzz.
Brawn
49 Columbia Road
London E2 7RG
020 7729 5692
10 Greek Street
You can reserve a table for lunch here, but not dinner, otherwise I'd be in a lot more often (they say the "no reservations" policy helps keep the tables full, and therefore their prices low). The dining room is long and narrow, with a white-tiled open kitchen at the far end. It looks almost Scandinavian in its plainness and the food is similarly pared back: gnudi with leeks, St George's mushrooms, and wild garlic; lamb with purple sprouting broccoli and anchovies; plaice with wild asparagus, samphire, and brown shrimps; every dish is pure and unfussy and the flavors sing. Lovely puddings—especially the ices—keep up the standard. A gem in central London.
10 Greek Street
10 Greek Street
London W1
020 7734 4677
St. John Bread & Wine
This is the baby brother to chef Fergus Henderson's St John's (he's famous for "nose to tail eating" and robust British dishes) and has a similarly canteen-like feel. But what a canteen: white walls, dark tables and chairs, a triumph of plainness. The kitchen's approach is similar too, using British ingredients to produce a mixture of old-fashioned and more modern dishes. It's all gratifyingly unfussy. You might find toasted sourdough (their bread is fabulous) topped with goat's curd and grilled spring onions; pigeon with peas; carrots and barley; rice pudding with stewed rhubarb. They serve breakfast, too—their bacon sandwich is well known—and even offer "elevenses" (try the seed cake and a glass of Madeira or their legendary doughnuts) mid-morning.
St. John Bread & Wine
94-96 Commercial Street
London E1 6LZ
O20 7251 0848
The Smokehouse
The people behind this dining pub own four food-centric boozers but this is the best one. Smoking and meat is a main feature (they do their own smoking and barbecuing) so you might find smoked pork belly with potato scones, apple, and black pudding, or smoked duck breast with kimchi and a fried egg, but there's fish as well (fish and chips with monk's beard and mussel sauce or fried oysters on toast with bone marrow). The menu girdles the earth—there's usually a French or Italian classic as well as a Thai or Korean number—but owes much to American barbecue techniques (a trend which has survived in London and seems certain to stay).
The Smokehouse
63-69 Canonbury Road
London N1 2DG
020 7354 1144
Rawduck
With simple, seasonal food served on rough-hewn tables decorated with vases of wildflowers, Rawduck very much has its own identity. They think a lot about health and nourishment, without serving fare that is wackily health-foodie. And they take fermentation and preserving very seriously. Jams, pickles, sipping vinegars, and cordials are made in-house (you'll even find a PICKLES, SALTS, AND SMOKED menu). Open for breakfast, lunch, and dinner, they serve food that is thoroughly global: rare steak in a brioche bun with kimchi slaw; turmeric spiced mackerel with lime pickle and coconut; and rice and orange blossom pudding with blood oranges have all appeared on the ever-changing daily menu.
Raw Duck
197 Richmond Road
London E8 3NJ
020 8986 6534
Diana Henry is an award-winning food writer and broadcaster based in London and a James Beard nominee. She is one of most loved and respected voices in food in the UK and the author of nine books. She has been a food columnist on The Daily Telegraph for over 12 years. Born and brought up in Ireland, she studied English Literature at Oxford University and was a television producer at BBC Television for many years before she started writing about food.