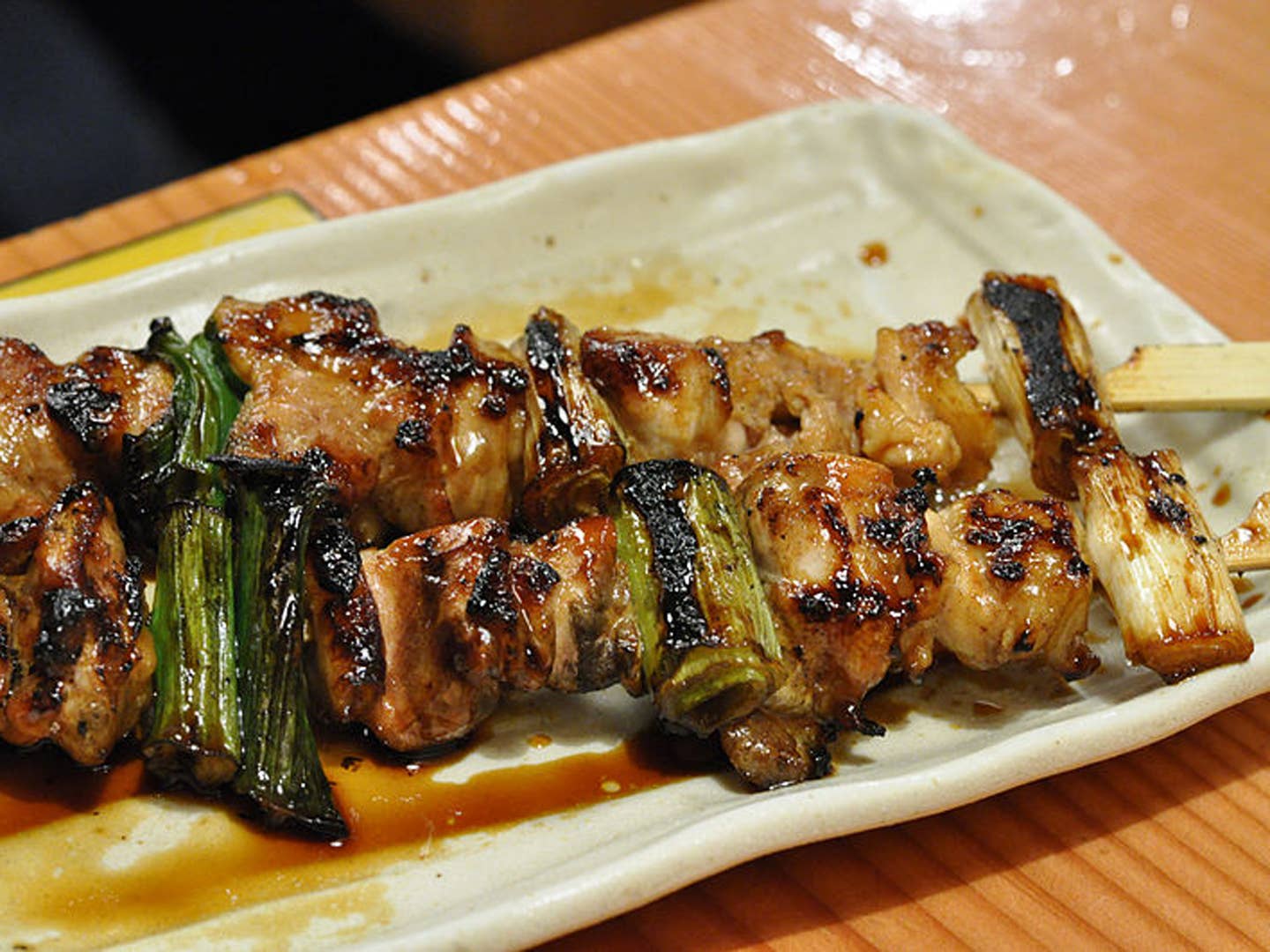 Travel
5 to Know: Ivan Orkin's Favorite Yakitori in Tokyo
The five yakitori places the well-known ramen chef eats after a night at his Tokyo restaurant
A native Long Islander who runs some of the most highly-respected ramen shops in both Tokyo and New York City, Ivan Orkin (one of the featured chefs at this year's Saveur Summer Cookout) is a yakitori obsessive. Though yakitori translates to "grilled chicken," yakitori restaurants serve all types of skewered and grilled foods, from scallions to chicken hearts to bacon-wrapped mochi. When Orkin's in Tokyo, he frequents these specialty restaurants where patrons gather every night to eat grilled-to-order chicken skewers. Here are five of Orkin's Tokyo favorites, all places he himself eats after a night at his restaurant.
Toritama
The menu at this joint is, quite literally, an anatomy chart of the chicken—you choose the part you want (meat, skin, intestines, heart, whatever) and they grill it. Orkin also likes it for its large selection of sakes and otsumami (drinking snacks).
Toritama
03-5795-2950
6-22-19 Shirokane
Minato-ku, Tokyo
Ranjatai
Unlike many other yakitori-ya, they only offer a tasting menu. "They end the meal with oyakodon, which literally means "parent and child rice bowl"—just a fluffy egg and chicken on rice," says Orkin. "Sublime."
Ranjatai
03-3263-0596
2-12-3 Kanda Jimbocho
Chiyoda-Ku, Tokyo
Tatemori
This restaurant, located in Tokyo's bustling commercial center, exclusively uses Takasaka-wadori (a brand of chicken), which are only fed organically. Orkin's favorite skewer at this restaurant: The liver.
Tatemori
03-62787759
2-14-8 Ginza
Chuo-ku, Tokyo
Birdland
"This is now a must go yakitori-ya in Tokyo, famous for it's 'nose-to-tail' style," says Orkin. The prices are higher here, due to the quality of chicken they use, but it's far cheaper than its neighbor—Sushi Jiro, of Jiro Dreams of Sushi fame.
Birdland
03-5250-1081
4-2-15 Ginza
Chuo-ku, Tokyo
Iseya (Kichijoji Koen Ten)
This 80-year old shop is, in Orkin's words, "down and dirty" and full of loyal customers. "I've been here many times and met my wife in the nearby park, so it's special," Orkin says.
Iseya (Kichijoji Koen Ten)
1-15-8, Musashi no shi
Kichijoji Minami Cho, Tokyo