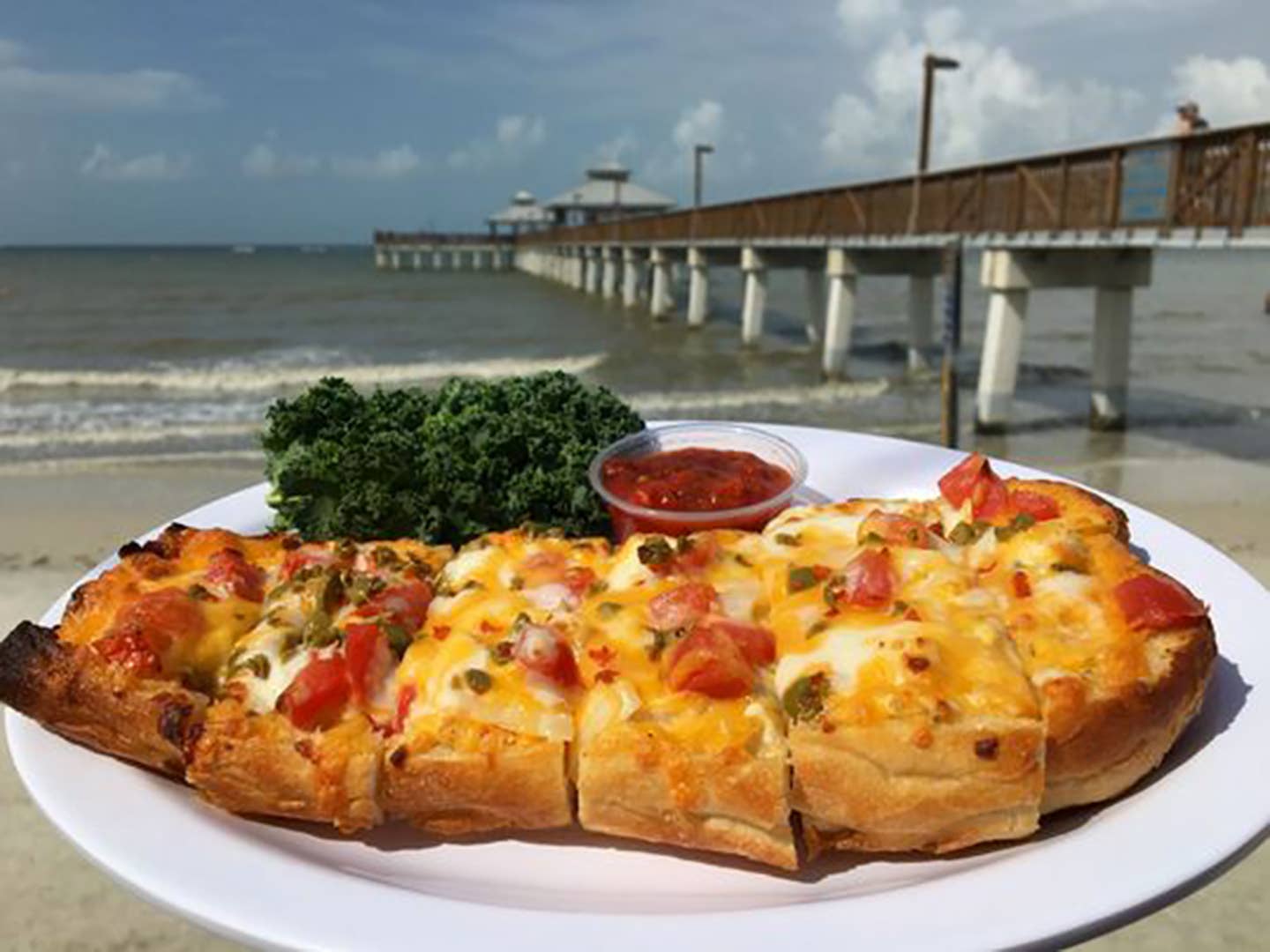 Travel
7 Delicious Local Dishes Worth the Trip to This Hidden Gem in Florida
Beach bread is just one of the must-try specialties at The Beaches of Fort Myers & Sanibel
Famed for their pristine coastline, blazing sunsets, and relaxed lifestyle, The Beaches of Fort Myers and Sanibel in Southwest Florida have a remote island feel that make them the perfect escape from everyday life. Not only does the area have scenic vistas and local charm in spades, but it's also a food lover's haven. Beyond the fresh seafood, which is a staple here, thanks to the proximity to the Gulf of Mexico, you'll find local specialties for every type of taste, from unique farm-to-table fare to the most incredible donuts. Once you work up an appetite in paradise, be sure to seek out the seven destination-worthy dishes below.
Fish Stew at Sweet Melissa's
The fish stew at Sweet Melissa's is without a doubt one of the most beloved dishes on Sanibel Island. A mainstay since the James Beard award-nominated restaurant opened in 2009 (customers left their tables the one time chef Melissa Donahue took it off the menu), it combines Gulf fish, shrimp, scallops, clams, and mussels in a tomato-saffron broth with shallots, garlic, chorizo.
Hook & Cook at Marker 92/ The Nauti Mermaid Dockside Bar & Grill
Casting your line and reeling in dinner is one thing, but knowing the best way to cook it is another. Skip the guesswork and bring your catch of the day to Marker 92/The Nauti Mermaid Dockside Bar & Grill in Cape Coral, where the chefs will expertly prepare your fish any way you wish. Come straight from the sea to the dinner table; you can dock boat and you step ashore to dine. Take in breathtaking views of the water with an ice-cold beverage in hand for the ultimate vacation meal.
Bacon Maple Donuts at Bennett's Fresh Roast
When a sweet craving strikes, head to Bennett's Fresh Roast in Fort Myers for the most mouthwatering, made-from-scratch donuts. While the shop offers dozens of varieties (it fries up an impressive 15,000 donuts in just one month), the most popular flavor by far is the bacon maple donut. Slathered with homemade maple icing and decked out with chunks of applewood-smoked bacon, the scrumptious, sweet-and-savory treat has become something of a local legend. Wash one down with a mug of freshly brewed coffee, then consider going back for seconds—after all, you're on vacation.
Islander Pizza at Island Pizza Company
Serving up slices to Sanibel and Captiva since 1977, Island Pizza Company is worth its weight in cheesy gold. You can't go wrong with the traditional margherita here, but we highly recommend trying the Islander. The restaurant's signature (and most popular) pizza, it's topped with a blend of pepperoni, sausage, meatballs, ham, mushrooms, tomatoes, black olives, green peppers, and onions. Island also offers gluten-free options, so everyone can enjoy a piece of the pie.
Yucatan Shrimp Tacos at Doc Ford's
With three locations on Sanibel Island, Captiva Island, and Fort Myers Beach, Doc Ford's has some of the best shrimp tacos in Southwest Florida. While everything on the menu is worthy of a shout-out, people come by land and sea to sample the Yucatan shrimp tacos. Succulent pink gold shrimp are topped with shredded lettuce, juicy tomatoes, and a habit-forming housemade sauce of cilantro, butter, lime juice, and Columbian chilis, all wrapped in a warm flour tortilla. The local crustaceans used in the filling were dubbed "pink gold" by fishermen in the 1950s because they proved to be such a profitable catch.
Beef Stroganoff at Point 57
Point 57 in Cape Coral is a Southern and Florida coastal-influenced restaurant specializing in farm-to-table fare. Chef-owner Matt Arnold prides himself on making everything from scratch in-house, from smoking pork, fish, and chicken to grinding burgers to making desserts. This dedication is best demonstrated (and devoured) in his beef stroganoff with cremini mushrooms, sour cream, and buttered egg noodles.
Beach Bread at The PierSide Grill + Famous Blowfish Bar
A kind of cheesy garlic bread, beach bread is the Texas Toast of southwest Florida. While the dish can be found at lots of restaurants in the area, The PierSide Grill on Fort Myers Beach serves one of the absolute best. Chef-owner Dave Chetwin puts his own twist on this essential Floridian food group by using artisan French bread and not just one, but three types of cheeses—mozzarella, blue cheese, and cheddar. It's then topped with garlic butter, onions, green olives, and diced tomatoes and served with a marinara dipping sauce.