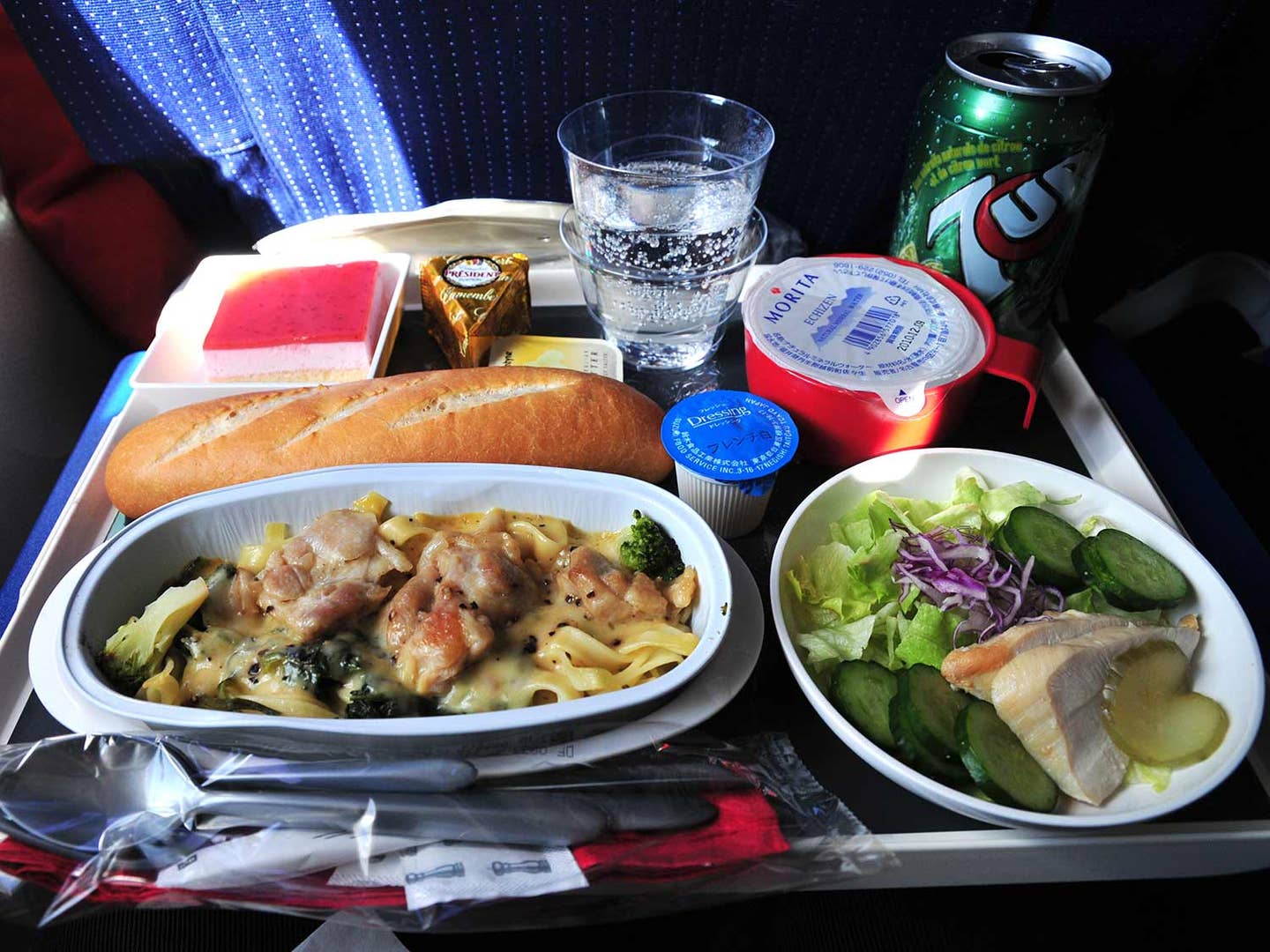 Culture
Airlines Are Turning to Gourmet Techniques to Improve In-Flight Meals
Goodbye, tray of gross airplane food!
It's a universally known fact that airplane food is not the best food. An in-flight meal often looks like a microwavable dinner and costs twice as much as what you should pay for one, but if you're hungry, you have to take what you can get (especially if you forgot all your airplane snacks at home).
To be fair, airlines have to contend with limited space and cooking/heating equipment, as well as the logistics of prepping and transporting food to the aircraft before takeoff. Cuisine solutions, an international sous vide meal producer, is trying to change this by introducing their sous vide cooking techniques to airlines, according to Wired. The company is already partnered with Amtrak and national restaurant chains to develop meals.
Why turn to sous vide? Sous vide is an easy way to ensure that you're cooking to an exact temperature. The technique seals food in plastic bags and submerges it a jacuzzi of circulating water that remains at a consistent temperature. Perhaps most importantly at 30,000 feet, this method locks in moisture, preserving your dish's natural juices and flavor.
Frankenberg, a German meal production company, is also creating in-flight meals, but theirs heat each meal component separately and then arranged them on the plate, so you can remove and substitute items you don't like.
Not only are cooking methods improving, but airlines are providing customers with more choices than the standard mushy pasta or chicken. Air Canada is partnered with Freshii, a health-forward fast-casual chain of restaurants to provide lighter, fresher options in-flight, including the millennial favorite: avocado toast. Emirates provides a less health conscious option to pre-order a cake and champagne for a $43 mid-flight treat.
Another way airlines are better catering to customer tastes is by providing additional information on the menu card on the back of your seat, including where the meat in meals comes from or if the items are organic.
What prompted these changes? It's not that airlines are finally listening to your complains—instead, they're listening to what the data says. The introduction of WiFi on flights allows crews to gather new data about passengers' in-flight habits to better predict and meet their needs.
Black Swan, a data analytics company, has been working with Gategroup, the world's largest airline catering company, to utilize that data to improve services, according to Wired.
"In the past we've had to get data before from a plane, we've had to send someone on a motorbike with a USB stick," said Steve King, the CEO of data analytics firm Black Swan, to Wired. But thanks to in-flight wifi, it is easier than ever to track passenger preferences and link up data from multiple flights.
Between this and celebrity chefs joining up with airlines to redesign menus, plane food is finally getting a much needed makeover.