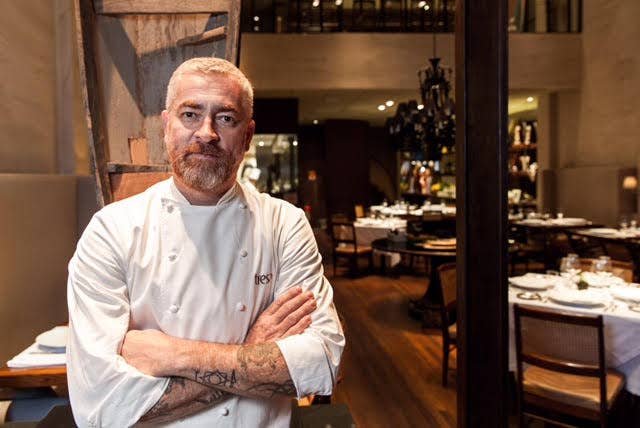 Culture
Brazilian Chef Alex Atala Wants Us To Rethink Burgers
For our Tenth Degree questionnaire, Alex Atala talks burgers, old bread, and biodiversity
To many Americans, Brazilian cuisine boils down to over-Instagrammed açaí breakfast bowls, caipirinhas on the beach, and hunks of meat at a churrascaria. But talk to Alex Atala, whose restaurant D.O.M in São Paolo is #9 on San Pellegrino's World's 50 Best Restaurants list, and he'll quickly tell you that isn't the case. On the eve of his new collaboration with Try the World, a food box subscription service offering hungry travelers a curated collection of country-specific goods, we sat down with him to hear about what else he's been up to. For one, he's exploring the culinary potential of Amazonian ants. Which means it's probably needless to say that he offered us more than a few original thoughts on midnight snacks, the most underrated ingredient, and superpowers.
What is your favorite sandwich?
A burger. More than anything, it has to be comfortable. Not too big. Either small or medium.
Your house is on fire and you can only save one thing. What is it and why?
Water.
What cookbook do you find yourself opening the most?
There are two. Even if I don't open it everyday, Larousse Gastronomique. But the book that changed my life was Los Secretos de El Bulli. There are no recipes—it's about food as concept. Ferran and Albert Adrià never accept that water is clear, or that ice cream has to be cold.
You're having a dinner party and can invite three people, dead or alive, and serve them one thing. Who are they, what do you serve, and why?
Krishna, Buddha, and Jesus Christ. I would serve them diversity. Ultimately, we are all the same.
What is your greatest fear?
There are a few: Deforestation, the pressure that our food chain is putting on our lands and seas, and that American food is sterilizing ecosystems.
You can have any superpower. What is it and why?
To change [what's causing my greatest fears]. If we reorganize and support the food chain, the benefits will be huge. As a chef, mise en place is key, but this prep is started by the local people growing our food. Our relationship with them is the key to the future.
What is the most overrated ingredient? Underrated?
Overrated: meat. Or more generally, animal proteins. Why do we have a burger with lettuce and not lettuce with a burger? Underrated: water. We can go a few weeks without food, but only a few days without water.
What is the best advice you've ever gotten, and from whom?
It was from my psychiatrist. He told me, "Don't try to be the next Ferran or Paul Bocuse. Just be yourself."
What's the food we're most likely to catch you eating out of your fridge at 1 a.m.?
Bread of any kind. There's something so satisfying about bread when it's a little bit old and crunchy.
What's the last meal you want to eat before you die?
Rice and beans. It's what I grew up eating. Comfort is the new luxury, not an expensive watch. I eat with my emotions.