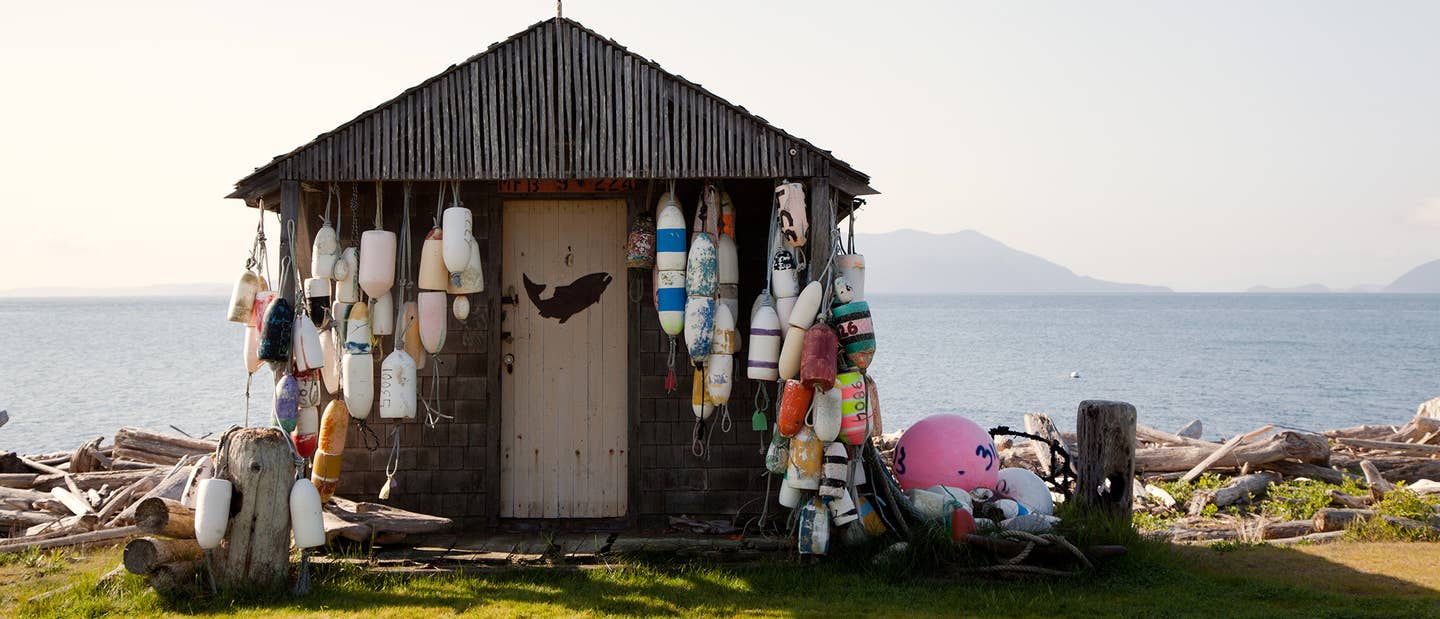 Travel
Eating in the American Archipelago
Blaine Wetzel, chef of The Willows Inn on Lummi Island, is cooking with the best of the Pacific Northwest
Somewhere on a small and placid island at the edge of America, two men in an octagonal wooden house are drinking vintage port and discussing Trinidadian steel drums, Alain Passard, and the taste of wild salmonberries.
"Don't mention the drums," Blaine Wetzel says. His meditative hobby, he's aware, too perfectly completes the portrait of the crunchy young foraging chef who lives in an octagonal house equipped with a woodshop and cider press, kombucha fermenting in casks in the greenhouse, and a sauna out back.
In truth, Wetzel's not much troubled by the image. He landed on Lummi—which rhymes with "tummy" and is named for the native tribe that no longer inhabits these eleven square miles of towering firs and cedars, hilly microfarms, and shingled cabins, ringed by a single main road and finely pebbled beaches—five years ago. Coming off a three-year stint at Noma in Copenhagen, he was eager to move back to his home state and figured he would work one season at The Willows Inn (a place he'd never seen before answering an online want ad) and then move down to Seattle to find a "real" job. What happened instead was that he fell instantly in love with the place. Fell for the apples that tasted like apples. The sensitive pork farmer who bought five handles of vodka and got his hogs sloshed and happy before slaughter. The wild salmon that swims into the reef-netting of fishermen down the hill. The bushes thick with found berries—wild thimble berries, currants, gooseberries, black raspberries, and tart, blushing red salmonberries so delicate you had to have "butterfly fingers" to pick them.
"There's a connection here I've never felt anywhere else," Wetzel says. "When you're working at top restaurants you get quality ingredients delivered to you, but that's so different from really knowing your neighbor, who's just some passionate dude who loves to raise sheep, caring for a few animals in a pristine pasture on an island. Here you can pull vegetables out of the ground and the taste is just mind-blowing. Coming here, cooking here—it's been like discovering food for me. It completely changed how I think about food, what I think food is."
Wetzel pours us a little more port, which, for obscure reasons, he's decanted into an elegant Japanese teapot. His house, a five-minute walk from Willows, was hand-built in the '70s and exudes eccentric homesteader charm. There's a freestanding Scandinavian fireplace in one corner, an upright piano in another. Cookbooks piled everywhere. Passard—the stylishly neckerchiefed chef of Paris' famed L'Arpège—looks down somewhat incongruously upon this woodsy nest from a black-and-white framed photo hung above a magnetic knife rack in the kitchen. Through the kitchen window, a bald eagle can be seen circling low over West Shore Drive. The bird casts its regal gaze across dandelion-dotted lawns and the dappled blue waters beyond. I nibble on some heartnuts. What's a heartnut? Good question. Native to Japan, it's a variety of walnut with a delicate, twin-pronged kernel that resembles a tiny wishbone. Raw, they've got none of the bitterness you associate with a standard walnut, plus they look pretty. A perfect nibbling nut. Wetzel sources his heartnuts from a man known to him as Gurubani, who runs an off-the-grid farm collective near the Sauk River on the mainland.
"I went to see him one day and he's got this compound of huts in the woods, an awesome shanty town he's built, staffed by interns," Wetzel says. "The first thing that struck me was he was wearing giant wooden shoes."
Now Gurubani and his interns drop by the kitchen once a week with a carefully curated and cleaned haul of wild berries, barks, bog plants, perennials, and weeds, many of which Wetzel has never seen before: a leafy green named Good King Henry, breakfast kale, beach cabbage, Bishop's Weed, yarrow, a tart succulent called sedum.
Once smitten with the bounty and rhythms of life on the island, Wetzel decided not just to stay, but to double down. He built a farm up the road to supply the restaurant with all the beets, exotic cabbages, delicate greens, bright little radishes, and sunchokes it can use, every vegetable tailored and grown to his own exacting specifications. He brought in a partner to buy out the owner of Willows. And he set himself the slightly nutty goal of turning a century-old, wisteria-enveloped inn with a 26-seat dining room on a sleepy island most people have never heard of into one of the most exciting places to eat in America.
Everyone waves to everyone else on Lummi Island. "You gotta wave," Wetzel confirms. "If you don't wave you're a dick." A sign at the ferry dock says: "Slow Down." So I coast slowly around the island, saluting each car I meet, which isn't many.
A soft carpet of pine needles and fragrant, freshly cut grass lines the looping road around town. I follow it past the reef-net fishing pontoons and the tidy post office and town store, past mossy Volvos parked in steep driveways, driftwood fences festooned with buoys. A sign says "Golden Retriever X-ing." Another: "Parking for Norwegians Only." I take Seacrest Drive up into the mountainous, mostly unpopulated southern end of the island, the car radio tuned to bad pop floating down from Vancouver. It doesn't take long to get the full tour and soon I realize I'm passing familiar landmarks. Driving in circles suits me fine. One day in and I have acclimated fully to the drowsy tempo of life on Lummi.
I head over to Willows and find Wetzel and his team prepping for dinner. It's late afternoon. The sun is high and benevolent. There's a fire in the grill outside by the parking lot, the crackle of birch and alder harmonizing with the sound of water lapping at the shore far below. The phonebooth-sized smokehouse is full today: black cod, salmon, trays of tiny mussels, and cured lamb belly, all bathing in the cool smoke of wet green alder.
At the grill, a cook named Nick is rolling turnips directly in the embers. Once they're nicely charred and cooked through, the roots will be peeled—leaving a few sticky burnt bits around the edges for character—then halved and marinated in lovage-infused whey. Then five hours in the dehydrator and, just before they're served, the withered turnips are slaked with a grilled shiitake broth and garnished with toasted mustard seeds and tiny marjoram leaves.
I laugh—because of course it doesn't sound simple at all. Later, though, encountering this dish at dinner, I see what he means. The taste is clear, dazzlingly direct, the essence of turnipness expertly coaxed forward by all this burning and slow-drying and careful reconstituting. Who knew a lowly turnip could possess this meaty depth of character, such goddamned swagger? In course after course I saw this: Through rigor, patience, dutiful attention, and plain smarts, Wetzel finds ways to accentuate the nobility of pedestrian-seeming ingredients, to make them sing. A single shiitake, the mushrooms collected twice a week from a farm in Bellingham, is dunked in shiitake broth, dried in the sun and then grilled at high heat. Shrimp toast—a trio of wobbly fat wild spot prawns set on toasted rye bread—couldn't look simpler, and in a way it is just what it seems. The only "trick" to getting food to perform this way is knowing what to do: Get all your seafood from a one-boat "old-school burly-assed Irish fisherman" who knows all the spots around Orcas Island and beyond and who carries his catches directly from the boat up the beach and into your kitchen. And what not to do: Don't fuss with the good stuff once you have it. Brush the raw meat of the prawns with a simple prawn butter made from their shells and then let them relax for a spell at the mouth of the bread oven, just enough to barely warm them and give them a louche, buttery sheen.
One of the ways coming to Lummi has changed him, Wetzel says, is that he's no longer turned on by luxury ingredients or showy technique. "What I want to do is just share the tastes of this place with everyone who comes," he says.
"I don't need to be a technical or creative genius. I just want to show people real food, to share the experience of what we're lucky enough to get to eat here."
He used to want to be the fancy chef in a fancy restaurant. This was his training. Now he is the champion of unheralded strains of chicories and cabbages, poster boy for a kind of American cooking that is unique, naturalistic, stripped of unnecessary frillery. He's intense in a laid-back sort of way. He won a James Beard Rising Star Chef award last year and promptly lost the medal. ("We found it later that night on the dance floor, being danced on.")
The accidental innkeeper, Wetzel finds himself the ringleader of a tightknit brigade of utterly earnest skateboarding, foraging, tinkering young cooks, servers, and farmers feeding two dozen people a night in a little dining room floating above the Rosario Strait like the prow of a ship.
There's a moment at dinner when the sun gets low and the light pours through the windows with blinding intensity. After the snacks in the lounge (kale chips dotted with Olympic peninsula truffle, a warm donut-type thing filled with meltingly soft black cod), it's salmon time. The fish has been lounging in the low heat of the smoker all day. The bite is small, sweet, and rich. And there squinting into the honeyed light, I hear myself murmuring. Out loud. Talking to my food. And I'm not the only one. The low hum of contentment spreads across a roomful of people drinking tea made of birch bark, wondering at the ethereal intensity of a single mussel (smoked over alder, brushed with mussel stock and seared on a hot plancha, then paired with a bit of creamy, roasted sunflower root), unable to think of another place in this big country where we'd rather be right now.
"We're just throwing rocks off a mountain," Wetzel observes, throwing a rock off a mountain.
"Throwing rocks into the sea? That's a real thing up here. That's a nice way to spend your day."
For once the sea is out of sight. We're spending part of our day hiking through Baker Preserve, a lovely fern-filled sanctuary near the center of the island with a slightly prehistoric feeling.
"This island was the historical berry-picking grounds for the Lummi tribe," Wetzel says. They fished these salmon-filled waters, harvested the fruit of the land. "Generations and generations of natives helped the berries grow by picking some over others, spreading seeds, pulling out what they didn't like—this is why we've got such a variety here now."
Wetzel talks regularly with culinary historians at the Northwest Indian College, looking for insight and clues into traditions and secrets of the culinary topography of this edible paradise.
"What we cook is a reaction to what's happening here on the island. A reaction to people you meet, to what grows well here, to the experience of tasting things as they were hundreds of years ago. All of that culminates in the food of the Willows."
Tonight the restaurant is closed, so the kitchen crew plan to cook dinner for themselves on the beach. It's a not uncommon occurrence: Life on a small island means you hire people you like to cook with on your days off.
As the sun begins its slow descent over the gulf islands of British Columbia, the merry band—boys in hoodies, girls in big nautically themed sweaters—sets to work on a casual weeknight feast. Shigoku oysters are shucked and set on ice. Cold bottles of Oregon white are opened, drained, replaced. Wetzel improvises a grill by the water: a rough circle of lanky, gnarled gray logs in the sand, a small grate set over burning wood. He pokes it with a found branch that looks like a shepherd's walking stick. The fat chops of those happy drunk pigs that the chef helped to butcher have been marinated in verjus and juniper berries. Leeks are tossed with oil and thrown on the grill in foil packs. Someone's brought frilly horsetail stalks, plucked from the roadside, curious to know how they taste. Potatoes confited in oil, then smashed flat, are set to crisp on the grill. More wine. Some beer.
It's dark now. Another lovely Lummi sunset come to a close. The coals of the fire glow red in the gentle, cool breeze. The name Lummi is thought by some to have been coined by Spaniards who approached by these seas and witnessed bonfires like this on the shore: Luminara.
Wetzel places a dozen wavy-lipped oysters in the fire. As they pop open and release a burp of steam, he pulls them out and we eat them from the hot shells. The meat is plump, full of smoky juice. Again a chorus of contented murmurs.
Wetzel smiles. "The idea of putting oysters right into the coals and just forgetting about them and eating them as they are?" he says. "I don't know if that translates to a magazine, but in real life it's awesome."
Getting to Lummi Island and The Willows Inn
Lummi Island is accessible from the mainland by a five-minute ferry ride from Bellingham, Washington, which is a three-hour drive north from Seattle or a two-hour drive south from Vancouver and is home to an international airport. The Willows Inn comprises seven guest rooms in the main building, where the restaurant is located, and eleven freestanding units. It is closed in January and February.