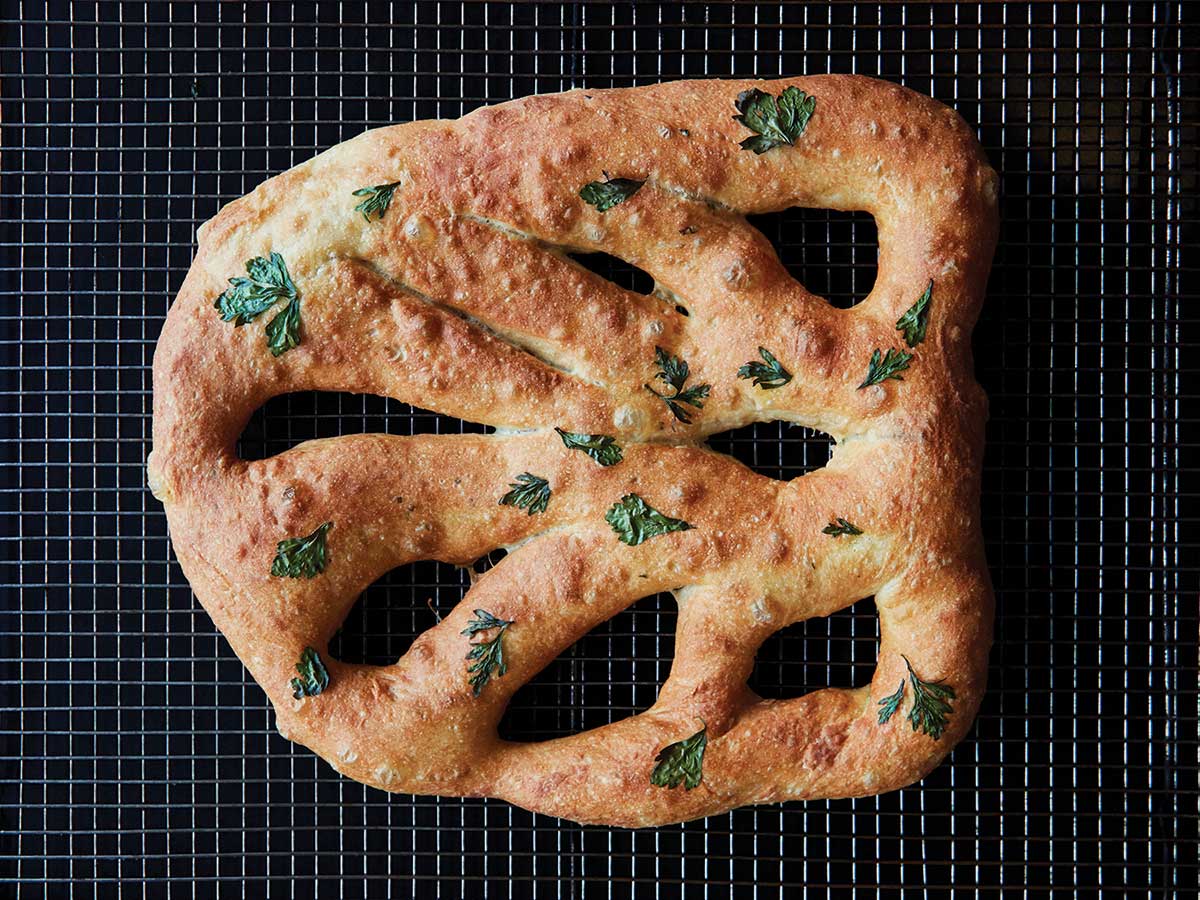 Culture
An Algerian Baker Celebrates Her Home Country At Her Detroit Patisserie
Baker Warda Bouguettaya is bringing a taste of her world travels to Detroit, Michigan
Born and raised in northwestern Algeria, near the border of Morocco, Warda Bouguettaya moved to the U.S. when she was 21 years old. "I followed my love to Detroit," she says. After a few years, it happened again: He received an offer to work in China for three years, so they moved there before ultimately settling back in Michigan.
"The idea of opening a pâtisserie was to have a space that celebrates all the places I have once called home: Algeria, France, and Asia," Bouguettaya says. Using locally sourced ingredients such as flour from Michigan's Ferris Organic Farm, and even some savory herbs and vegetables from nearby urban farms, she tries to achieve the most traditional versions of pastries from each place. "The ingredients might be a little different here in the U.S. than the ones we get in Algeria, so it can never be 100 percent traditional," she says, "but I'm just trying to get people excited about something they don't know."
Having gone through formal training in mostly French-style pastry-making in Shanghai, where she attended the Paul Bocuse Institute, Bouguettaya has a remarkable knack for turning out perfect tart crusts, silky ganache, and airy frangipane. But her Algerian bread and pastry skills are a product of spending time in the kitchen with family members, she says. "Baking Algerian foods here has been a way for me to feel less homesick."
When she travels back to northern Africa, usually about once a year, Bouguettaya makes an effort to spend time among the women of her family, trying to deepen her understanding of traditional Algerian staples. "This winter, I learned to better perfect griwesh, an intricately knotted honey-lacquered pastry with sesame seeds, lemon, and orange blossom water that you have to pull and layer repeatedly, somewhat like puff pastry. It's complicated to make, but it's so unbelievably light when you bite in." At the shop, her range of offerings might include khobz-el-daar, a sourdough semolina bread with nigella seeds, or karantika—a thick, cumin-laced, savory chickpea pie.
A typical menu will also feature a smattering of goods Bouguettaya produces with French flavors and techniques, Asian elements, or both. Recent offerings have included Chinese-inspired black sesame and mango financiers, matcha sablé cookies, Tunisian tortas with Swiss chard and leeks, and passionfruit or blood orange coconut meringue tarts. "In Algeria, we don't really eat fresh fruit in pastries, so I like to incorporate fruits from other cultures when I bake. It's a happy marriage, I guess." In general, Algerian pastries are not too sweet, consist of just one element—such as a golden fried or baked dough—and are often bathed in honey, and sprinkled with sesame, spices, or other seeds or nuts.  "A lot of cinnamon, clove, and orange blossom water is used in the west side of Algeria," where she is from, Bouguettaya says. Algerians typically eat these types of lightly sweetened, spiced treats for afternoon tea, an important part of the day in the region.
Warda Pâtisserie, which opened in January in Detroit's Eastern Market neighborhood, happens to be housed in a former spice shop, and shares the high-ceilinged space with an art gallery and coffee shop. "Customers are less familiar with the Algerian pastries then they are with the French ones," Bouguettaya says. "It's a natural human behavior to be a little hesitant at first—people don't always know how to react to a new cuisine­—and the French pastries have just been here and popular [in America] for so much longer." Plus, the baker notes, some of the more heavily used spices and flower waters do take some getting used to. "All across the country, Algeria is still a largely unknown place. It takes time for people to get to know new things." But as for what she's accomplishing in her shop, she says with a smile, "I'm pretty happy with where we are right now."