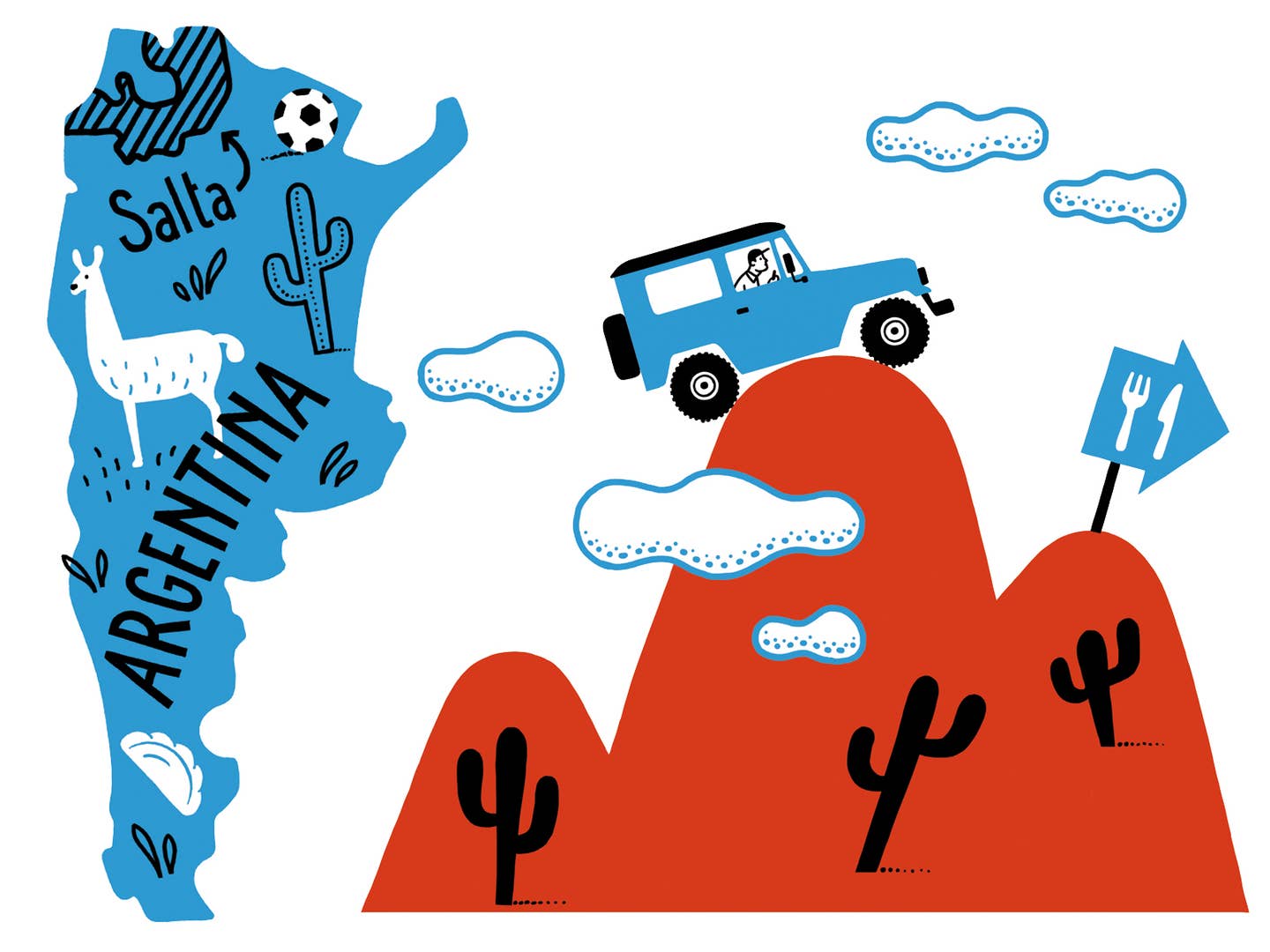 Travel
Smoke Signal
In which a couple stumble upon an oasis in remote Argentina with friendly parrilleros, hungry dogs, and mind-blowing steaks
Few things can focus a driver's mind like hunger. Hunger, and the palpable likelihood of death.
Four days of hairpin turns and guardrail-less mountain passes had markedly upped our odds of the latter, as we piloted our mud-crusted truck across the red-clay deserts and mist-cloaked summits of Argentina's northwest. The route down from Salta City had taken us through a dizzying array of landscapes, mood swings, and hunger pangs. (In the long lonely stretches between settlements, there was absolutely no place to eat.) Rutted dirt roads rattled our skulls and eventually claimed our rear fender. Now dusk was encroaching, and our destination was miles away. As the sun dropped behind distant bluffs—the road nearly vanishing in the gloom—my wife and I were in a bit of a state.
"I could murder an empanada," I said.
"I could murder you," she replied.
We needed food. And Dramamine. And Malbec—definitely Malbec. Forty silent minutes later, we pulled into Cafayate. After Mendoza, this is Argentina's second major wine city, and the de facto tourist hub of Salta Province. Though visitors have infused some polish, Cafayate remains a rugged frontier town—imagine Sonoma dropped on a dusty martian plateau.
Stringed lights sparkled over the main square, where a trio of musicians was playing. Folk songs could wait: We hadn't eaten since breakfast. Following our gas-station map—in Argentina's altiplano, GPS is hopeless—we steered to the far edge of town, where squat houses gave way to endless expanses of scrub. Up ahead, a telltale plume of smoke curled into the night sky. At last, we'd reached Shula Cata.
Friends in Buenos Aires had declared this the finest parrilla (steakhouse) in all of Salta. Calling it a restaurant is kind: Shula Cata was more an assemblage of bricks, lightbulbs, tables, and chairs, held together by the gravitational force of a massive wood-fired grill.
Now if only we could find a seat. The place was packed, inside and out; tables filled every inch of the sidewalk. The proprietor was unfazed. He disappeared out back, returned with a grin and a dented table, took the table outside, unfolded its wobbly legs, and set it down in the street, right next to an old Ford Falcon.
After a drive like that, we'd have eaten in the dumpster. And so down we sat at our curbside table, with one leg in an oil patch and another literally in the gutter. A bottle of wine appeared, unbidden but entirely welcome. A breeze rolled in from the mountains—Salta nights turn chilly quick—so we went inside to warm ourselves by the grill's glowing embers.
Atop were hissing slabs of bife ancho (ribeye), spirals of plump sausage, and, not least, fire-licked lobes of mollejas (sweetbreads), an Argentine obsession and our go-to order for the past week. We chatted up the parrillero, a hefty guy in a leather apron, as he flipped the meats onto huge wooden carving boards for serving. He asked what we wanted. We pointed at everything.
The steak was terrific, even better doused in a fiery chimichurri, but the sweetbreads were astonishing, with crisp, caramelized exteriors giving way to creamy tenderness within. One tangy, minerally bite made the torturous drive seem utterly worthwhile. After another glass of wine, we decided that the whole trip had been thrilling, unforgettable—for crying out loud let's do it all over again.
By this point we were being sniffed at by inquisitive stray dogs, which the proprietor would now and then chase off. Our chairs listed to one side; our clothes reeked of grill smoke. None of this mattered—the food was that good. Granted, relief after such a harrowing journey probably affected our impression. It always does: Food and the road are two faces of the same coin, each enhancing the value of the other. We lingered long into the night at our crooked street table, gazing at a bowl of unfamiliar stars, the flipside constellations of the southern sky.