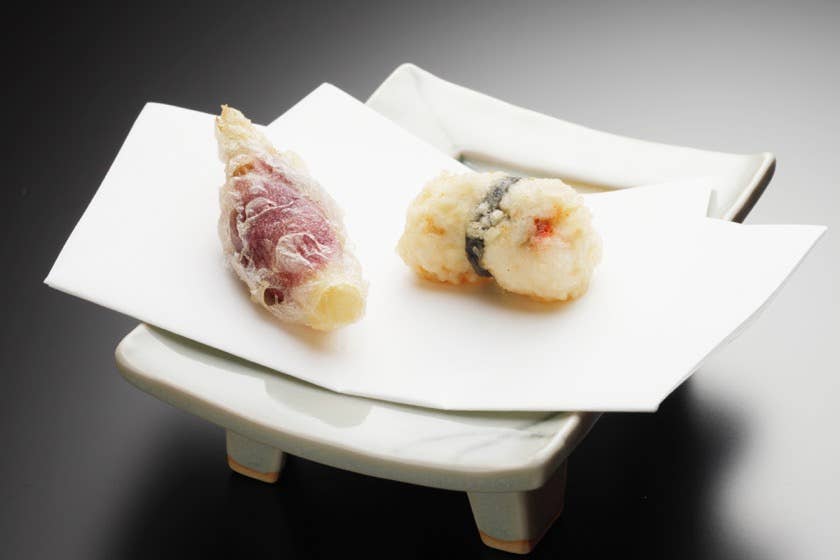 Culture
The Art of Frying: Masao Matsui's Temple of Tempura
Learn the secrets of perfect tempura from master Masao Matsui
If your idea of tempura is an armor of heavy, clunky batter wrapped around some vaguely recognizable ingredient, you're actually eating mediocre bar food, not Japanese tempura. To find out what you've been missing, visit New York City's new temple of frying, Tempura Matsui. There you'll find Tempura master Masao Matsui standing behind the sushi bar in his traditional white cap, plucking delicate pieces of tempura—shrimp, fish, and vegetables cocooned in a batter so light that it's practically an apparition—from a shallow pan of glossy oil that shimmers like a lake at sunrise.
At 65, Matsui's been cooking for 47 years, dedicating his life to perfecting this delicate craft in Japan; most recently, he was at his own heralded tempura counter in the Nadaman restaurant at the Hotel New Otani. After decades at Tokyo's finest restaurants, he decamped to New York City earlier this year, where, fueled by a diet of Shake Shack burgers, Reese's Peanut Butter Cups, and bottles of Vitamin Water (seriously), he works tirelessly to bring the true art of tempura to life.
"Tempura is meant to enhance the natural flavor of the ingredient," Matsui says. "If you have asparagus, you want to taste its inherent flavor—you don't want to the batter to hide that. Tempura should make it even more beautiful."
To achieve a whisper-weight batter, he follows a meticulous process. Almost all of his ingredients are first washed in fresh water (except ocean fish, which are washed in salt water) "to preserve that sea flavor," he explains. The ingredients are dried on cloth towels, then dipped in his signature batter—a mixture of egg, cold water, and Super Violet flour. This soft, smooth-as-silk, low-protein flour is key to creating a sheer, gossamer wrapper.
Every piece of tempura is fried to order (read: just moments before you'll eat it) in a custom blend of sesame, vegetable, and cotton oils heated to a precise 392F. And then? "I leave it in long enough so it's just past white," Matsui says. "It's a sixth sense, I don't think about it, I don't even need to look at it."
Matsui showcases his tempura within an elegant 10-course $200 omakase menu of sakizuke (think amuse bouche), traditional chawan-mushi (egg custard), and sashimi. The main event—a parade of tempura—starts with shrimp, followed by seasonal vegetables and fish, and ends with hamo, a white-meat fish from the eel family.
Interestingly, salt is absent from the entire tempura process. It's left to the guest, offered in the form of freshly grated German rock salt (picture a crystal gemstone the size of a boulder), along with wedges of lemon, shaved Daikon radish, and a bright dipping sauce made from two kinds of dashi (bonito and kelp), soy sauce, and mirin. Once your server places the freshly-fried tempura on your plate, you decide how to season it up. Though Mastui recommends certain pairings—asparagus with salt, king crab with lemon juice, sweet potato with the dipping sauce, scallops with just salt—truth is, it's perfect on its own.