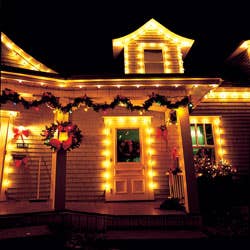 Culture
A Casserole's Journey, from Ship to Shore
Cipaille is the mighty Christmas casserole found in many French-Canadian kitchens.
In a snug farmhouse kitchen in a snowbound La Beauce valley, Denyse Careau is pretending not to watch as her husband, Michel, assembles a cipaille. The dish's name may be a corruption of the English sea pie, the term for a rich meat stew topped with suet paste, thought to have been cooked at sea on tiny galley stoves. These days, this mighty Christmas casserole usually consists of braised meats and root vegetables baked under a blanket of pastry.
Inside an iron pot blackened with use, Michel alternates layers of cubed meats, sliced onions, potatoes, parsley, and squares of flour-and-water pastry, finishing with a pastry lid; then he douses the pot with chicken stock and red wine. "Careful, Michel, not too much. You don't want it to drown," Denyse scolds, not looking up from the carrots she is peeling.
Michel grumbles good-naturedly ("Women—they have no fun"), but he knows that she is an expert—calm, cool, and as connected to food as the tides are to the moon. Ten years ago the couple said good-bye to their insurance-brokerage business in Quebec City and four years later turned their country dining room into a cozy restaurant, La Ferme Enchantee. Business has been booming ever since. "We love our work," says Michel. "It's so much more human than what we used to do." With that, he removes a stellar cipaille from the oven, brown and bubbling, its seductive aroma and earthy taste the very soul of a French-Canadian Christmas.