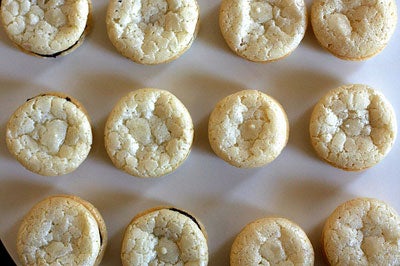 More than anything, amaretti cookies are beautiful. The colorful, crinkly wrappers enrobe perfectly plump cookies that practically scream, "Holidays!" They make attractive gifts, festive additions to a table setting, and best of all, the ideal accessories to a cup of coffee, whether at the beginning of the day or at the end of an elaborate meal.
Amaretti, meaning "little" and "bitter" in Italian, describes both the size and flavor of these bite-sized, almond treats. But don't let the "bitter" part deter you; these crunchy cookies, made from almonds, almond paste or ground apricot kernels, deliver the perfect balance of sweet and spice, with only the barest trace of bitterness.
While I'll try my hand with these straightforward amaretti almond cookies or perhaps these softer, chewier variations, I'll also make sure to buy a box of the renowned Lazzaroni Amaretti di Saronno to put out, if only for the pretty wrappers.