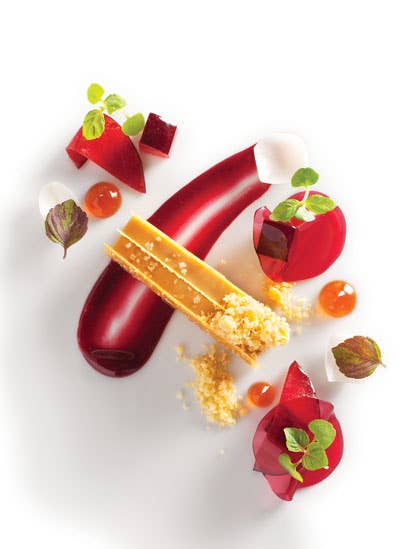 Culture
Art Culinaire: How One New York Restaurant Made a Cookbook
A lot goes into the making of a cookbook, especially at a restaurant as exquisitely exacting as Eleven Madison Park
A few years ago, a few of us at Eleven Madison Park in New York City, where I work as the General Manager, started thinking—obsessing really—about putting together a cookbook. It was an exciting time for us at the restaurant: Daniel Humm, a young, super-creative chef from Switzerland, had recently taken over the kitchen and was turning out incredibly complex dishes that looked stunningly simple on the plate. The wine list was better than ever before; the servers were firing on all cylinders. Suddenly, there was an intense, almost electric intensity in the dining room and the kitchen, and we wanted to capture it in a book.
Read more about what went into the images from the book in Daniel Humm's essay Edible Art »
We tried to go the traditional route, hiring a writer and downloading our story. Bad idea. Though the first draft was technically good, it just didn't feel like us, didn't capture that sense of collaboration, that balance of practiced skill and spontaneous creation, that really defines who we are. How could we expect anyone who doesn't live and breathe the restaurant day in and day out to convey tangibles and intangibles that have shaped us through the years?
When we decided to do the book ourselves, with me writing the text and Daniel doing the recipes, we had this romantic notion of us doing it after work, brainstorming over glasses of wine at the bar. We had it all figured out: the photography would be done by our restaurant photographer, Francesco Tonelli, and Juliette Cezzar, who had created our logo and the aesthetic vision, would do layouts and design. But who were we kidding? None of us had ever worked on a cookbook before, and it soon became clear that we needed help with everything from the photo shoots to the recipe writing to the chapter outlines. We addressed the problem the way we address everything at EMP—collaboratively —and before we knew it, our little team had grown to include dozens of people who were carving time out of their shifts to help.
The biggest question we faced was whether or not people would actually cook from the book? The fact is, our food is not the kind most people cook at home: some elements require days, or weeks, to prepare and equipment that many people don't have at home. But that's not to say that they're not inspiring: we believed in our bones that there were plenty of lessons inherent in these recipes that home cooks of every level of skill could benefit from: the way Daniel distills the essence of certain ingredients by including them in a dish multiple ways; the way he pairs complementary seasonal ingredients by balancing sweet, salty, sour, bitter flavors, and textures, in a dish. We could just as easily see it sitting out on the coffee table as we could on the kitchen table, lovingly stained with chicken jus and lobster oil.
In the end, we decided that we wouldn't change, or dumb down, the recipes, but we'd make a few concessions in the writing of them to help home cooks out. We put everything into cups and tablespoons as opposed to our more familiar standard of grams and liters. When it came to sous vide, a technique where food is slow poached in Cryovac bags to maximize flavor, we gave sources for the equipment, but also alternative cooking methods—the thought being that a broiled lamb with fava and mint strikes the same beauty as a sous vide one with the same elements. And we broke each dish into separate recipes so that the cook could decide for themselves if they wanted to make all the elements or just a few; say, to forgo making a goat cheese mouse in favor for a dollop of goat cheese.
People love to say that any creative process is as much about the journey as it is about the destination. I don't know about that: now that the book is finished, I'm thinking less about the what we went through to make it and more about the finished product: a vivid snapshot of our restaurant, a record of our recipes, a recounting of our story.