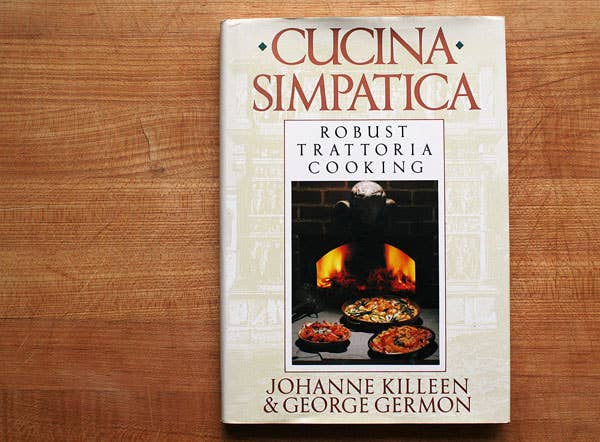 Culture
Back of the Bookshelf: Cucina Simpatica
Some of the most beloved cookbooks in our library are the dustiest: books we grew up with, inherited from our grandparents, found at yard sales, or bought new decades ago. In this column, we celebrate these bibliographic treasures, and our favorite recipes therein.
Some time in the late 90's, I was given a copy of Cucina Simpatica, the cookbook from Providence's well-loved Al Forno restaurant. I was told that the authors, chef/owners Johanne Killeen and George Germon, were artists. I was an artist, and like Killeen and Germon, I also liked cooking. It was a thoughtful gift.
Cucina Simpatica is one of a handful of books that have survived the numerous apartments, roommates, and developmental stages since my early twenties. It quickly became a prized possession, one that I made sure to keep with me even when leaving countless other books behind. Killeen and Germon, who both trained as artists at the Rhode Island School of Design, are insistent that the experience of creating and sharing food is the same as the experience of making art. While I may find that argument a little simplistic, I like the ideas behind it: the authors are advocating for a dissolving of barriers between disciplines. Food, art, music—they share similar goals of providing pleasure, a forum for discussion, and stimulating new thoughts and ideas. It's a philosophy of food that I easily relate to, and one that was, in that decade, a little bit ahead of its time. Add to it a collection of recipes that emphasize seasonality, local food, and quality ingredients, and it makes for a book that was very much ahead of its time.
I am often a fan of these small cookbooks that come out of restaurant kitchens. They offer a glimpse into a world with a very clear point of view about food. It doesn't hurt that the food, in the case of this book, is rustic Italian and easy to love. The recipes are, for the most part, simple; for success, they only require you to seek out quality ingredients. The baked pasta with five cheeses, for example, has been written about, and interpreted, by numerous other cooks, and is worthy of the acclaim. But the cheeses that you buy will make or break the dish: you'll either end up with a perfectly good bowl of pasta, or a fantastic dish that everyone will be talking about the next day.
Besides that baked pasta, the other thing that both the restaurant and book are known for is grilled pizzas. Grilling is important to the authors, especially Germon, for the flavor it imparts to a dish, but I suspect that the former sculptor also likes the process of grilling. He offers extensive instructions on how to grill and work with the pizza dough, and it's easy to envision his past work as a sculptor and his work as a chef coming together at the grill.
Re-reading Cucina Simpatica some decade and a half after first opening it, I'm impressed by how connected I still feel to the book and the authors. I've been cooking this food for most of my adult life, and throughout my own transition from artist to food writer and maker. And like Killeen and Germon, I don't see much difference between the two roles. Ideally good food, like art, is simply a thing that enriches our life.
Notable quote: "We've always seen cooking as closely related to the other arts. Life, ideally, is a seamless weaving together of all its elements; it's the whole package."
Favorite recipe: The baked pastas are the stars of this collection of recipes. Not only are they delicious and fool-proof, the idea is endlessly adaptable. My favorite version includes a spicy tomato-cream sauce and cauliflower. It is perfect comfort food.
Tim Mazurek is a freelance writer and the blogger behind the site Lottie+Doof.