Culture
Back of the Bookshelf: The Last Course
Some of the most beloved cookbooks in our library are the dustiest: books we grew up with, inherited from our grandparents, found at yard sales, or bought new decades ago. In this column, we celebrate these bibliographic treasures, and our favorite recipes therein.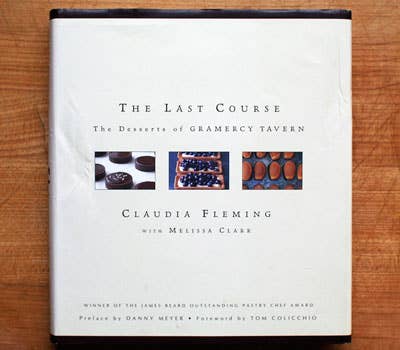 When I was a kid, maybe 8 or 9 years old, I went to a neighbor's house for dinner. It was my first solo outing as a dinner guest, and at the end of the meal my hosts presented me with dessert: an apple. They acted like this was a perfectly normal and acceptable way to end a meal, but I returned home and relayed my horror at what had happened to my mother, who quickly agreed they were weirdos and gave me some cookies. In our family, not serving dessert was not an option—and an apple was not dessert. We are people who look at the dessert menu first so that we know how to organize the rest of the meal. We plan travel around particular bakeries or pastry chefs. We care deeply about dessert. I think Claudia Fleming would agree with us that while an unadorned apple may be wonderful, it is not dessert.
The Last Course, Fleming's magnum opus, was one of the first cookbooks that I truly fell in love with. I bought my copy before I knew anything about her, or Gramercy Tavern, the Manhattan restaurant where she made a name for herself. I was simply excited to find a book dedicated entirely to seasonal desserts. The book is divided into chapters centered around ingredients, mostly fruits and vegetables, but also spices, dairy and even flowers. The well-tested recipes range from the basic, like a lemon-poppy seed shortbread cookie, to slightly more complex projects, such as a grape focaccia with rosemary. And the final chapter of the book offers suggestions for combining the previous recipes to create beautiful composed desserts, like those served at Gramercy Tavern—masterpieces like Rose Meringues with Summer Berries, Raspberry Sorbet, and Goat Yogurt-Rose Mousse.
But t he true beauty of this book is that it makes home cooks feel like pastry chefs. Over the years, I have tried the majority of recipes from The Last Course and have never been disappointed, nor have the guests at my dinner parties. Fleming gave me the confidence to tackle projects I might not otherwise have thought possible. That grape foccacia was totally worth overcoming my fear of working with yeasted breads. And even though some of the composed desserts read overwhelming on the page, Fleming's thoughtful and reassuring recipe introductions give you the encouragement you need to attempt even the most complex project. The Last Course will give you a glimpse into the mind of a pastry chef and someone who cares deeply about the pleasures of a sweet course. It's the perfect book for anyone who won't settle on an apple for dessert.
by Claudia Fleming with Melissa Clark (Random House, 2001)
The author: Claudia Fleming won the James Beard Award as pastry chef of the year in 2000 for her work at New York's Gramercy Tavern, the year before this book was published. In 2006 she and her husband moved to the north fork of Long Island to open the The North Fork Table and Inn, where she continues to make sure that the last course is the best course.
Notable quote: "The only time a dessert doesn't make sense is if it doesn't taste delicious."
Favorite recipe: They're all my favorite. But the Roasted Dates with Sherry and Spices are good at this time of year, when we're still a few weeks away from fresh fruit. Fleming suggests finding good, fat dates for this recipe, which really does make a big different. The roasted dates are delicious on their own, but also nice with a scoop of coconut ice cream.
Tim Mazurek is a freelance writer and the blogger behind the site Lottie+Doof.