Big Heat, Small Package
The tiny chile pequin is a staple of Mexican cowboy cooking in Texas.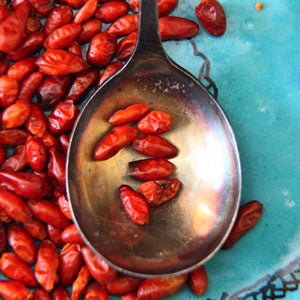 The chile pequin, a staple of Mexican cowboy cooking in Texas, is the Lone Star State's only truly native chile. It grows wild in much of South Texas (as well as Central and South America) and is an essential ingredient in real Texas chili. The tiny chile (which is available dried or fresh) possesses a potency belied by its size. It rates a whopping 75,000 Scoville heat units, as compared with a jalapeño's wimpy 4,000. In The Great Chili Confrontation (Trident Press, 1969), a lively history of Texas chili, H. Allen Smith described a chili made with chile pequin as being "so hot it will boil on a cold stove, and rest on your stomach like a litter of angry wildcats". But this capsicum also has a complex floral and smoky citrus flavor. In a 1987 article on the chile pequin for Texas Monthly magazine, our friend Patricia Sharpe wrote that one of the best ways to eat a fresh one is simply to quarter it and place it atop a fried egg. Over the years, many Texas cooks have turned to milder jalapeños and anchos for their chilis and stews, but we think it's time for this tiny titan's comeback.