Book Review: Sweet and Tart: A Southerly Course and A New Turn in the South
Approaching Southern cooking from opposite directions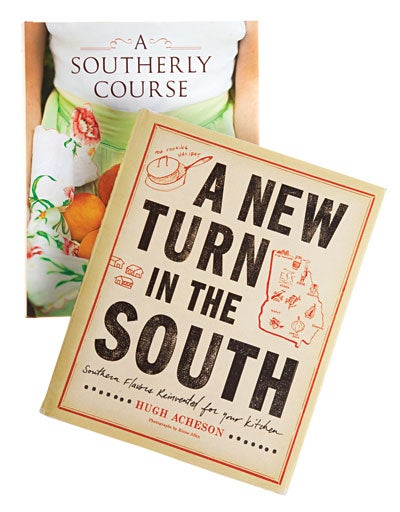 We may earn revenue from the products available on this page and participate in affiliate programs.
I grew up on a Deep South farm where daylilies bloomed in summer. But I never saw a cook whip up an apricot mousse served in flutes lined with daylilies. Martha Hall Foose has. In A Southerly Course: Recipes and Stories from Close to Home
(Clarkson Potter, 2011)—her quirkily annotated volume of recipes for everything from beer-marinated frog legs to butterscotch pots de creme—kitsch and sentimentality get sopped together like cornbread and syrup. Congealed salads she likens to beauty queens, "some demure in pink pastels of a chiffon nature, others a touch garish in light-diffracting lime green." She creates recipes in homage of Southern icons: James Brown gets mashed purple sweet potatoes, Eudora Welty an egg-custard pie. After the whimsy, she dispatches crisp recipes. I'm keeping her hominy salad—a bright cheddar and mayo affair—on call as my potato-salad understudy.
While Foose stays on the family plantation, Hugh Acheson ventures far from his native Ottawa, Canada, to find inspiration in his adopted state of Georgia. Free of the nostalgia that drips from many a Southern cookbook, Acheson's A New Turn in the South: Southern Flavors Reinvented for Your Kitchen
(Clarkson Potter, 2011) expresses an outsider's quest for the culinary essence of a place. The Athens-based chef mashes boiled peanuts into hummus, returns
Brunswick Stew to its gamey origins by throwing rabbit into the pot, and has a passion for pickling—relishes, chow-chows, shrimp (see a recipe, right). I have never known a cook this crazy for vinegar: Roasted chicken thighs and pearl onions get a reduction of cane vinegar; sorghum vinaigrette gives a sweet-mustardy edge to sliced duck. Tartness may be in Acheson's bones. But there is evidence of surrender. Though his instructions are mostly as straightforward as his flavors, he sometimes lapses into fairy-tale speak. When peeling tiny Brussels sprouts, he says, "Pretend you are a giant working on cabbages." By dessert, he almost sounds like a Southerner: "Molten chocolate cake," he says, "has nothing on a peach pie."