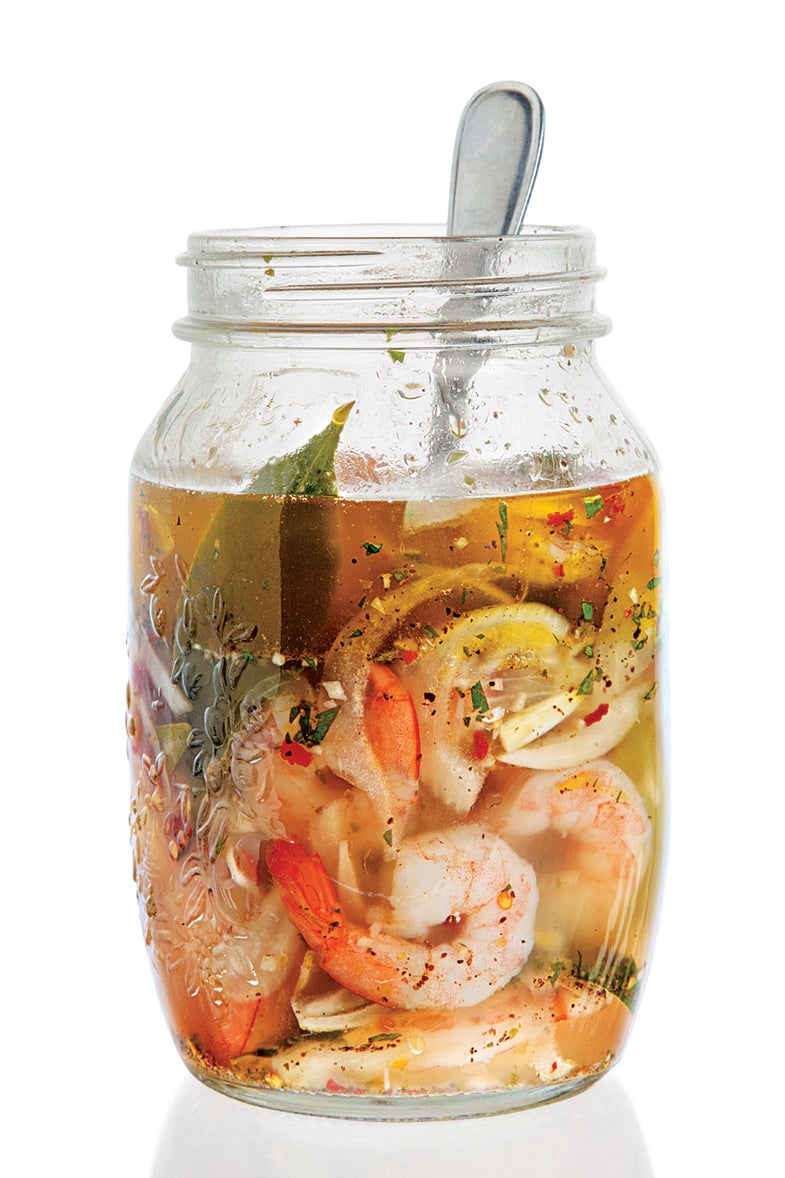 Briny, faintly spicy pickled shrimp are a staple of Southern cuisine. In this Georgia-inspired version from from Hugh Acheson's A New Turn in the South
(Clarkson Potter, 2011), frozen raw shrimp are a fine substitute for fresh. As Hugh notes in his comment below, if the shrimp remain covered with oil, they'll last for "a good week in the fridge. The longer they sit in their pickle liquid, the picklier they get." This recipe first appeared in our October 2011 issue along with Wendell Brock's book review "Sweet and Tart: A Southerly Course and A New Turn in the South."
Pickled Shrimp
Hugh Acheson's pickled shrimp recipe features Old Bay, extra-virgin olive oil, celery seeds, allspice berries, and fresh herbs.
Yield:
makes About 6 Cups
Ingredients
2 tbsp. Old Bay seasoning
1 lb. (26–30 count) medium shrimp, peeled and deveined
1⁄2 tsp. celery seeds
1⁄4 tsp. allspice berries
1 cup extra-virgin olive oil
1⁄3 cup fresh lemon juice
1⁄4 cup packed flat-leaf parsley leaves, finely chopped
1 tbsp. kosher salt
1⁄2 tsp. crushed red chile flakes
2 cloves garlic, finely chopped
12 dried bay leaves
1⁄2 medium yellow onion, thinly sliced lengthwise
Instructions
Bring Old Bay and 8 cups water to a boil in a 4-qt. saucepan; add shrimp, reduce heat to low, and cook until shrimp are pink, about 2 minutes. Drain and transfer to bowl of ice water to chill; drain again.
Finely grind celery seeds and allspice in a spice grinder; transfer to a bowl and stir in oil, juice, parsley, salt, chile flakes, garlic, and bay leaves. In a 1-qt. glass jar, layer shrimp and onions; pour over oil mixture. Cover with lid; chill overnight before serving.