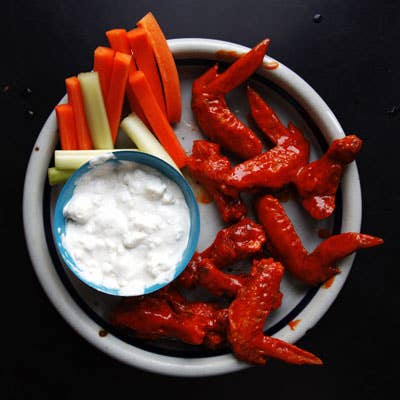 Culture
Championship Wings
Mastering the art of Super Bowl-worthy chicken wings at home is easy.
SAVEUR's kitchen director, Hunter Lewis, grew up eating hot wings and is a self-described wing aficionado. Here, his five rules of thumb for making perfect deep-fried or grilled chicken wings at home:
1) Don't stress. Wings are the most forgiving part of the chicken and are hard to overcook. Because so much of the meat is close to the bone, they stay moist and flavorful.
2) When prepping the wings, leave the wing tips intact (many cooks snip them off). They make a good handle—and who doesn't want a little more meat to dip into that sauce?
3) If frying, start with canola oil heated to 400 degrees (near the smoking point) in a 6-quart Dutch oven (the temperature will drop when you add the wings). Move the wings around a bit as they cook so that they don't stick to the bottom of the pot or get too dark.
4) If you're grilling your wings, start cooking them over direct heat so that the skin gets crisp, then move them away from the heat to let them finish cooking.
5) Strike a balance between hot, sweet, and sour in your sauce, and use butter to round out the flavor and help the sauce fully coat the wing.