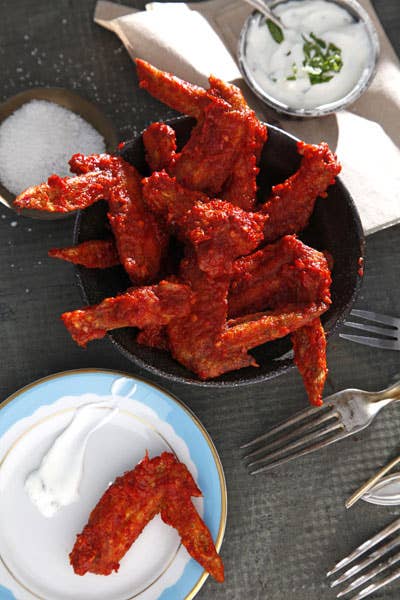 A chicken wing comes in three parts: the drumette, the flat, and the tip. But if you order wings at a restaurant or bar, you usually see only two-thirds of the wing represented: drumettes and flats. That's a shame, because the tip—the very end point of the wing, made up mostly of skin and cartilage— is a crunchy, chewy, tasty, underappreciated delight. I always leave the tips attached to the flats when I'm making chicken wings at home.
It appears I'm in the minority, though. Most people who write chicken wing recipes are apparently in agreement with the restaurant approach to wings. Their recipes invariably include the line, "Remove tips and discard or reserve for stock." That includes the recipe for chicken lollipops that appeared right here in the March issue of SAVEUR, which was accompanied by a guide to frenching chicken wings. There it is, right on cue: "Discard the wing tip, or reserve it for making stock."
When I see this line in a recipe, I usually just roll my eyes and move on. But this time, something snapped. The cavalier dismissal of the wing tip was no longer a mildly irritating recipe quirk; it was now an affront—not just to me, but to all that is good and delicious. "I'll show them," I said to myself. "I'll make a batch of wing tips. Just the tips."
And that's precisely what I did. First I bought three dozen chicken wings, and removed all the tips. Tips are a little too small to serve as a sauce delivery system a la the rest of the wing, so I decided to toss them with a Southwestern-style dry rub. (You can use whatever rub you prefer, or even just salt and pepper.) After 25 minutes in the oven at 350° and then a quick blast under the broiler, they were golden brown and irresistible—a perfect hors d'oeuvre or party snack, deeply savory and salty. The tips are fully edible except for one small bone in the center which you can remove and discard as you eat, but it's nothing compared to all the detritus left over from conventional, tip-less chicken wings.
Speaking of which, there remains the matter of what I did with the drumettes and the flats left over once the tips were removed. I'm tempted to indulge in their comeuppance and say I discarded them, or saved them for stock, but I actually put them in the freezer. I used them not long afterwards to make Buffalo wings, and they were good. But I missed the tips.