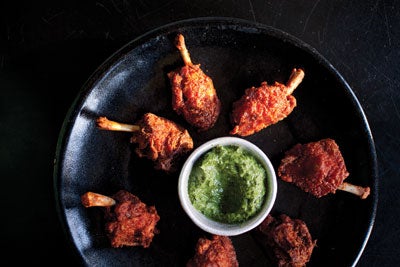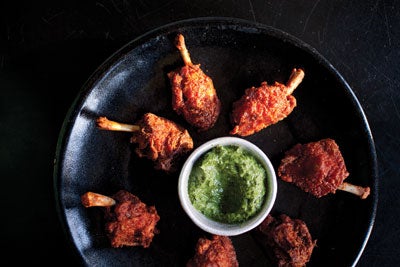 These spicy, soy-marinated chicken wings get their elegant "lollipop" shape from a technique called frenching. For step-by-step instructions for frenching chicken wings, see our guide »
Chicken Lollipops
These spicy, soy-marinated chicken wings get their elegant "lollipop" shape from a technique called frenching.
Ingredients
2 tbsp. soy sauce
12 cloves garlic, roughly chopped
2 serrano chiles, stemmed and sliced
1 (2-inch) piece ginger, peeled and roughly chopped
1⁄2 cup flour
1⁄4 cup cornstarch
1 tbsp. paprika
1⁄4 tsp. red food coloring (optional)
1 egg, lightly beaten
Kosher salt, to taste
2 lb. chicken wing drummettes, meat pulled to one end, opposite end trimmed
Canola oil, for frying
Coriander chutney, to serve
Instructions
Combine soy sauce, garlic, chiles, ginger, and 2 tbsp. water in a food processor, and process until smooth. Transfer to a large bowl and stir in flour, cornstarch, paprika, food coloring (if you like), egg, and salt; add chicken lollipops, and toss to coat evenly with the marinade. Cover with plastic wrap and let sit at room temperature for 1 hour, or refrigerate for 4 hours.
Pour oil to a depth of 2″ in a 6-qt. Dutch oven, and heat over medium-high heat until a deep-fry thermometer reads 350°. Working in batches, fry chicken lollipops until golden brown and cooked through, about 7 minutes. Using a slotted spoon, transfer to paper towels to drain briefly before serving. Serve with chutney for dipping.