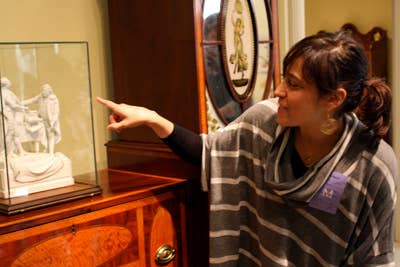 Culture
Cooking Art History: A Jeffersonian Feast
If I could time travel, I'd use my power to go backwards in history to spy on cooks and sit at dinner tables all through the ages. I want to actually be there: standing behind a museum's velvet ropes and peering into a dimly lit replica of a historic dining room has never quite done it for me, trying to picture who would have been sitting there, what they would have been eating, how it might have smelled, and how it might have tasted. I was willing to accept that my imagination was the closest I'd ever come to culinary time traveling until I met Maite Gomez-Rejon (pictured here) and joined her to "cook art history" at New York's Metropolitan Museum of Art, one of her series of ARTBITES classes. That day, we would be learning about (and cooking like) one of America's founding foodies, Thomas Jefferson.
With Maite as my guide, the 18th century dining room sitting silently behind the velvet ropes of the Met's French Wing came to life with visions of Jefferson dining on baked salmon and potatoes in Paris, where he served as American minister to the court of Louis XVI from 1784 to 1789. Potatoes weren't always cultivated for eating&emdash it was around the 1760s that they were popularized as a cheap source of food, and became embraced as "revolutionary food" in France. The future President was first introduced to the tuber by Louis XVI, who served them at one of the Tuesday dinners Jefferson attended regularly at Versailles; he in turn brought them back to America.
Display cases full of dishes and serving utensils that I normally would have breezed by without much thought revealed even more about America's culinary heritage. Still in the French Wing, Maite pointed out lavishly decorated delicate little cups made by Sevres-- cups that, it turns out, were made specifically for eating ice cream, part of the culture of luxurious indulgence that defined upper-class life in France's pre-revolution years. The excess of Parisian society disgusted Jefferson, but he was also drawn into it, and couldn't help but be enchanted by the food— his favorite ice cream flavor, Maite told us, was vanilla.
Although he himself never actually cooked, Jefferson was highly aware of ingredients and recipes; he was an avid gardener and a focused collector of international ingredients. In letters that survive from his time in Paris, there are written-out versions of seven recipes, including instructions for making ice cream, macaroni and cheese, and macarons. When he moved from France back to Virginia in 1789, he brought back with him a slave who had been trained in French cooking, as well as 86 crates of kitchen supplies and ingredients, including olive oil, tarragon, grape vines with which to plant a vineyard, his favorite Maille brand mustard, and an Italian pasta machine. Thanks to Jefferson, the United States caught on to using tomatoes, vanilla, and potatoes, and adopted a belief that our country could one day make wines that rival those of the Old World.
After our discussion of Jefferson's culinary habits, and an extensive tour through broth the French and American Wings of the Met, it was time for the second half of Maite's lesson. Each ARTBITES class includes a hands-on cooking class after the museum tour, and our class was ferried across town to a small test kitchen to learn how to cook some of the food we'd been discussing inside the museum. Nibbling on French cheese and sipping French wine, we donned our aprons as Maite walked us through the dishes we'd be preparing, a menu crafted based on recipes found in 18th century American cookbooks, as well as notes from Jefferson's letters and historical records.
Inspired by Jefferson's Parisian favorites, we made an herb salad with mustard vinaigrette, roasted fingerling potatoes. Since peas were a lifelong favorite of Jefferson's, we made peas with mint and butter. We baked salmon with French green beans, black olives, and tomatoes in honor of the 18th-century French custom of serving fish as a "break" after a course of heavy game. A chicken fricassee was inspired by Jefferson's preferred method for cooking fowl. And for dessert, since Jefferson grew apples in his Virginia gardens and claimed that the French would never have apples as good as ours, we baked an apple cobbler to eat with— of course— vanilla ice cream.
ARTBITES is based in LA, but Maite regularly hosts classes in cities around the country. For more information, and to sign up for upcoming classes, visit artbites.net