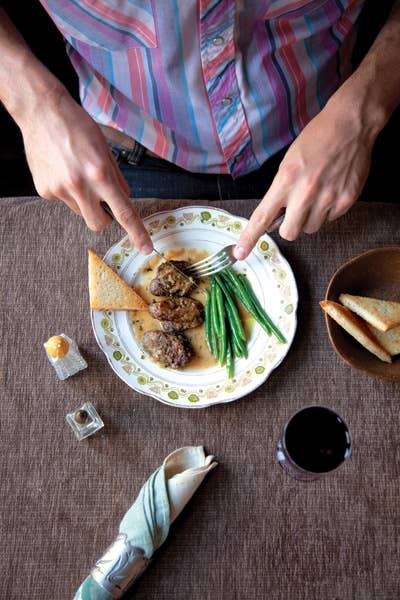 He knew my work. I knew his. It was 1976. I was standing in front of the Brentano's bookstore on Fifth Avenue in Manhattan promoting my novel Blue Skies, No Candy. He stopped, picked up the book, read a few lines, and laughed. "Your hero has my name," he said. "Jamie. You're the food writer from New York magazine."
"And you're that actor. From those movies." He was young and surprisingly shy, with shiny black curls and perfect posture, even better-looking in person. "You were wonderful in Misty Beethoven."
"That was fun to make," he said. "I liked the woman in that one."
"What do you do when you don't like the woman?" I asked.
"I just get myself in the mood." He looked me straight in the eye.
What lusty '70s woman freshly liberated from marriage could possibly resist? This was before sex on video. The Swedish adult film I Am Curious (Yellow) had been cleared of obscenity charges. Everyone was talking about Deep Throat, and couples were going to sex cinemas together. I was just an amateur of erotica and wasn't aware that, as a star of The Private Afternoons of Pamela Mann, The Story of Joanna, and Through the Looking Glass, Jamie Gillis was porn's leading man.
Free for dinner? Yes. And dancing after. We danced till two or three in the morning, then walked to his apartment together, hair soaking wet. We stopped at a deli on Eighth Avenue for a grapefruit and the Times—a late-night ritual of his, he told me. And it was true: he didn't seem to have a problem getting in the mood.
Later, he told me his story. He was born Jamey Ira Gurman on April 20, 1943. His father named him after the pirate played by Tyrone Power in The Black Swan. He graduated with honors in English from Columbia. He was doing Shakespeare Off-Broadway for no money while driving a taxi to make a living when he saw a want ad in the Village Voice for a nude model. He found himself making porn "loops" at $40 an hour, his take-home from a whole day in the cab. "It was easy. Everyone was sweet. And I loved the sex." He marveled that he was being paid to sleep with dewy young girls. He was the happiest man I'd ever met.
I knew from the start that Jamie had a complicated other life, a girlfriend, naughty-boy diversions. I was determined to spoil him for all that. I took him to the Four Seasons and The Palace. He looked dashing in the brown pin-striped suit he'd gotten from the costume rack on the set of Misty. He liked to wear a shiny floral tie that still had a strip of masking tape on the back labeled "orgy scene."
Jamie was 33 years old and hungry. He was fascinated with tasting new tastes. I bought him a bag of passion fruits at Fauchon, and he proceeded to eat them all. Sorbets could never be too tart. Meat had to be rare. Wine had to be red. He quickly developed a yen for Chateau d'Yquem, the pricey French dessert wine. He was insatiable. His dream, he said, clearly serious, was to invent a fruit.
I was fascinated by him. At Brussels Restaurant, where he asked me to take him for his birthday, the appetizer of brains, sweetbreads, truffle, and bean sprouts on red leaf lettuce seemed to knock him out. "It reminds me of the French director Artaud," he said. "A dizzying immersion in spectacle." Lines like that were his gifts to me.
At times such discoveries would move him to tears. Then he would wipe his eyes and smile. "That felt good," he would say. At Restaurant Girardet, outside of Lausanne, which we visited on our first overseas trip together, he wept over a fish whose flesh was pale pink, moist, and as soft as a ripe peach. It had to be salmon, but no salmon I'd ever tasted had quite that astonishing mouth-feel. Tears were falling down Jamie's cheeks. "If there's a heaven, this is what they'll serve the good kids," he said.
He could never resist a gourmand adventure. The Box Tree Inn in Westchester County once sent a Rolls-Royce to pick us up so I could write about the experience for New York. The homeless man in front of Jamie's building cheered as we pulled away. Jamie was indignant the food wasn't more wonderful. Later, in our room upstairs, he put on my lacy black silk nightgown and stood in front of the tall mirror with his unlit pipe in his mouth. "I look good in anything," he said to his image.
One afternoon on our way to my house near Woodstock, New York, the van I had borrowed went off the road, landing upside down and scattering all the delicacies I'd brought for the weekend across the weedy slope. Drivers stopped to pull us from the wreckage.
"Find the quail," Jamie said as soon as he realized he was alive. We collected our groceries as best we could, and a friend drove us home. I ran water in the tub, and while Jamie was soaking I fetched a bottle of Lafite Rothschild from the cellar. He came out wrapped in a towel and studied the label approvingly. "The sour cream disappeared," he said mournfully. "Will the chicken livers be all right without sour cream?" I assured him they would.
"And look, the brownies survived," I said.
We carried dinner trays to the fireplace, sipping the Lafite from Baccarat goblets. "It's thrilling to eat something as tiny as a quail," he said.
Jamie disappeared a year later into the West Coast porn world. But one day about eight years ago he was back. I invited him to my birthday party, where he met Zarela Martinez, the New York City restaurateur. She took him home and he never left. He worked in adult films into the early 2000s, mostly in nonsexual roles, but announced his retirement at the end of 2002 as a Christmas gift to Zarela.
Jamie had always talked about buying the house he was born in, on West 103rd Street, so he could invite everyone he loved to live there. Zarela gave him the next best thing, opening her East 53rd Street town house to all his friends, to the women he had loved over the years, and to their husbands and mates. Zarela's friends, when they encountered Jamie's intelligence and playfulness, became his friends, too.
In December I got an e-mail from Jamie with the subject line: "Cancer, schmancer."
"Hey Dancing Queen," it began, "I've only recently begun to tell friends and family, but you may have already heard that the Black Swan is expected to be sinking in the near future from a nasty, rare cancer.… I am emotionally in a very good place (at least so far) and would feel myself ridiculously ungrateful for the great life I have had if I began to complain now. Thanks for all the hee hees. Your Swan, Jamie."
He died on February 19, 2010, at the age of 66.