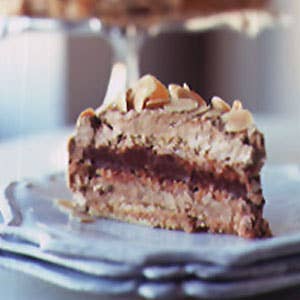 Culture
Dream Cake
Pastry chefs argue about the recipe, but everyone agrees that the opulent dacquoise is one of the glories of French cake making.
Dacquoise...At first glance, it's such a straightforward confection: layers of meringue sandwiching a creamy filling. Yet pastry chefs part company when it comes to the precise ingredients. To some, a dacquoise should be made with coffee buttercream and either plain or almond meringue. But others insist that it requires almond-hazelnut meringue and either chocolate buttercream or whipped cream. And naturally, these different renditions have blurred the distinction between the dacquoise and a host of similar cakes—among them the succes, the progres, and the japonais. No one knows who invented the dacquoise, but this much seems beyond dispute: It is a traditional gateau from the southwestern French town of Dax (whose residents are called Dacquois).
Questions of origin and composition aside, this is a dessert to swoon over—soft yet crunchy, rich yet light. Soon after assembly, the meringue starts to yield and the flavors begin to meld; within hours you have an incredible amalgam whose sum is greater than its parts. I've tasted dozens of dacquoises, but my favorite is the one served at New York City's venerable La Cote Basque. Created by former pastry chef Jean-Pierre Mason in 1979, it contains almond-hazelnut meringue, coffee buttercream, bittersweet ganache, and sliced almonds. The recipe has remained virtually unchanged for the past 20 years; sometimes it's best not to tinker with perfection.