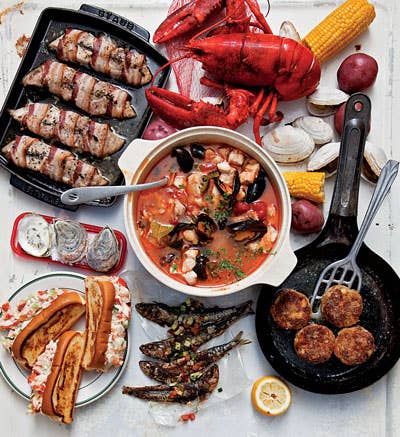 Culture
East Coast Seafood Classics
Abundant populations of shellfish and finfish are the lifeblood of seafood markets and auction houses along the coast of the northeastern United States—and also a cornerstone of the region's cooking. Here are seven time-honored seafood dishes that make the most of the Eastern seaboard's bounty.
1. Roasted bacon-wrapped bluefish filets (see** Bacon-Wrapped Bluefish**) call for little more than those two ingredients; the rich flesh of the fish takes beautifully to the bacon's smoky flavor.
2. Perhaps no meal more fully celebrates the sea than a New England clambake, in which softshell clams, ears of sweet corn, new potatoes, and whole lobsters are layered atop one another and cooked together, either in a fire pit dug into the sand or in a capacious pot on the stove.
3. Golden skillet-fried Yankee fish cakes (see ** Yankee Fish Cakes**), usually made with the flaky white flesh of an Atlantic species like haddock or pollack, are a delicious summer dinner; try pairing them with a creamy mustard sauce.
4. Few seafood dishes deliver more flavor from a simpler preparation than grilled sardines: Just rub the fish with olive oil, season them with salt and pepper, and put them on the grill; they taste great with a quick relish of bell peppers, cucumbers, tomatoes, onions, cilantro, and crushed red pepper.
5. The lobster roll may be America's finest handheld meal: chunks of 
sweet steamed lobster meat from the claws and tails are combined with scallion-and-cucumber-studded mayonnaise and served on a buttered and grilled hot dog bun.
6. One of the great pleasures of grilled oysters, aside from eating them, is the fact that you don't need to shuck them; just put them on the grill for eight or ten minutes until they pop open, and then spoon some melted lemon-herb butter 
over them.
7. A number of cities in the Northeast, like Gloucester, Massachusetts, and Providence, Rhode Island, have well-established Portuguese neighborhoods; in them, you'll find restaurants offering Portuguese fish stew (see ** Portuguese Seafood Stew**), a robust, tomato-based dish chock-full of mussels, haddock, and potatoes: a seafarer's supper if ever there was one.