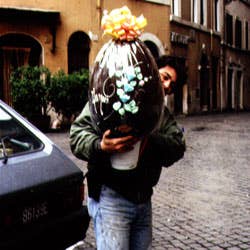 Culture
Easter Eggs
Easter in Rome without eggs—boiled and decorated, or made of chocolate—is inconceivable.
Easter in Rome without eggs—boiled and decorated, or made of chocolate—is inconceivable. Eggs have been venerated, and eaten, at Eastertime since antiquity. They were used in Roman spring fertility rites in the pre-Christian festivals of Ceres, goddess of agriculture, and became part of later European tradition. In his 19th-century book on food history The Pantropheon , Alexis Soyer notes that in 1533 "gilded, or admirably painted" Easter eggs were given to the king of France, who in turn "made presents of them to his courtiers."
Chocolate Easter eggs are probably a 19th-century phenomenon, originating in France. Some suggest that they were originally created as French imitations of the famous bejeweled Faberge eggs, and were brought to Italy in the late 1800s. This is plausible, though both lavishly decorated real eggs and chocolate ones had been around for centuries by the time Faberge began making eggs for the tsars.
Unquestionably, the best place in Rome to buy chocolate Easter eggs is Confetteria Moriondo & Gariglio, a confectionary founded in Turin in 1855 and established in Rome in1886, which offers about 100 different types of chocolate year-round, as well as candied fruit and other such items. But the hand-decorated chocolate eggs, as delicious as they are beautiful, are true masterpieces: real eggs are sucked clean with a straw, injected with delicious gianduia, a chocolate-and-hazelnut cream, and then decorated with sugar piping, chocolate, marzipan, and the like.
Of course, the value of the egg depends on its elaborateness—and what's inside: It is a Roman tradition to enclose surprise gifts—often lavish ones—in Easter eggs. As proprietor Piera Minelli told us, "I once was asked to place a complete set of Bulgari diamonds in one of our big eggs." Happy Easter, indeed.