Everything You Need to Know About Pesto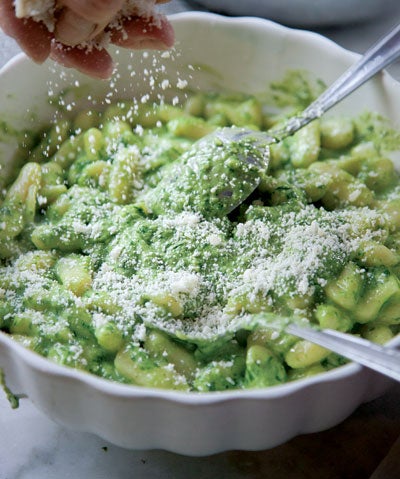 This classic Ligurian sauce is a hallmark of summer cooking. In SAVEUR issue #140, we take a detailed look at its history, its origins, its ingredients — and best of all, its seemingly infinite versatility.
In search of truly authentic Ligurian pesto, Laura Schenone finds that every version is unique, and there's beauty in all of them.
• The World of Pesto » Sauces made of pounded herbs aren't unique to Genoa. Ben Mims finds variations all over Europe.
Dana Bowen explores pesto's recent history: its rise to culinary ubiqity in the '80s and the subsequent pesto backlash.
• The Elements of Pesto » For a sauce this simple, the ingredients must be of the very highest quality.
• Grow Your Own Pesto » A gardener's guide to home-grown basil, an easy way to ensure the very freshest flavor.
• GALLERY: Pesto Variations » From classic Genoese basil to garlic scapes, red peppers, and eggplant, eleven bright varieties of pesto.
• GALLERY: Pesto Recipes » Once you've made your pesto, these recipes will give you inspiration for what to do with it.