The Saveur Book Shelf: New Orleans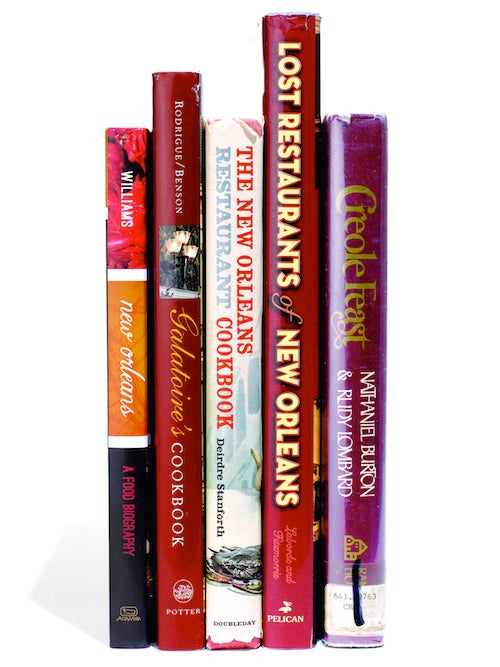 We may earn revenue from the products available on this page and participate in affiliate programs.
New Orleans sets fire to a cook's imagination like no other city, a fact amply illustrated by the multitude of books written over the years devoted to its singular cuisine. As we cooked our way through our celebration of New Orleans' classic dishes, a few books stood out from the rest. There's one volume that distills the essence of the Big Easy's restaurants better than any other: The New Orleans Restaurant Cookbook (Doubleday & Company, 1967). In it, author Deirdre Stanforth examines the evolution of eight of the city's most magnificent dining institutions. The book includes more than 200 recipes—such as Arnaud's supreme de volaille en papillote, chicken breast in a creamy mushroom sauce baked in parchment paper, and a brandy bread pudding from Commander's Palace—that exemplify the Creole culinary canon. We're equally indebted to Creole Feast (Random House, 1978), whose authors Nathaniel Burton and Rudy Lombard studiously observed and interviewed the African-American cooks who ran the kitchens of New Orleans' best restaurants in the '70s. The result is an edifying and intimate account, offering authoritative cooking tips—how to slip tomatoes out of their skins; how to keep a cream soup from curdling—in a friendly tone, along with 319 recipes such as roasted chicken with tomato gravy, and lamb shoulder with caper sauce. Over the years many restaurants have closed, but their memories—and their menus—live on. In Lost Restaurants of New Orleans (Pelican Publishing, 2011), Peggy Scott Laborde and Tom Fitzmorris offer a paean to the city's bygone eateries, including photos and images of ephemera, as well as recipes that range from famous dishes such as whole flounder stuffed with crabmeat from the legendary Bruning's, which opened in 1859 and shuttered after Hurricane Katrina, to lesser known but equally beloved specialties such as spaghetti alla Turci in a chicken, veal, and pork ragu from Turci's, a much mourned red sauce joint. For nailing the sheer charisma, ebullience, and inventiveness of the Crescent City's dining culture, we loved Melvin Rodrigue and Jyl Benson's Galatoire's Cookbook (Clarkson Potter, 2005), which captures the charm of the 108-year-old French Quarter restaurant with anecdotes, photographs, and more than 140 recipes for luxurious signature dishes such as crabmeat Sardou and Creole seafood gumbo, a peppery okra-thickened stew that's chockfull of oysters, crabmeat, and shrimp. And for putting it all into context, we couldn't have done without Elizabeth M. Williams's authoritative New Orleans: A Food Biography (AltaMira, 2011), which explains why New Orleans fare is what it is. Williams takes a comprehensive approach, detailing the many forces and establishments—from the Mississippi River, with its bounty of shrimp and freshwater fish, to the local grocery chain Schwegmann's—that have shaped the way the city eats and cooks.