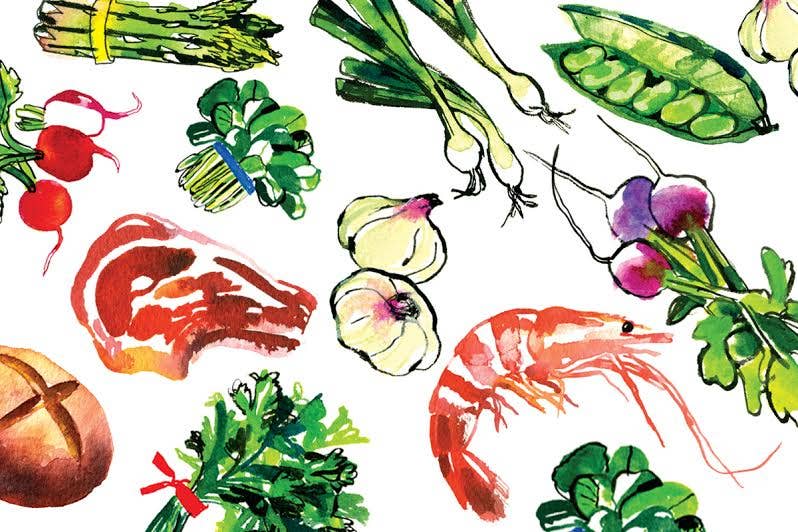 Culture
Home Grown
For one family in Maine, farming, cooking, and serving come naturally.
Any chefs dream of someday owning a patch of green where they can raise produce to supply their restaurant. The Chase family of Maine has done just that, you might say, in spades, only they went about it in reverse: they started as farmers and moved on to opening a popular market, bakery, and restaurant in the town of Belfast called Chase's Daily, where the offerings are so varied and compelling that many diners don't even realize that the menu is vegetarian.
As a produce market alone, Chase's Daily is an American treasure. The first time I visited, I entered the old brick building through the back door and was met by an airy, gallery-like space where wire crates overflowed with baby artichokes, okra, agretti (a bitter Italian green that I've never seen elsewhere), and many other items still damp with morning dew. As I shopped, I detected a buttery, garlicky aroma emanating from the adjacent kitchen, which, I discovered when I sat down in the casual dining room, offers one of the most expansive farm-driven menus I've ever seen. There were freshly shelled soldier beans tossed with extra-virgin olive oil and parmigiano-reggiano shavings; crisp and chewy thin-crust pizzas topped with farmstead cheeses; an heirloom tomato–herb tart, rich with custard and baked into a flaky pâte brisée crust. I've been a regular ever since Penny and Addison Chase, who started a small farm about 20 miles from Belfast back in 1970, aren't the first or the only farmers to have taken up cooking (see Outstanding in Their Field); homemade pies and jams have long been farm standstaples, and many farmers have upped the ante in recent years by turning their raw products into ice creams, barbecue, even Tex-Mex take-out food. But the Chases have elevated the notion by proving that destination farm-to-table dining, so in vogue these days, needn't be the domain solely of fancy chefs.
It all started, Addison Chase says, with the baked goods that his daughter Phoebe used to make at home and sell alongside the family's produce at the local farmers' market. She wanted to open a place where she could broaden her selection, so in 1996, when a 19th-century brick meeting hall on Main Street went up for sale, the Chases bought it. The space was lofty, with a high, punched-tin ceiling and big front windows: clearly too big for a simple bakery. So, the extra room in theback became a retail produce market; before long, their other daughter, Megan, an artist, was supplying paintings for the walls, and her husband, Ted LaFage, was cooking breakfast dishes made with the morning's harvest. Then came lunch service; then Friday dinners where the family members (who, except for Penny and Ted, are vegetarians) assembled to cook more-ambitious dishes like saag paneer and fresh buckwheat pasta with braised cabbage and fontina. The place became a neighborhood hangout; people came from all over for the ever changing menu, which is simple but worldly—you're as apt to find the Chases' napa cabbage in a sichuan peppercorn–spiked salad as in a slaw.
Today the farming, cooking, and serving are still largely a family affair. "There's no single manager," says Addison. "We get together Saturday afternoons to discuss what foods are coming in and what we're going to do." Talk about allowing a business to evolve organically.